What Trump Means for China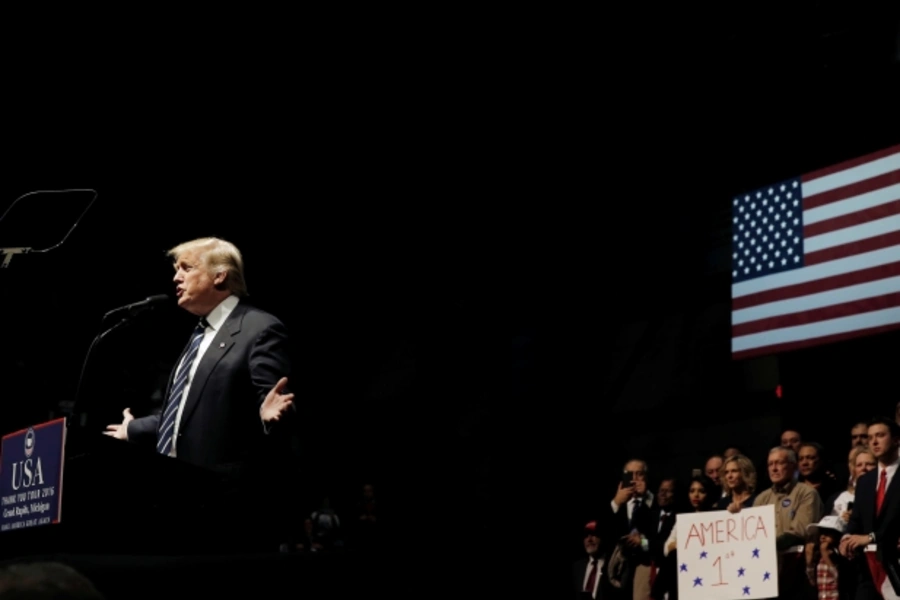 Oriana Skylar Mastro is a 2016–2017 Stanton Nuclear Security Fellow at the Council on Foreign Relations, and an assistant professor of security studies at the Edmund A. Walsh School of Foreign Service at Georgetown University, where her research focuses on Chinese military and security policy, Asia-Pacific security issues, war termination, and coercive diplomacy.
President-Elect Trump's transition has been a roller coaster ride this week in the realm of U.S. China policy. On December 2, President-Elect Trump spoke with Taiwanese President Tsai Ing-wen on the phone, becoming the first U.S. president to speak directly to Taiwan's top leader since 1979 when the United States normalized relations with Beijing. This break in thirty-seven years of diplomatic protocol may have been designed to challenge Beijing and showcase Trump's unpredictably. It is also possible the call was an unintentional blunder—his subsequent denial of initiating the call, failure to coordinate with the State Department, and tweets about U.S. arms sales to Taiwan demonstrate a lack of understanding of standing U.S. policy. When he was criticized for the call, Trump lashed out against China, tweeting, "Did China ask us if it was OK to devalue their currency (making it hard for our companies to compete), heavily tax our products going into their country (the U.S. doesn't tax them) or to build a massive military complex in the middle of the South China Sea? I don't think so!"
But then, five days later, he appointed Iowa Governor Terry Branstad to serve as the U.S. ambassador to China. The nomination of Branstad, who has extensive ties to Beijing and a personal connection to Xi Jinping, is being portrayed as a way to reassure Beijing. Iowa has close economic ties to China, to which it sells agricultural products, making Trump's campaign calls for a trade war less likely.
These events only add to the uncertainty in Beijing about whether the election of Donald Trump will help or hinder its main goal of the rejuvenation of the Chinese nation. Assessing the situation from China's perspective, there are many indicators of a positive shift. First, President-Elect Trump does not seem particularly interested in governance norms, refusing to divest of his commercial interests before taking office, and human rights at home, let alone abroad. The East-West Center's resource on presidential candidate positions writes that on human rights and democracy in the Asia Pacific, presidential candidate Trump had "no stance." Moreover, the process and nature of the 2016 election campaigns as well as Trump's victory soured the reputation of democracy in the eyes of many. In short, Beijing believes they dodged a bullet in this area as Trump is much less likely to pressure China on domestic human rights violations.
Beijing also stands to benefit on the international stage. Trump's nomination of retired general Mike Flynn for national security advisor and retired general James Mattis for secretary of defense suggests his administration will focus more on the Middle East and the challenges of Islamist extremism, and specifically the self-proclaimed Islamic State.  For China, which sees the rebalancing efforts in the Asia Pacific as destabilizing and a threat to its successful rise, a relaxed hands-off U.S. approach to the region and China's role within it would be greatly welcomed.  Chinese strategic writings refer to the ten years following the September 11 attacks as a window of opportunity in which China could rise without the risk that the United States would try to use military means to undermine its rise.
Trump could reopen this window of opportunity, and even facilitate China's return to regional preeminence. He was against the Trans-Pacific Partnership, which was designed to strength the economic foundation of U.S. power in the region, and argued that U.S. allies should move toward maintaining more of their own security, be it in the form of an eventual U.S. troop withdrawal from the region and/or the development of their own nuclear weapons. Chinese strategy is predicated on convincing the United States to self-opt out of any regional contingencies—so a U.S. military drawdown would be a dream come true.
Lastly, even if Trump launched a trade war against China, hurting the U.S. economy in the process, this may not impact China in the ways he expects. If Beijing sees a downturn as temporary, the leadership is likely to wait it out and not make any changes to their broad strategy. Moreover, the Chinese people are unlikely to blame the party for any consequent misfortunes given that U.S. policy would be the cause, potentially stoking nationalism further. Moreover, there is a silver lining for Beijing. China will have opportunity (ironically) to lead the efforts to promote globalization and free trade—to be the protectors of the international norms in the face of U.S. violations.
But many statements may also give Beijing pause. Just this week, President-Elect Trump suggested that he would revisit the longstanding U.S. "One China" policy to get a "better deal" from Beijing in the economic realm. While acting erratically has its benefits, it is odd that Trump would choose the one issue area where U.S.-China relations have experienced a high degree of stability and trends have been positive in general.  Why not lash out in other areas where U.S. policy has not been as successful, like Chinese cooperation in Syria, or North Korea, or on the militarization of the South China Sea? It is also unclear how Trump expects to accomplish this—China is unlikely to grant economic concessions in exchange for a commitment to the policy, if only because U.S. trustworthiness would be shattered from breaking our commitment to begin with
While Trump's statements this week are great cause for concern, I do not expect they will spark major conflict with Beijing. Chinese leaders are pragmatic and cautious, and see stable bilateral relations as critical to their own success. But the day we rely on autocratic communist leaders to be levelheaded and react calmly because U.S. behavior is erratic and destabilizing, the future of U.S.-China relations will not be our only problem.