What Will President Biden Say About China in His State of the Union Address?
President Joe Biden speaks to an unhappy nation tomorrow night as the Chinese spy balloon incident stokes anger toward Beijing.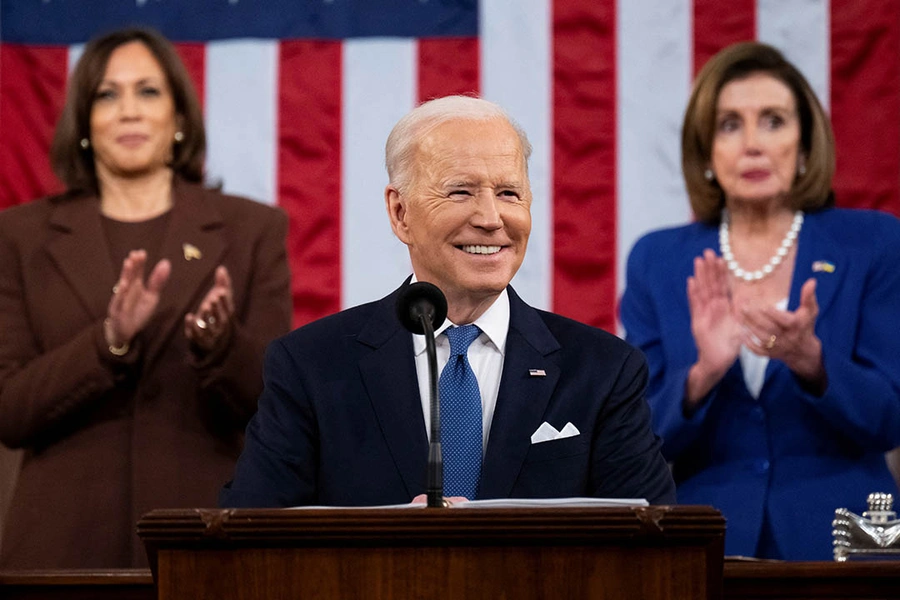 You have to feel for White House speechwriters. They have spent weeks drafting and redrafting the State of the Union (SOTU) address that President Joe Biden will deliver tomorrow night. They no doubt had the speech's basic structure ironed out last week. All they had left to do was to tweak the applause lines they hoped would dominate the news coverage. Now with the country seized, rightly or wrongly, with the saga of the Chinese spy balloon, they are almost certainly rewriting their handiwork.
 
The SOTU typically focuses on domestic policy. That's what Americans care most about. So presidents tout their domestic accomplishments, highlight issues that matter to critical constituencies, and frame their vision for the country. The opposing party's rebuttal, which will be given this year by Arkansas Governor Sarah Huckabee Sanders, is almost always lost in the wash. Senators, representatives, and governors simply don't command the same attention as the president.

Biden has a lot he wants to tout tomorrow night. Unemployment is at a fifty-three year low. Manufacturing jobs are at their highest level since 2009. Gas prices have fallen sharply since they topped $5.00 per gallon last June, and inflation more broadly is slowing. Much-needed construction projects funded by the 2021 infrastructure law have begun across the country. Despite deep political divisions on Capitol Hill, Biden secured passage of both the CHIPS and Science Act and the Inflation Reduction Act. And while roughly 500 Americans continue to die of COVID every day, life for most Americans has returned to something approaching normal for the first time in three years.

Americans, however, remain unimpressed. Biden's overall public approval rating is upside down; on average 52 percent disapprove of the job he is doing and just 44 percent approve. Biden's approval ratings on specific issues look the same or worse. He is upside down on his handling of the economy (38 percent approve while 59 disapprove), immigration (34 versus 61), crime (37 versus 58), and foreign policy (42 versus 52). Not surprisingly given these numbers, less than a quarter of Americans say they are "broadly satisfied" with how things are going. Nearly half say they are "very dissatisfied." Two out of three Americans say that the country is on the wrong track. And perhaps most galling to the White House, nearly two out of three Americans say that Biden has accomplished "not very much" or "little or nothing" during his presidency.

The SOTU gives Biden a chance to counter the public's sour mood. But with the China spy balloon dominating the news—and giving Republicans another issue with which to attack the administration—Biden will spend more time talking about China than he probably planned. The choice he faces is what to say and with what tone. Diplomacy might counsel restraint. The White House had been trying to curb growing tensions with China. "Popping" the balloon with a Sidewinder air-to-air missile may have been a sufficient response to the provocation. But with Democrats and Republicans alike demanding that the administration get "tough" on China, the political temptation will be to pound the table. 

Whatever message and tone Biden chooses, he probably won't flesh out the details of his China policy. Administration officials like to repeat Secretary of State Antony Blinken's comment that the U.S. "relationship with China will be competitive when it should be, collaborative when it can be, and adversarial when it must be." However, which issues belong in which bucket, and how Biden assesses the trade-offs among between them, remain unclear. Biden vowed in his October 2022 National Security Strategy that "the United States has everything we need to win the competition for the 21st century." However, the strategy doesn't specify what constitutes victory, or the price we may need to pay to achieve it. The answers to those questions matter not just to Americans but to America's friends, partners, and allies as well.
 
Biden will also need to address the war in Ukraine. Talk of Americans turning against support for Ukraine is overstated. Nearly a year after the Russian invasion began, the percentage of Americans who think that U.S. support for Ukraine is "about right" or "too little" (51 percent) is more than double the percentage who think it is "too much." But the war looks set to drag on for months, if not years, further testing public patience. So Biden will need to make the case yet again that the U.S. support for Ukraine is not, as Ukrainian President Volodymyr Zelensky put it in his December address to Congress, charity but an act of self-interest.
Even if Biden hits just the right notes in his remarks on China and Russia, most Americans won't be tuning in to hear what he has to say. Thirty-eight million Americans watched last year's SOTU. That was up from the twenty-seven million who watched Biden deliver his address to a joint session of Congress in 2021. But it was still six million below what Donald Trump averaged over his term in office. And it was fifteen million less than the audience for last Sunday night's AFC Championship game between the Kansas City Chiefs and the Cincinnati Bengals.
That may be the toughest pill of all for White House speechwriters, and the president, to swallow.
Sinet Adous assisted in the preparation of this post.