When Assessing Geopolitical Risks of Geoengineering, Don't Assume the Future Will Look Like the Past
Attempting to shut down discussion of the potential weaponization of geoengineering is unwise. We can only see a short way into the future.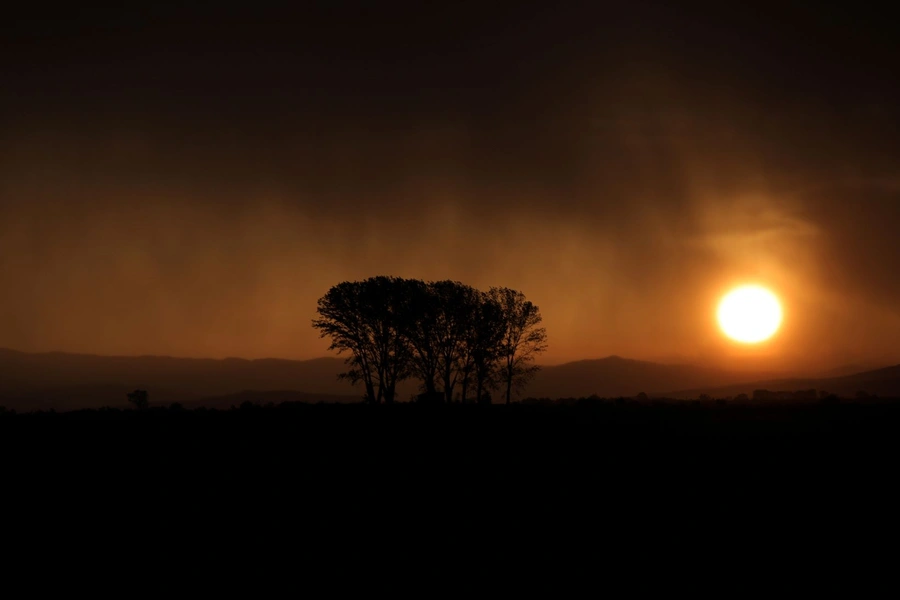 The following is a guest post by Elizabeth L. Chalecki, an Associate Professor of International Relations at the University of Nebraska Omaha, a Research Fellow in the Environmental Change & Security Program at the Woodrow Wilson Center, and a Research Chair with Fulbright Canada; and James R. Fleming, the Charles A. Dana Professor of Science, Technology, and Society at Colby College, and a former Wilson Fellow.
Joshua Horton and David Keith have taken exception to the argument that solar geoengineering might potentially be weaponized in a future climate arms race, characterizing it as fantastical concerns regarding nebulous threats. However, attempting to shut down discussion of such a potential scenario is unwise.
Their main quarrel with the idea of regulating commons-based geoengineering (CBG) by rebooting the world's first attempt at nuclear arms control is that stratospheric aerosol injection (SAI) as it is currently envisioned is not precise enough to serve as a weapon of warfare. However, their argument rests on two traditional but increasingly outdated assumptions: that a weapon must be precise and targeted, and that a war is short and kinetic. The course of world politics since the end of the Cold War, as well as new insights from security studies, suggests that neither is true.
Some weapons are precise and targeted, but a destabilization weapon does not have to be precise or targeted, since its main function is disruption. Historically, such weapons have included poison gas and carpet bombing; now they can range from fifth column propaganda to psyops to cyberattacks, all designed to make an enemy more vulnerable and reduce its ability to pose a threat. SAI might not yet be at that level of precision, but it would be foolish to presume that no technological advances in any type of CBG will occur that could improve future potential as a weapon. Ernest Rutherford, the founder of nuclear physics, may not have foreseen a hydrogen bomb, but there is a direct line from his work to the U.S. military testing on Eniwetok Atoll.
The nature of international conflict has changed too, and Horton and Keith's hypothetical Venezuela attack is an example of generals always fighting the last war. With the advent of nuclear weapons, modern international relations relies less on traditional state-to-state warfare than at any time in its history.  However, this trend does not lessen the ambitions of sovereign states (especially great powers with economic and scientific prowess) to gain advantages over their rivals. Since large kinetic wars no longer yield benefits commensurate with their costs, U.S. rival states such as China and Russia have turned to the long game, and to more indirect forms of aggression. To reap the gains associated with war without escalating to open warfare, they increasingly promote gray zone conflicts that are neither war nor peace explicitly. Future developments in CBG might well be integrated into hybrid warfare operations designed to disrupt and weaken rivals.
Nor does the technology have to be in perfect working order for nations to make security decisions based on its potential capabilities. The Strategic Defense Initiative was never a viable defensive technology, yet the very idea helped persuade Mikhail Gorbachev to return to the negotiating table to sign the first real disarmament accord of the nuclear era in 1987. Similarly, the mere existence of counter-geoengineering capabilities could check unilateral state deployment, which Horton and Keith themselves have noted. As war scholar John Stoessinger points out, it is not states' realistic assessment of their rivals' strengths that precipitates conflict, but their misperceptions.
It may sound far-fetched, but the United States has attempted weather warfare before. In World War I the needs of aviation, long-range siege guns, and chemical warfare all depended on improvements in weather observation and forecasting. In World War II, the British Petroleum Warfare Department invested heavily in fog-clearing technologies that allowed the Royal Air Force and the allies to fly when others were grounded. During the Cold War, the U.S. Navy attempted to weaponize tropical storms by redirecting them for Project Storm Fury, and in Projects Argus and Starfish Prime the military actually conducted planetary-scale geoengineering when they detonated both atomic and hydrogen bombs in the newly-discovered Van Allen radiation belts. It is naïve to imagine that as technologies to manipulate the global climate system improve, great powers will refrain from weaponizing them.
The continued research into solar geoengineering by Horton, Keith, and other academic researchers will provide policymakers with useful scientific information on the feasibility of large scale deployment of CBG. However, right now we are behind an international relations version of John Rawls' veil of ignorance: we can only see a short way into the future and we need to prepare for a world where we do not know which state is the hegemon. Just as the Convention on the Prohibition of Military or Any Other Hostile Use of Environmental Modification Techniques (ENMOD) does not prohibit peaceful uses of environmental modification technology, neither would an international regime of geoengineering governance based on the Baruch Plan prohibit the possible future deployment of SAI or any other type of CBG. It would only ensure that the decisions surrounding research and use of these technologies be made under the auspices of an international agency, lest unilateral deployment be done in the security interests of one state rather than the entire planet.
There is no guarantee that the future will look like the past, and we should all be humble in recognition of that fact.