Why Are Chinese Tourists So Eager to Visit Trump's America?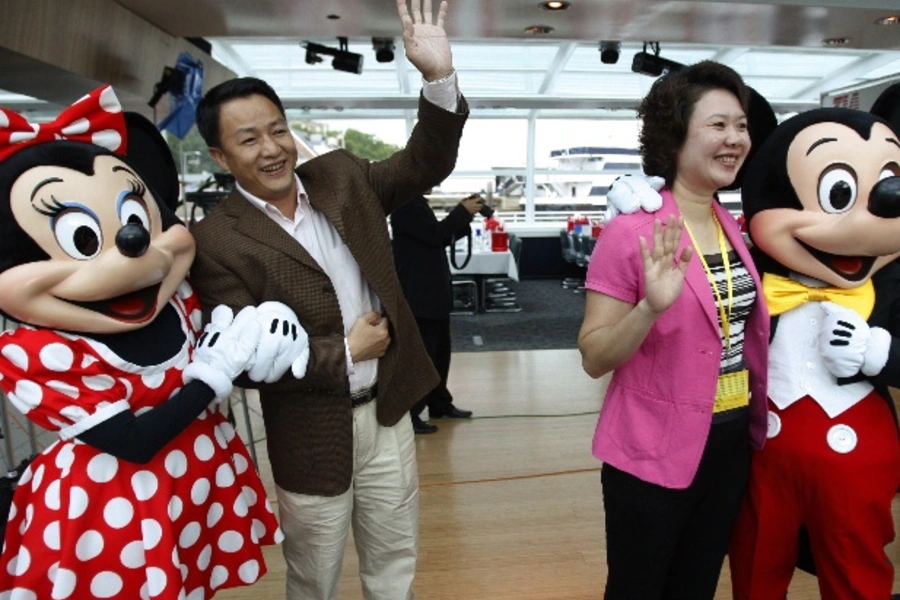 Rachel Brown is a research associate for Asia Studies at the Council on Foreign Relations.
Xi Jinping certainly isn't the only recent Chinese visitor to the United States whose travel is affecting U.S.-China relations. Rates of Chinese tourism to the United States have been marching steadily upward. Even though overall tourism numbers have declined since President Donald J. Trump's election – incurring $185 million in lost revenue – interest from China remains high. A recent survey of prospective visitors from eleven nations found that only those from China were now more likely to visit the United States as a result of the current political climate. So what explains this uptick in interest among Chinese citizens in travelling to an ideologically divided nation whose leader hasn't had much positive to say about their country?
One possibility is that Chinese interest in travel to the United States would have increased anyway and doesn't depend much on who sits in the Oval Office. In 2015, tourism from China grew 18 percent year-on-year with 2.6 million visitors. American companies are also stepping up efforts to woo Chinese travelers. Certain hotels have begun adding amenities like in-room teakettles, Chinese television networks, and room service congee. The U.S. government has gotten into the game too. During the "U.S.-China tourism year" in 2016, agencies introduced Mandarin materials at popular national parks, reductions in visa processing times, and other changes. One article in the People's Daily suggested that Chinese tourists' increased interest in the United States might be the product of this promotional year and of a greater willingness to explore more unconventional routes. Finally, Chinese travelers are simply less affected by the Trump-era restrictions that have deterred other visitors, such as the visa ban, enhanced scrutiny of Muslim travelers, and regulation of electronics aboard flights from certain Middle Eastern airports.
But could there be something else at play? After all, the survey respondents linked their increased interest explicitly to the political climate. So what political factors could be at work? First, it is possible that despite Trump's anti-China comments throughout the campaign, Chinese visitors believe he will prove an effective leader or make the country safer for visitors by addressing crime and terrorism threats. Second, political tensions could be fueling a sense of urgency about the need to travel. Some prospective visitors may want to squeeze in a trip before new visa polices or worsening U.S.-China relations could make it more difficult. (Indeed concerns about tighter visa policies and greater security scrutiny feature heavily in online Chinese discussions of U.S. tourism.) Others have a more humorous take on why changing U.S.-China dynamics are making a visit more urgent. One online commenter advised Chinese travelers to go to the United States before it becomes like a province of China after being bought up by foreign money. Finally, Chinese visitors may just want to get a sense of a political drama playing out in the open, the likes of which they would not see at home. One article published just after the election suggested that many Chinese wanted to travel to the United States to experience the election culture for themselves; in November the average frequency of bookings for tourist routes involving the United States increased for the following two months. An article on the People's Daily website added that perhaps tourists are eager to "explore the new face of the United States under the Trump administration."
But the promising tourism numbers aren't guaranteed to hold. Not all the statistics have been as positive as those in the Brand USA survey. Flight research site Hopper found that weekly average flight searches to the United States from China fell by 33 percent between the period just prior to Trump's inauguration and his announcement of the travel ban. Additionally, while the Trump-Xi summit appears to have cooled trade frictions for now, a reemergence of tensions could affect tourism. Twisting the spigot on the flow of Chinese nationals travelling abroad has long been a tool in the government's arsenal. Following 2012 disputes over Scarborough Shoal, Chinese officials discouraged tourists from going to the Philippines, and more recently bilateral disputes have triggered restrictions on tourism to South Korea  and Taiwan. Similar threats have been floated regarding the United States, although it is highly unlikely anyone would act on them. In November, a Global Times op-ed on the prospect of a U.S.-China trade war noted that, "China can also limit the number of Chinese students studying in the U.S." Similar actions could also be taken to limit the number of tourists.
Tourism could also fall for other reasons. Despite American companies' best efforts to endear themselves to Chinese clients, frustration could mount with certain U.S. travel providers. The video of United Airlines passenger David Dao, who was of Chinese-Vietnamese heritage, was viewed over 330 million times in China. Many Chinese and other viewers attributed the action partially to racism. Such perceptions could hit tourism hard.  Recently the CEO of Ctrip, one of China's largest travel sites, commented that further incidents like the United kerfuffle could damage Chinese tourists' image of the United States. She explained, "Chinese consumers always pick the place that is friendly to them. The [U.S.] government needs to send a very strong message that it promotes friendliness between countries."
A decrease in tourism from China – whether caused by stricter visa policies, other government actions, or simply changing preferences– would be costly for the United States. In 2015, Chinese tourists spent $30.1 billion in the United States and tourism helps fuel the U.S. trade in services surplus with China.  Given President Trump's hyperawareness of the U.S. trade deficit with China – not to mention his own background in the hospitality industry – one would hope he might proceed with caution on anything that could disrupt tourist ties. Then again, if the survey results are to be believed, perhaps more bombastic rhetoric from Trump would be good for tourism after all.