Why Has East Timor Built the Strongest Democracy in Southeast Asia?
Despite economic struggles, East Timor has built a vibrant democracy in Southeast Asia.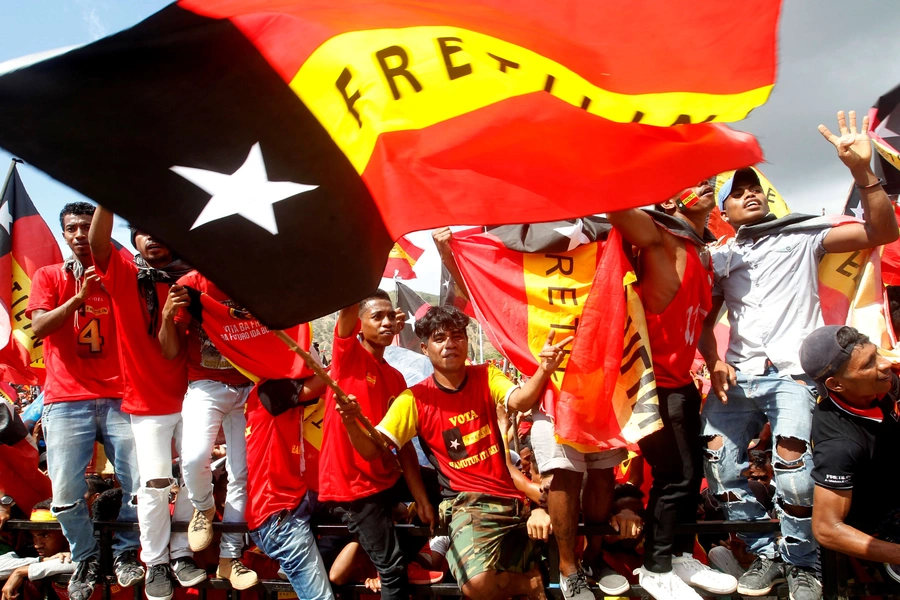 Part of a blog series on Southeast Asian and South Asian Democracy.
On the face of it, East Timor would not seem like the most natural place to have built a democracy ranked by Freedom House, in its 2021 edition of Freedom in the World, as "Free." In fact, this ranking makes East Timor the only country in Southeast Asia, where democracy has been regressing for over a decade, to be ranked "Free" by Freedom House. (I serve as a consultant for some Freedom House reports, but not for the report on East Timor.)
A wide range of other data and anecdotes suggests how far East Timor has come toward democracy. It has built a solidly free state some two decades after Timor was leveled in the conflict that erupted, in 1999, after over 78 percent of Timorese voted to separate from Indonesia after the end of the Suharto dictatorship.
That 1999 conflict in Timor, led by ravaging militias backed by the Indonesian security forces, not only killed roughly 2,600 but also wrecked much of the infrastructure in tiny Timor, which already was one of the poorest places in Asia. Timor was ravaged again, in 2006, by clashes between its own soldiers and security forces. Timor did rebuild some of its infrastructure, and received significant amounts of foreign aid and a share of the revenues from the petroleum in the Timor Gap.
Still, it remains the poorest country in Asia, a far cry from the high rises of Bangkok or Singapore. Indeed, an article by Jonas Guterres, a former advisor to the Office of the Commissioner at the Anti-Corruption Commission of Timor-Leste, notes that: "The 2017 Global Hunger Index categorized the country's [East Timor's] hunger levels as 'serious,' although over the past decade the hunger level has been reduced from 46.9 percent to 34.3 percent. Levels of malnutrition and stunting remain worryingly high."
And Timor certainly still has massive economic problems. With its share of the oil from the Timor Gap, its biggest earner, eventually going to dwindle, and the small size of Timor and remote location deterring tourism even before COVID-19, it is still searching for more sustainable drivers of the economy. The vast majority of the population is under age thirty, which could be a boon for the work force but also could lead the country to have large numbers of unemployed young men, always a dangerous situation.
And yet it has taken several important initiatives to build a consolidated democracy. Timor has brought elections down to the community level as physical infrastructure has improved, and community level elections have increased popular participation in democracy. Overall, both the long independence struggle and more recent efforts by Timorese civil society and leaders have convinced many Timorese of the importance of democracy, and turnout for elections is extremely high. With such public interest, and increasingly improved electoral commissions, elections have been held in recent years with minimal or no violence, and minimal if any irregularities.
It also has worked hard to ensure that women play a major role in elections and governing. And its constitution and norms have strong protections for civil society and an independent media, a far cry from the recent crackdown on reporters in neighboring states like Myanmar, Thailand, the Philippines, and Cambodia, among other countries in the region. Shoestring but aggressive local media outlets put tough questions to politicians in Timor.
Indeed, Freedom House notes that East Timor has held competitive elections and has undergone multiple transfers of power — something that cannot be said about many other Southeast Asian states these days. Freedom House also notes that East Timor boasts independent media, a vibrant civil society, and robust discussion among citizens about the government and other related issues.
At a time when Myanmar has been taken over by the army, Indonesia is sliding away from democracy, Philippine president Rodrigo Duterte seems to want to extend his grip on power, and Thailand is run by a military-installed regime, perhaps these Southeast Asian regional powers should look to tiny Timor for how to run a democracy.
This publication is part of the Diamonstein-Spielvogel Project on the Future of Democracy.