Why Investing in Women Matters: Mainstreaming Women's Economic Empowerment in the World's Poorest Countries
Voices from the Field features contributions from scholars and practitioners highlighting new research, thinking, and approaches to development challenges. This post is authored by Esther Pan Sloane, Head of Partnerships, Policy, and Communications at the UN Capital Development Fund (UNCDF).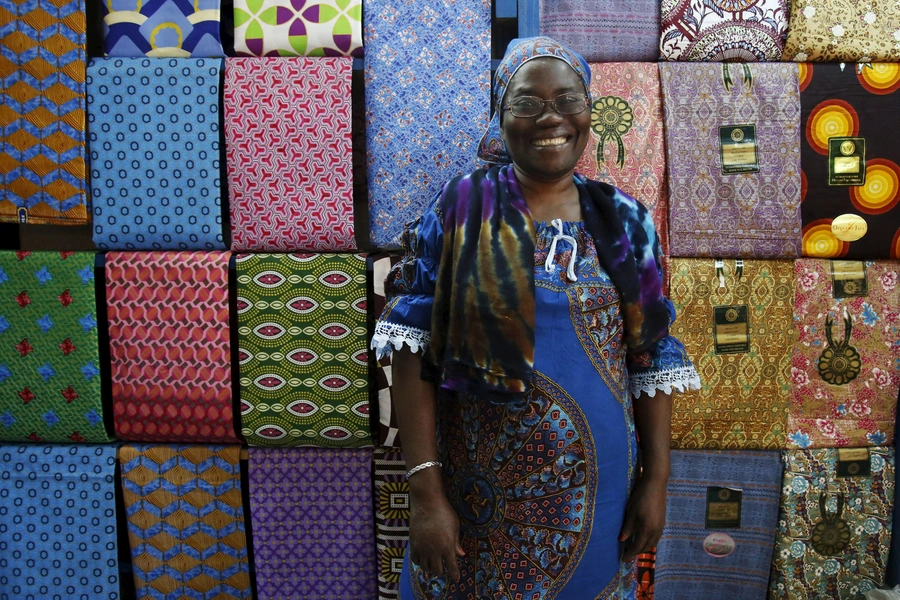 Voices from the Field features contributions from scholars and practitioners highlighting new research, thinking, and approaches to development challenges. This post is authored by Esther Pan Sloane, Head of Partnerships, Policy, and Communications at the UN Capital Development Fund (UNCDF).
The United Nation's Financing for Sustainable Development Report 2019 was released just a few months after the 70th anniversary of the Universal Declaration of Human Rights, which established equal rights for women and girls as a global standard the international community would be expected to meet.
However, sobering data from the UN report demonstrates how far we are from meeting this standard. The global labor force participation rate of women in 2018 was 47.9 percent, considerably lower than the 74.9 percent figure for men. Women make up 56 percent of the 1.7 billion adults who do not have a bank account. And while the gender pay gap exists in both developed and developing countries, the gap in poorer countries is at its largest at the low end of the wage distribution, impacting women who are already economically vulnerable.
These realities are magnified in the world's least-developed countries (LDCs). Women in these countries are more likely to work in the informal sector, exposed to occupational, health and financial risks. They are more likely to lack access to financial services that can help them weather economic downturns and smooth out uneven seasonal income. They tend to lack household savings, insurance, and credit to start and grow micro, small and medium-sized enterprises. 
As the world considers how the global financial system needs to change in order to achieve global sustainable development goals, we face a fundamental question: how can we mainstream women's economic empowerment into business and government transactions to make lives better for women?
In the world's poorest countries, the question is even more relevant. How do we raise these issues where cultural barriers against gender equality are ingrained, profound and ubiquitous? In many countries, women lack access to formal identity documents; they are barred from inheritance or land ownership; they face more legal barriers to starting a business; and they lack access to the financial tools that could help lift their families out of poverty.
At the United Nations Capital Development Fund (UNCDF), where our mandate is to make finance work for the poor, these considerations drive our work across financial inclusion, local economic development, and innovative finance. We have developed a gender theory of change to ensure that all our development work considers gender parity as a key priority.     
We know that part of the solution is encouraging governments to integrate gender considerations into infrastructure planning at the local level. This produces projects like roads with better lighting, markets with sanitation facilities, and workplaces with child-care spaces, all of which address physical or security issues that prevent women from accessing markets. As a result of UNCDF's deliberate focus on gender equality, the percentage of women's job creation in UNCDF localized investments is 69 percent; women are 65.6 percent of the active borrowers using the financial services we support; and more than half of the local investments funded by UNCDF have primarily benefitted women and girls. We know that strengthening the capacity of public and private partners to promote women's economic empowerment—including through simple steps, like requiring our implementing partners to provide sex-disaggregated data— leads to concrete results that improve the lives of women and their families.  
With local governments, this means providing capacity and expertise to drive the policy and regulatory changes needed for gender-equitable economic development. For example, local government investment plans can offer significant job opportunities for women, notably in sectors like infrastructure, agriculture value chains, and climate resilience. Our work has shown that providing the right data and technical assistance to local governments in LDCs can help them conduct gender equality analyses that help identify women-friendly projects to fund.
Another area where we can support gender mainstreaming is in digital financial services (DFS). These services have tremendous potential to integrate women into formal economies through access to payments, savings, credit, and insurance. But challenges persist: cultural environments that discourage women from interacting with male financial agents; misperceptions that only wealthy people have formal bank accounts; assumptions by financial service providers that poor women do not have savings. Supporting gender mainstreaming means providing accurate customer insights on savings patterns and mobile penetration to incentivize DFS providers to bring their services to LDCs. It also means working with those providers to train women to become financial agents so they can work closely with female clients, or potential female clients, to demonstrate the benefits of formal banking.
Finally, there is investment. There is a chronic funding mismatch between impactful businesses (including small businesses owned and managed by women) looking for growth finance, and investors decrying the lack of bankable opportunities in frontier markets. Gender mainstreaming in investment means identifying gender-positive businesses in LDCs and using our grants, loans and guarantees to de-risk deals and attract private sector investment to unlock more financing for women.
Achieving the goal of gender equality in today's global financial system means that we must make finance work for women. We know that we are capable of making women's economic empowerment a priority in the world's poorest countries. Our work provides a roadmap to gender equality through increased economic opportunity for women; we look forward to working with committed partners to make progress along that path.