Why the Paris Agreement Is Good News for Women and Girls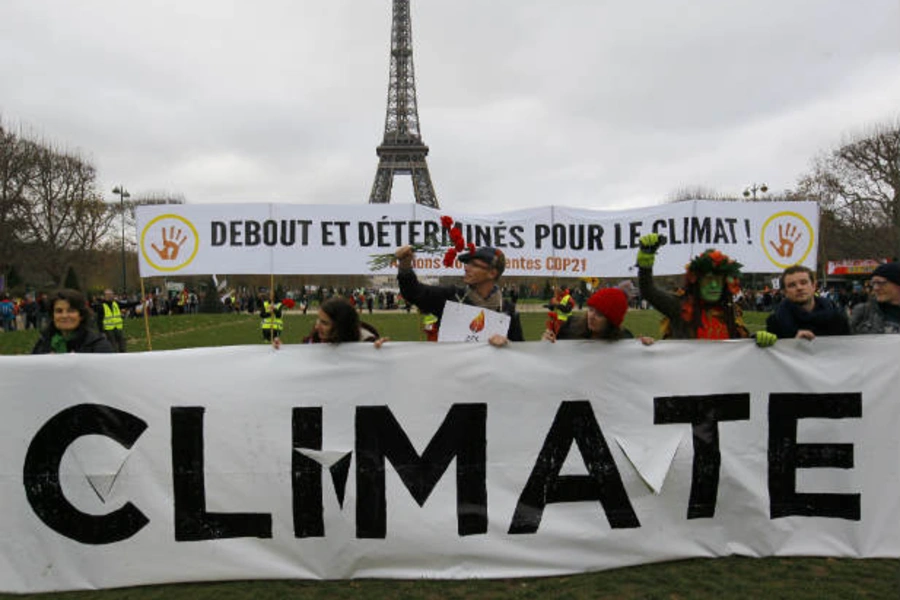 Voices from the Field features contributions from scholars and practitioners highlighting new research, thinking, and approaches to the advancement of women and U.S. foreign policy interests. This article is from Ambassador Cathy Russell, U.S. ambassador-at-large for Global Women's Issues.
Climate change is anything but an equal opportunity challenge.
Discrimination keeps women from land rights, personal documentation, and access to credit and education. Cultural beliefs make women targets of trafficking and gender-based violence, particularly in times of conflict and crisis. Traditional gender roles put women on the front lines of growing food, collecting water, and gathering fuel for their families.
These are just some of the many reasons why the effects of climate change—drought, desertification, erosion, and flooding—will continue to hit women and girls harder than anyone else.
Simply put, climate change is important to women—but women are also important to climate change. If the world's efforts to limit it are going to succeed, women need to be a full and equal part of the solution.
That's why the historic Paris climate agreement between nearly 200 countries is good news for everyone. The deal builds on the understanding that women can do a tremendous amount to confront climate change. For example, the preamble calls for gender equality and women's empowerment, and the sections of the agreement detailing adaptation and capacity-building efforts specifically call on countries to adopt gender-responsive approaches.
These references to gender are not perfunctory—they acknowledge that the approaches that empower women are those that have the best chance of effectively addressing climate change. As President Obama said at the opening of the climate change negotiations last month, we need our actions "to be big enough to draw on the talents of all our people—men and women."
The negotiations themselves illustrated just how far we have to go before we fully tap the incredible resource that is the world's women. While women like Christiana Figueres, the UN's top climate change official, and an impressive array of country negotiators and civil society actors demonstrated the kind of expertise and diplomacy women bring to the table, neither national delegations nor bodies established under the UN Framework Convention on Climate Change have achieved complete gender balance.
The international community knows it has a gender problem. The UN now counts the number of women who are involved in negotiations and encourages parties to support the full and equal participation of women.
But we can and will do more to empower women in climate change efforts. The United States will continue to advance the status of women and girls and ensure their full and equal participation in action on this issue.
Part of those efforts includes an acknowledgement that, while the Paris agreement is a critical step forward, it is by no means the end of international efforts to address climate change. As the agreement is implemented, and as national contributions are strengthened, future efforts will benefit from gender-responsive approaches to mitigation and more attention to ensuring technologies and financial resources are generally accessible to all elements of the population.
That's why we will continue our work empowering women in climate change efforts. We will build on the agreement's unprecedented inclusion of women as partners by supporting women at all levels, from the decision-making table to grassroots projects.
And we will continue to work with governments, with community leaders, and with civil society to ensure that everyone understands that including women as we chart a course for our planet is not optional. It's mission critical.