Women This Week: International Women's Day
Welcome to "Women Around the World: This Week," a series that highlights noteworthy news related to women and U.S. foreign policy. This week's post covers March 4 to March 10.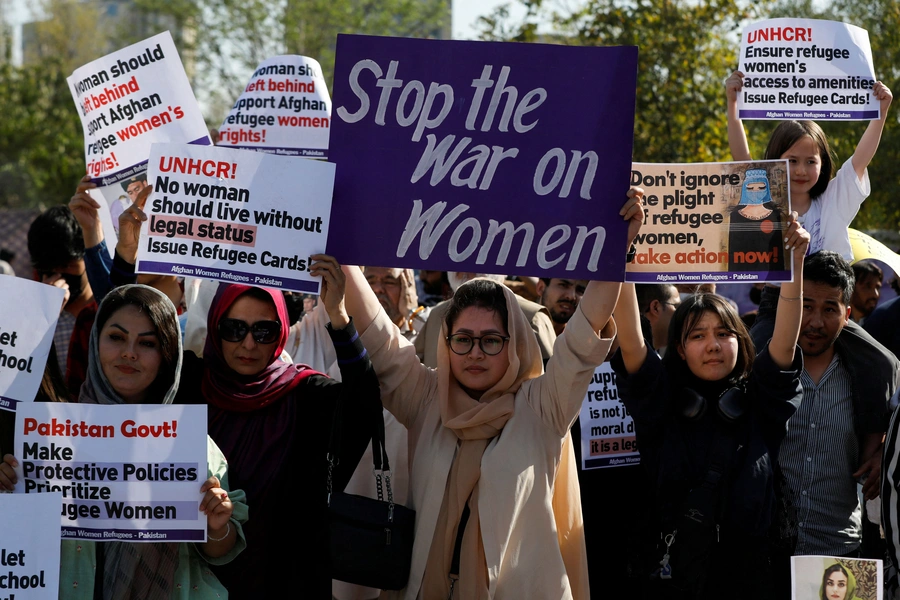 Gender Equality Is Now "300 Years Away"
In a speech on Monday, United Nations Secretary General António Guterres warned that global progress toward gender equality is "vanishing before our eyes" and that efforts to achieve full equality are now "300 years away." He pointed to the deterioration of sexual and reproductive rights in many countries and the erasure of women from public life in Afghanistan. Rallies sprung up around the world in response to the March 8 commemoration of International Women's Day. Many protests focused on Iran, Afghanistan, and a variety of local and regional issues. In Islamabad, Pakistan, police attempted to quash women protesting in support of equal rights. On Monday, young women protested outside of Kabul University as men returned to classes; the Taliban has prohibited women and girls in Afghanistan from receiving an education beyond primary school.
EU Sanctions Target Taliban Members, Russian Officers, Among Others
On Tuesday, the European Union sanctioned nine individuals and three groups under the European Union Global Human Rights Sanctions Regime, a tool adopted in 2020 that allows the EU to sanction individuals and entities for human rights violations. The sanctions list, released Tuesday, comprised of individuals involved in violations of women's rights and sexual violence. It includes two Russian commanders involved in Russia's war in Ukraine, members of the Moscow police force, two Taliban officials, and others from Myanmar, Syria, and South Sudan. The sanctions include an asset freeze and travel ban.  "Ahead of the International Women's Day, we move from words to action. No matter where it happens, we will combat and eliminate all forms of violence against women," said Josep Borrell, the high representative for European Union foreign affairs and security policy.
U.S. Sanctions Iranian Officials Involved in Government Crackdown
The United States imposed sanctions on Iranian officials and groups citing human rights violations against women and girls. The sanctioned individuals have participated in a violent government crackdown on women-led protests across Iran, which began in response to the death of Mahsa Amini in September 2022. Two of the sanctioned officials run prisons holding political dissidents. According to the U.S. Treasury Department, protestors held in these prisons have been sexually abused, tortured, and threatened with violence. "The United States remains deeply concerned that Iranian authorities continue to suppress dissent and peaceful protest, including through mass arrests, sham trials, hasty executions, the detention of journalists, and the use of sexual violence as a means of protest suppression," said U.S. Secretary of State Antony Blinken. Several other individuals and entities were sanctioned in coordination with the EU, the United Kingdom, and Australia.