Women This Week: Women Arrested in Belarus
Welcome to "Women Around the World: This Week," a series that highlights noteworthy news related to women and U.S. foreign policy. This week's post covers September 19 to September 25.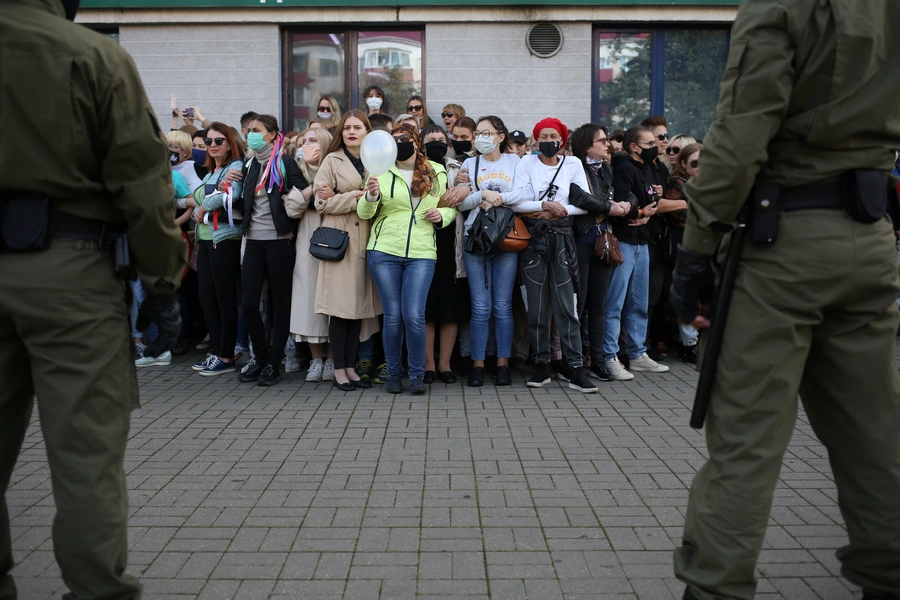 This week's post was compiled by Alexandra Bro, research associate with the Women and Foreign Policy program at the Council on Foreign Relations, and Hareem Abdullah, intern with the Women and Foreign Policy program at the Council on Foreign Relations.
Hundreds of Women Protesters Arrested in Belarus
On September 19, police arrested more than three hundred demonstrators at a women's protest march in Minsk, Belarus. The number of participants was about three times as high as at the protests that took place two weeks ago. The march followed a series of protests calling for the resignation of President Aleksandr Lukashenko who, according to a government exit poll, won almost 80 percent of the vote in the August 9 election, which critics say was rigged. Opposition leader Svetlana Tikhanovskaya condemned the detentions and described them as "lawlessness." Since August, thousands of women have engaged in peaceful protests. The threat of political violence targeting women around the world has grown in recent years.
Justice Ginsburg's Trailblazing Fight for Legal Equality
Supreme Court Justice Ruth Bader Ginsburg died on September 18 from complications from pancreatic cancer. She spent her legal career advancing gender equality and women's rights, and in 1993, became only the second woman to serve on the Supreme Court. Although her pioneering work was domestic, Ginsburg took inspiration from other countries, and argued the relevance of paying attention to foreign law and the approaches jurists abroad use to resolve legal problems. It was during an international trip that Ginsburg started thinking seriously about gender equality. In the early 1960s, she traveled to Sweden to study civil procedure. There, she discovered that almost a quarter of the Swedish law students were women (compared to less than five percent in the United States), and attended a proceeding with an eight months pregnant presiding judge. Upon her return to the United States, she began teaching at Rutgers University and later cofounded the ACLU Women's Rights Project, starting her long legal fight against gender discrimination. Despite important progress, on average, women still just enjoy three-fourths of the legal rights afforded to men globally.
The World's First International Equal Pay Day
The International Equal Pay Day was observed for the first time this year on September 18. An initiative by the United Nations, the day aims to highlight the longstanding efforts made toward achieving equal pay for work of equal value between men and women. According to the World Bank, around 47 percent of women over the age of fifteen participate in the labor force, compared to 75 percent of men. The gender wage gap remains pervasive across all sectors and countries. In the United States, women who hold full-time jobs earn approximately 20 percent less than their male counterparts; globally, women earn approximately 16 percent less than men.