Women This Week: Women's Rights Deteriorate in Afghanistan
Welcome to "Women Around the World: This Week," a series that highlights noteworthy news related to women and U.S. foreign policy. This week's post covers December 18 to January 7.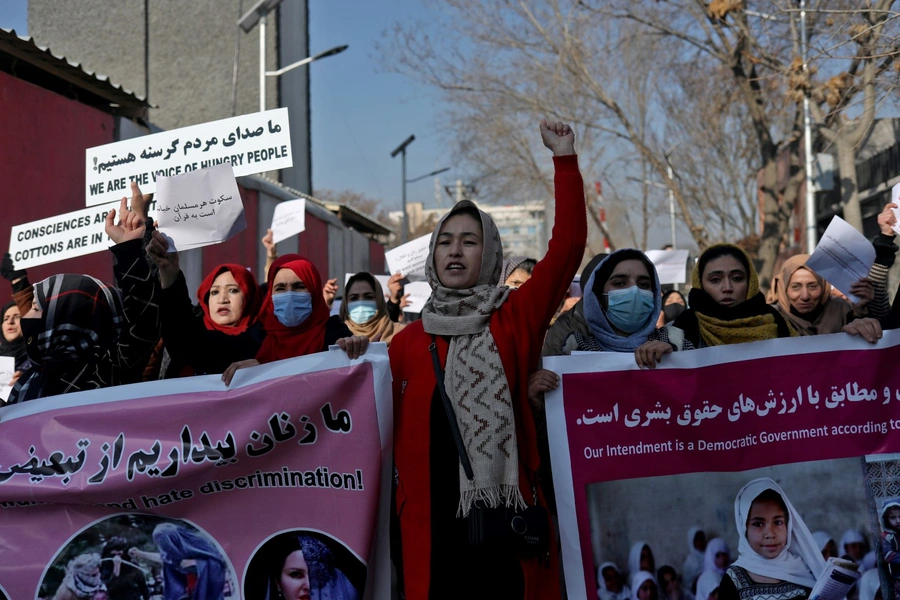 Taliban Government Continues to Strip Away at Women's Rights
The Taliban issued a new guidance last week that prevents Afghan women from traveling distances greater than forty-five miles from home without the accompaniment a close male relative. This directive follows on a guidance issued in November 2021 that directs television stations to stop broadcasting programs with female actors. Around thirty women took to the streets in Kabul to protest the restrictions and called on the Taliban to respect women's rights. The women also protested the Taliban's alleged killings of soldiers who served under the previous Afghan government. The next day, approximately fifty women participated in a demonstration in Kabul calling on the United States to unfreeze  the Taliban government's assets. Foreign governments have said the Taliban must respect the rights of women and girls as a condition of receiving aid. However, the Taliban has instead further restricted women's rights despite the risk of mass starvation this winter. Last month, the Biden administration instituted new measures that exempted humanitarian aid groups operating in Afghanistan from sanctions imposed on the Taliban.
Jordanian Lawmakers Come to Blows Over Reference to Women in Constitutional Amendment
A disagreement between Jordanian members of parliament over a proposed constitutional amendment turned violent last week when a group of lawmakers engaged in a physical altercation. No injuries were reported from the brawl. The amendment, which Jordan's parliament ultimately approved, adds a specific reference to Jordanian women to the constitution. Prior to the amendment, the constitution only discussed Jordanian citizens using a male plural noun, which is used to describe both groups of men and mixed-gender groups in Arabic. Conservative lawmakers opposed the change, with one member of parliament arguing that the amendment was "against morality and motherhood." The amendment's proponents said the change was a nod to linguistic equality without policy implications.
Trial Concerning Sexual Violence During Guatemalan Civil War Begins
Trial proceedings began this week against five former Guatemalan paramilitaries who face charges of rape from 1981 to 1985 during the Guatemalan Civil War. The five former paramilitaries, who belonged to the Civil Self-Defense Patrols (PACs) during the civil war, allegedly raped thirty-six indigenous women. The Guatemalan military and the PACs particularly targeted indigenous Guatemalans during the civil war. Estimates suggest that two hundred thousand Guatemalans were killed during the conflict that spanned from 1960 to 1996. An estimated eighty percent of those who were killed were Mayan, the indigenous people of Guatemala.