Women's Rights Reforms in Tunisia Offer Hope
Women in Tunisia have far more rights than their regional counterparts, but they still are far from true equality. Unequal inheritance laws provide a window into what's really going on in Tunisia.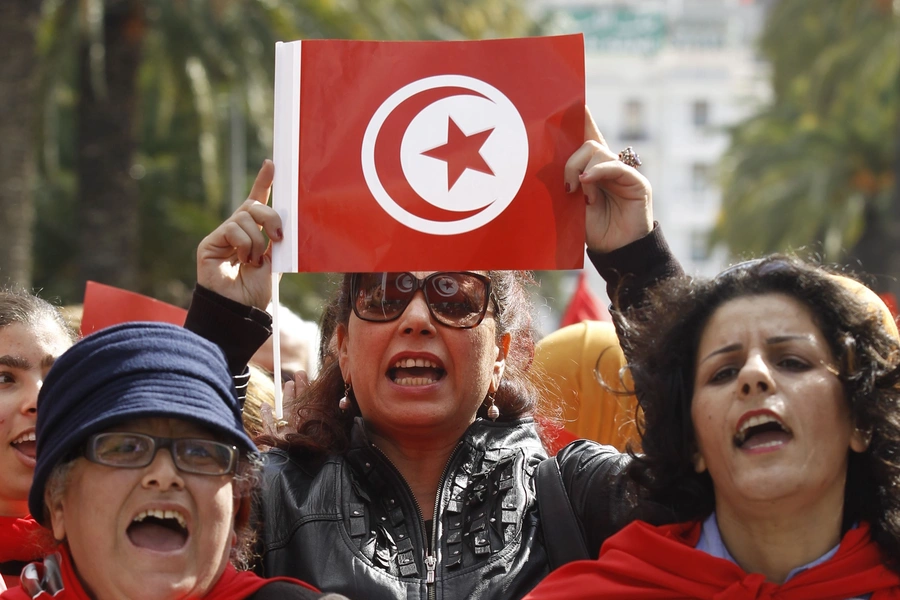 This post is co-authored by Maiya Moncino, research associate for international economics, at the Council on Foreign Relations. 
The Arab Spring fostered hope for democratic reforms across the Middle East and North Africa region. Few of these hopes have come to fruition, with political violence, suppression of dissenting voices, and economic turmoil marking the region, rather than the political and economic reforms that had once seemed possible. In the realm of women's rights, however, we are seeing slow progress.
Despite a restrictive system of male guardianship, Saudi women were recently given the long withheld right to drive. This summer, Jordan and Lebanon repealed laws that would exonerate a rapist if he married his victim. These two countries drew inspiration from a pioneering neighbor. Tunisia, the birthplace of the Arab Spring, was also the first to repeal the "marry the rapist" laws and has led the way in promoting women's rights across the region.
To some extent, Tunisian women have long had more rights than their counterparts in neighboring countries. Since 1956, the Code of Personal Status (CSP), granted equality in divorce proceedings and established the necessity of a minimum age and mutual consent in marriage, as well as codifying women's rights to work, move, open bank accounts, and start businesses. Article 21 of the 2014 Tunisian constitution stipulated that: "Male and female citizens are equal in rights and duties. They are equal before the law without any discrimination."
Other women's rights in Tunisia remained elusive, however. An administrative order dating back to 1973 forbade Muslim Tunisian women from marrying non-Muslims (though Tunisian men were not subject to this restriction). Violence against women is shockingly high, with the Tunisian Association of Democratic Women reporting that almost 70% of Tunisian women are victims of abuse. In 2015, Amnesty International called on the Tunisian government to pass laws recognizing martial rape and eliminate those criminalizing sexual relations between consenting, unmarried adults.
This summer, Tunisian President Béji Caïd Essebsi rolled back some of the restrictions on women's rights. A ninety-year-old trained lawyer and former militant, Essebsi may not seem the part of a revolutionary fighting to take down patriarchal structures. Yet, in mid-September of this year, Essebsi revoked the 1973 administrative order and gave women the right to marry outside of the Muslim faith.
This came after the Tunisian parliament expressed support for women's rights by passing a landmark law on domestic violence. On July 26, the Tunisian parliament passed the Law on Eliminating Violence Against Women, which introduces criminal provisions and penalties for perpetrators of domestic violence, and includes provisions to prevent child labor, sexual harassment in public places, and pay discrimination.
Now, Essebsi is confronting Sharia law itself.  In an August 2017 speech—on National Women's Day—he affirmed that the Tunisian state must acknowledge the rights of women. "We must state that we are moving toward equality between them in every sphere," he said. "And the whole issue hinges on the matter of inheritance."
The inheritance issue is a particularly contentious one, pitting the president against religious leaders. Traditional religious leaders point to text in the Quran indicating that daughters can inherit only half of the inheritance received by sons. Regional leaders have been reluctant to take on this issue, because doing so would mean confronting the way traditional religious leaders have viewed this issue. "Essebsi's proposals oppose sharia," claimed Abbas Shuman, director of the Al-Azhar Institute in Cairo, one of the leading institutions for the study of Islamic law. In Shuman's view, "[t]he inheritance matter is perfectly clear and written in Koranic verses that are not in dispute." In fact, feminist Islamic scholars take issue with religious leaders who single out clauses in the Quran, while ignoring other clauses in religious texts supporting women's rights.
Feminists in the region also note that the contemporary reality for men and women—where families increasingly need to have multiple wage earners—calls for an approach to family law and inheritance that keeps pace with the times. "Today in Egypt, one-third of Egyptian households are headed by women," says Marwa Sharafeldin, an advocate for family law reform in Egypt, reflecting on the intersection of Islam and gender. "They are the main breadwinners. How are you going to talk about men being the protectors and providers of women according to Islamic law when you have this kind of reality here?"
In many respects, Tunisia has led the region in transitioning to democracy and advancing women's rights. Essebsi's bold moves to promote women's rights provide hope that the Arab Spring's promise of more rights for women can slowly come to fruition.