The World Next Week: Clinton Visits Turkey, OIC Meets in Mecca, Climate Changes, and Puerto Rico Votes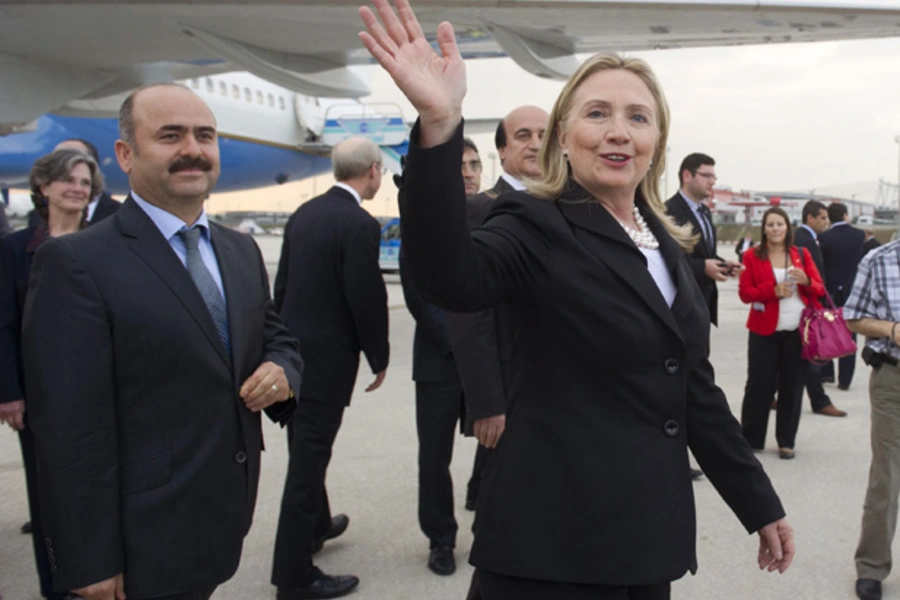 The World Next Week podcast is up. Robert McMahon gave up his seat this week so that Toni Johnson and I could discuss Secretary of State Hillary Clinton's visit to Turkey; the Organization of Islamic Cooperation's (OIC) meeting in Mecca; the UN Clean Development Methodology Panel's meeting in Bonn; and Puerto Rico's referendum on its political status.
[audio: http://www.cfr.org/content/publications/media/editorial/2012/20120809_T…]
The highlights:
Secretary of State Hillary Clinton heads to Turkey for talks on what to do about Syria's incipient civil war. Syrian opposition forces have managed to open a safe aid route through Turkey, and Syria's prime minister joined the growing ranks of top-level defectors from the Assad government this week. Secretary Clinton will be emphasizing that the region needs to prepare for a post-Assad Syria. The White House remains reluctant, however, to heed calls for supplying the Syrian rebels with the kinds of sophisticated weapons that would bring about a post-Assad Syria sooner rather than later.

The Organization of Islamic Cooperation (OIC) meets in Mecca next week. King Abdullah of Saudi Arabia called for the session as regional powers disagree on what to do about Syria. Iranian president Mahmoud Ahmadinejad has said he will attend the meeting. Riyadh and Tehran are on opposite sides of the Syrian dispute, which makes it unlikely that the OIC will take significant action.

The UN Clean Development Mechanism (CDM) Methodology Panel meets in Bonn next week to consider new methodologies to monitor and quantify emissions reductions. Lurking in the background is concern that a quirk in at least one CDM program designed to reduce greenhouse gas emissions is being exploited by firms in developing countries to make big profits and possibly make the climate change problem worse. Meanwhile, climate change remains the unmentioned topic on the U.S. campaign trail despite record high temperatures across the United States.

Puerto Ricans go to the polls on Sunday to vote on whether they are satisfied with the island's current status as a U.S. commonwealth. If a majority of Puerto Ricans votes no, then a second referendum will be held on November 6 to determine whether Puerto Rico should become a state, an independent country, or a sovereign commonwealth associated with the United States. President Obama and Governor Romney both say that they will support statehood if that's how Puerto Ricans vote, but the polls suggest that they won't.

Toni's Figure of the Week is two. My Figure of the Week is Mohammed Morsi. As always, you'll have to listen to the podcast to find out why.
For more on the topics we discussed in the podcast check out:
Secretary of State Clinton Visits Turkey. Al Arabia reports that fighting will continue in Aleppo during Clinton's visit to Turkey. The Washington Post writes that Hillary Clinton urges the international community to prepare for post-Assad reconciliation to avoid sectarian violence in Syria, while the Guardian concludes that intervention may intensify sectarian conflict. The New Yorker contemplates where the Syrian civil war may lead as AP analyzes post-Assad scenarios.
The OIC Convenes in Mecca. The Eurasia Review previews the OIC meeting during the last week of Ramadan to address challenges and concerns facing the Islamic world. The Express Tribune reports that Pakistani president Asif Ali Zardari will attend the OIC meeting in Mecca. Reuters reports that the OIC is calling for humanitarian aid for victims of the anti-Muslim violence in Myanmar.
The UN's Clean Development Methodology Panel Meets in Bonn. The high-level panel tasked to evaluate the Kyoto Protocol's Clean Development Mechanism (CDM) in South Africa issued a press release outlining its recommendations. Ventures reports that new regulations will grant African businesses better access to carbon credits through CDM. BBC reports that the United States is being criticized for pushing to have the target of keeping global warming under two degrees centigrade removed from climate talks. William Becker has thoughts on climate change and the presidential campaigns, while the National Journal Daily says that Governor Romney and President Obama can avoid global warming discussion during the campaign, but will have to address the topic after the elections.
Puerto Rico Holds a Referendum on Its Political Status. The Jurist reports that Resident Commissioner of Puerto Rico Pedro Pierluisi believes that the referendum is a historic piece of legislation for Puerto Rico. The Huffington Post writes that DC shadow senator Paul Strauss thinks that DC's statehood movement may be emboldened by Puerto Rico's referendum. AP concludes that Puerto Ricans in Florida could play a key role in the U.S. presidential election.