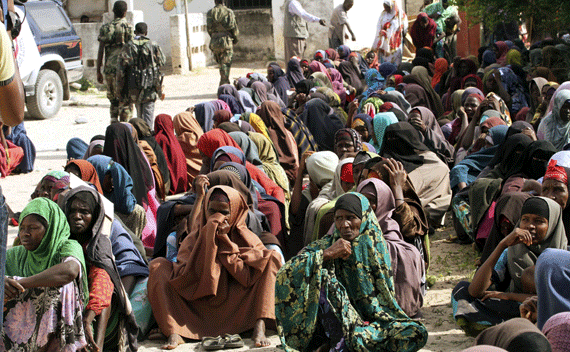 The World Next Week podcast is up. Stewart Patrick filled in for Bob McMahon. Stewart and I talked about the famine in the horn of Africa; a possible endgame in Libya; the UN Security Council's discussion of its peacekeeping operations; and developments in the Republican nominating race.
[audio: http://www.cfr.org/content/publications/media/podcast/2011/20110817_TWN…]
The highlights:
International efforts to combat famine in Somalia have stumbled over several obstacles: failures to coordinate the efforts of governments, international organizations, and private charities; the opposition of some al-Shabaab leaders to aid efforts; and the theft of some of food shipments.

The six-month-old Libyan civil war looks to be entering into its final phase. Rebels claim to have captured Zawiya, a city of 200,000 people located thirty miles west of Tripoli. If true, the rebels can cut off food and fuel supplies to the Libyan capital. If Qaddafi's forces stand their ground and fight, the result could be exactly what the West sought to avoid with its military intervention—a humanitarian disaster. The difference is that the victims will be the residents of Tripoli rather than Benghazi.

The United Nations has 120,000 people in fifteen countries participating in peacekeeping operations. Those commitments have stretched the UN's peacekeeping capacity, intensifying the pressure to find ways to operate more efficiently. The pressures on UN peacekeeping are likely to grow if House Republicans get their way. They propose making deep cuts in U.S. financial contributions to UN peacekeeping.

Tim Pawlenty left the GOP presidential race just as Rick Perry joined it. Perry's entry doesn't immediately change the foreign policy dynamic in the race. Pawlenty had positioned himself as the "hawk internationalist," and Perry looks to be staking out the same terrain. American voters, including many Republicans, however, look to be losing faith in hawkish internationalism, at least when it comes to Afghanistan.

Stewart's Figure of the Week is Larysa Kondracki. My Figure of the Week is 58,000. Listen to the podcast to find out why.
The New York Times discusses possible thefts of food aid in Somalia, and the Telegraph covers World Health Organization concerns about a cholera epidemic in the country. The New York Times covers this weekend's rebel gains in Libya, and the Washington Post reports on the defection of a top Qaddafi security official. The Economic Times covers India's push for additional peacekeeping funds, and the World Politics Review discusses the status of peacekeeping operations in South Sudan. At "The Cable," Josh Rogin reviews Rick Perry's foreign policy views.