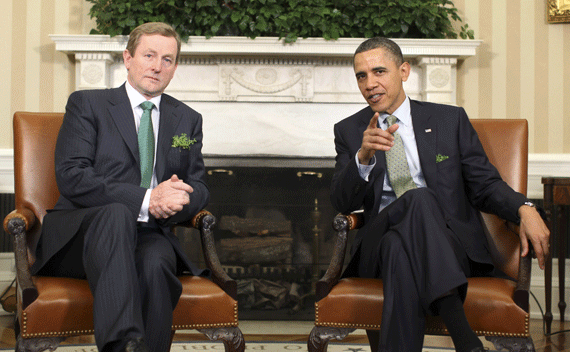 Technical problems derailed today's recording of The World Next Week. No, that is not CFR code for: "We blew off work to watch March Madness." Michigan doesn't play until tomorrow. (Go Blue!)
In honor of it being St. Patrick's Day, I had intended to use the podcast to thank one of our loyal listeners, Brian, for writing in and gently pointing out that I had mangled the pronunciation of Taoiseach, the Irish Gaelic word for "prime minister. My apologies. You can hear the correct pronunciation here.
The topics Bob and I had wanted to discuss were the aftershocks of Japan's massive earthquake and tsunami; President Obama's visit to Latin America; the upcoming Egyptian vote on constitutional reforms, and the eighth anniversary of the Iraq war.
A lot of commentators have already begun to weigh in these topics. Foreignpolicy.com discusses Japan's next move after the cataclysmic earthquake, and CFR's "Asia Unbound" considers the consequences of Japan's nuclear nightmare for China's burgeoning industry. Another CFR blog, "Latin America's Moment," provides an overview of Obama's agenda and objectives for his Latin America trip, and Reuters discusses the competition between the U.S. and China for influence in Latin America. NPR covers the planning for and disputes over Egypt's referendum on Saturday, and the Wall Street Journal reports on the status of Egypt's hated state security agency. As the United States comes up on its eighth anniversary of the war in Iraq, the New York Times warns that Iraq's record-setting delay in forming a government has made the Obama administration's tasks of removing all American troops by the end of the year even more complex. I laid out my views of the Iraq War in America Unbound, which I wrote with Ivo Daalder a few years back. Nothing in the interim has changed my thinking.