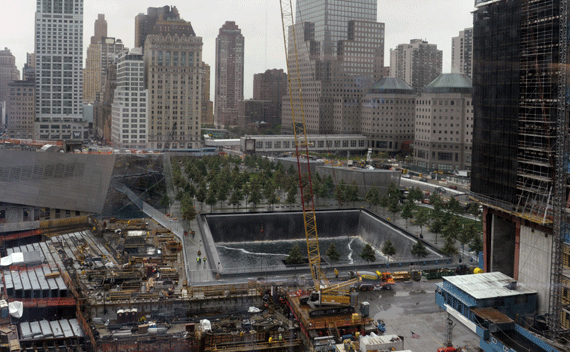 The World Next Week podcast is up. Bob McMahon and I discussed the tenth anniversary of the 9/11 terrorist attacks; the work of the bipartisan congressional super committee on deficit reduction; the continued resistance of pro-Qaddafi fighters in Libya; and Guatemala's national elections this weekend.
[audio: http://www.cfr.org/content/publications/media/podcast/2011/20110908_TWN…]
The highlights:
What are the lessons of 9/11? Bob persuaded ten of my CFR colleagues to weigh in with their assessments. Some of their conclusions are surprising.

I remain pessimistic about the chances that the super committee will strike a deal by the November 23 deadline. But maybe it's just all of the rain hitting the DC area that has me extra gloomy.

Pro-Qaddafi forces continue to fight in Sirte and several other Libyan cities. Whether these loyalist groups can mount a sustained rearguard action will be one of several factors determining whether the National Transitional Council (NTC) succeeds in bringing order and justice to Libya.

Mexico's drug violence has spilled over its southern border into Guatemala, adding a further complication to a country that is struggling to deal with the legacy of its protracted civil war as it goes to the polls on Sunday.

Bob's figure of the week is $2.2 trillion. Mine is Rick Perry. To find out why, you'll have to listen to the podcast.
CFR has published an issue guide that examines the various ways the 9/11 attacks changed U.S. foreign policy. Richard Haass argues that while 9/11 was a "terrible tragedy…it was not a historical turning point." CNN discusses the deficit committee's initial meeting, and the New York Times's editorial page argues that the very goal of the deficit committee is misguided given the economic picture. Fox News reports on an audio tape Qaddafi released yesterday, and Bloomberg covers the efforts of NTC fighters to force the remaining Qaddafi strongholds to surrender. The Eurasia Review frets that the upcoming Guatemalan elections will be tarnished by censorship and other issues, and Reuters explains that a victory by the military establishment would complicate an investigation of Guatemala's 1960-1996 civil war.