You Might Have Missed: Al-Qaeda, Post-Qaddafi Libya, and the Interrupters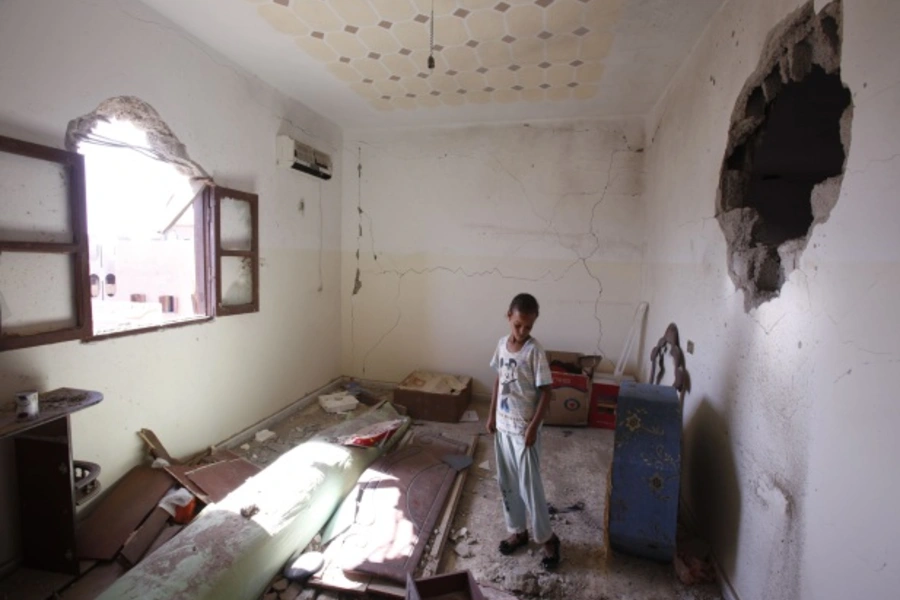 Even where there is enough food, people do not seem healthier. On top of 1 billion without enough calories, another 1 billion are malnourished in the sense that they lack micro-nutrients (this is often called "hidden hunger"). And a further 1 billion are malnourished in the sense that they eat too much and are obese. It is a damning record: out of the world population of 7 billion, 3 billion eat too little, too unhealthily, or too much.
Malnutrition is associated with over a third of children's deaths and is the single most important risk factor in many diseases. A third of all children in the world are underweight or stunted (too short for their age), the classic symptoms of malnourishment.
General Martin Dempsey, chairman of the Joint Chiefs of Staff, told lawmakers there were good security reasons not to cut defense spending as deeply as the drawdowns that followed the Vietnam War or the Cold War.
"In the previous two we were entering a relative stability," he said. "I can't impress upon you that in my personal military judgment, formed over 38 years, we are living in the most dangerous time in my lifetime, right now, and I think sequestration would be completely oblivious to that."
For years, the elite Joint Special Operations Command and the CIA had teams deployed inside Yemen that supported Yemeni forces and conducted unilateral operations, consisting mostly of cruise missile and drone attacks. Some of the unilateral strikes have killed their intended targets, such as the CIA attack on Awlaki. But others have killed civilians—at times, a lot of civilians. And many of these have been in Abyan and its neighboring province of Shebwa, both of which have recently seen a substantial rise of AQAP activity. President Obama's first known authorization of a missile strike on Yemen, on December 17, 2009, killed more than forty Bedouins, many of them women and children, in the remote village of al Majala in Abyan.
That, in a nutshell, is how many Yemenis see the US role in their country. The United States "should have never made counterterrorism a source of profit for the regime, because that increased terrorism," asserts Iryani. "Their agenda was to keep terrorism alive, because it was their cash cow." The US bombings, he said, were "a bad mistake. Military action often backfires by killing civilians, by the violation of sovereignty. That offends a lot of Yemenis." For the United States, the most serious question that lingers over Yemen after Ali Abdullah Saleh is: Did US counterterrorism policy strengthen the very threat it sought to eliminate? "It was a major fiasco," Iryani says of the past decade of US counterterrorism policy in Yemen. "I think if we had been left alone, we would have less terrorists in Yemen than we do now."
"Drone Strikes Never Allowed," Dawn.com, February 13, 2012.
"First of all I want to inform you that we did not allow or give permission to fly drones from Pakistan," Mr Gilani told Al Jazeera television.
"Drones are counter-productive and we have discussed it thoroughly with the U.S. administration."
(3PA: Gilani's incredible assertion follows that of Pakistan's Foreign Minister Hina Rabbani Khar, who said earlier this month: "There is nobody in Pakistan who has ever been supportive of [the drone program]." One wonders how American intelligence operatives and Blackwater contractors were able to conduct hundreds of armed drone strikes that originated from Pakistani airbases for seven years until the entire program moved to Afghanistan airfields last fall. As the Pakistani air force chief told parliament in Islamabad, Pakistan has the capability of bringing down drones being operated by the United Stated in the tribal areas, but policy and decision-making rest with parliament.)
Senior ranking US military leaders have so distorted the truth when communicating with the US Congress and American people in regards to conditions on the ground in Afghanistan that the truth has become unrecognizable. This deception has damaged America's credibility among both our allies and enemies, severely limiting our ability to reach a political solution to the war in Afghanistan. It has likely cost American taxpayers hundreds of billions of dollars Congress might not otherwise have appropriated had it known the truth, and our senior leaders' behavior has almost certainly extended the duration of this war. The single greatest penalty our Nation has suffered, however, has been that we have lost the blood, limbs and lives of tens of thousands of American Service Members with little to no gain to our country as a consequence of this deception.
Al Qaeda's life expectancy will not be significantly reduced by piling on additional resources to destroy it. Large-scale military efforts may only provoke the kind of reactions that give al Qaeda new life. Accepting the likelihood of a lengthy struggle means conserving resources for the long haul. Firepower is less important than staying power. Continuing the campaign against al Qaeda and the jihadist enterprise inspired by its ideology may be necessary, but it must therefore be sustainable.
Sustainable is a malleable term. The war against al Qaeda has been costly, although al Qaeda's boast that it will bankrupt America cannot be taken seriously. The United States has borne heavier burdens in past wars, both in lives and in treasure as a percentage of the country's GDP. America can, if it chooses, sustain even its current level of commitment indefinitely.
(3PA: This is the best assessment yet of the proliferation of humanitarian and security challenges emerging from the post-Qaddafi era, and worth reading before you advocate the overthrow of the Assad regime.)
From the archive:
(3PA: This week, PBS Frontline is featuring the must-see documentary, "The Interrupters." To see when it is playing in your area, click here.)