Contracts: Air Force, U.S. Department of Defense, September 12, 2013.
General Atomics - Aeronautical Systems Inc., Poway, Calif., has been awarded a $12,844,738 cost-plus-fixed-fee contract for the MQ-9 stationary targeting improvements. This contract action is for the development and delivery of an improved targeting capability with the Lynx synthetic aperture radar (SAR) on the MQ-9 platform to allow for a more streamlined approach to targeting and quicker decision making by the crew.
---
Gerald F. Seib, "McCain Passionately Defends Syrian Opposition," Wall Street Journal, September 11, 2013.
"The Syrian people are moderate," [McCain] said. "The Syrians are not going to stand to be governed by al Nusra and foreign fighters. They're not. They're the most highly educated, most literate nation in the Middle East. And to somehow believe they are going to fall prey to al Qaeda and al Nusra is not a possibility."
(3PA: According to UNESCO and World Bank estimates, Israelis, Palestinians, and Jordanians, have higher literacy rates.)
---
6th Report of the Independent International Commission of Inquiry on the Syrian Arab Republic, United Nations, September 11, 2013.
Government and pro-government forces have continued to conduct widespread attacks on the civilian population, committing murder, torture, rape and enforced disappearance as crimes against humanity. They have laid siege to neighbourhoods and subjected them to indiscriminate shelling. Government forces have committed gross violations of human rights and the war crimes of torture, hostage-taking, murder, execution without due process, rape, attacking protected objects and pillage.
---
Tony Perry, "If Ordered to Strike Syria, Navy is Ready, Admiral Tells Sailors," Los Angeles Times, September 10, 2013.
"My philosophy is: Don't try to impress someone from China with Chinese food," [chief of naval operations Adm. Jonathan] Greenert said.
---
Joel Achenbach, "Obama's Syria Push Scrambles Hill Alliances," Washington Post, September 10, 2013.
He could use an "aye," for example, from Rep. Trent Franks, the Arizona Republican and far-right conservative. But here's Franks, in a subterranean corridor, emerging Monday night from a high-level briefing on Syria: "It just seems that everything the president touches in foreign policy, he injects it with chaos and death."
---
Karen DeYoung, "U.S. Officials Identify Extremist Groups in Benghazi Attack," Washington Post, September 10, 2013.
In the past four months, as crises have erupted and terrorist threats led the department to temporarily close embassies and consulates in 20 countries, the official said, military forces have been moved around to respond quickly "70 to 80 times."
---
Tom Vanden Brook, "Strike to Degrade Syrian Forces Would Still be Limited," USA Today, September 8, 2013.
A second senior official, who has seen the most recent planning, offered this metaphor to describe such a strike: If Assad is eating Cheerios, we're going to take away his spoon and give him a fork. Will that degrade his ability to eat Cheerios? Yes. Will it deter him? Maybe. But he'll still be able to eat Cheerios.
---
New York Times/CBS News poll, September 6-8, 2013.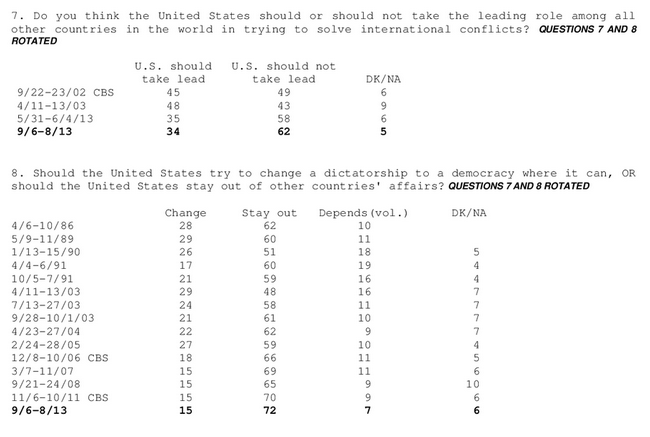 (3PA: This is the highest recorded percent of Americans that believe the United States should not take a leading role in solving international conflicts.)
---
Daniel Maliniak, Ryan Powers, and Barbara F. Walter, "The Gender Citation Gap in International Relations," International Organization, August 2013.
A look at our data reveals that women in IR do, in fact, cite their work significantly less than men…Among those single-authored articles, male-authored articles have 0+4 self-cites on average, while articles authored by one woman self-cite 0+25 articles+ Looking at only coauthored articles reveals a similar pattern, where those written by two or more men cite themselves more than women.