You Might Have Missed: Syrian Air Defenses? Drones, and Benghazi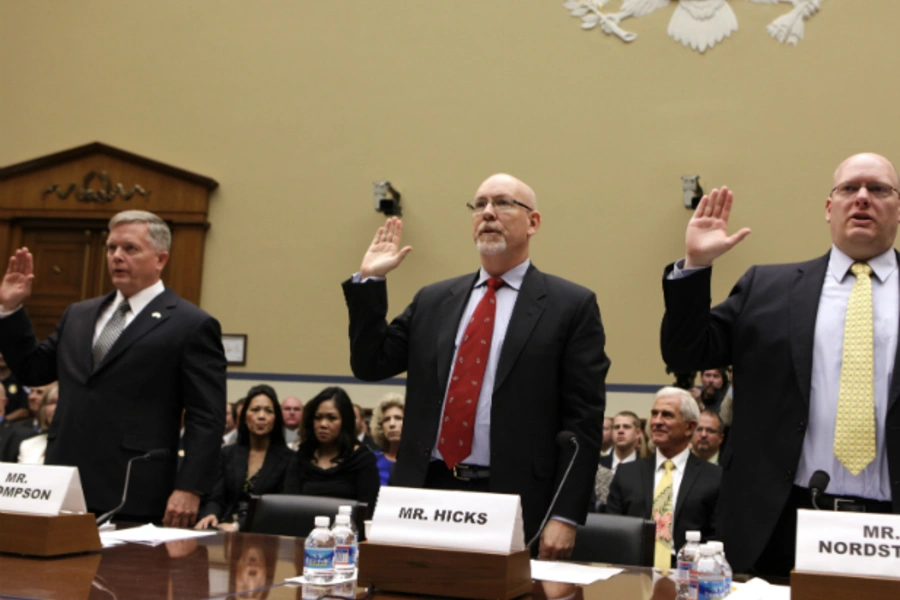 Olga Khazan, "Interview: NATO Supreme Allied Commander on Syria and Soft Power," The Atlantic, May 9, 2013.
But one strike is a very different proposition than launching a big campaign. The benefit of surprise and stealth and a single-point strike may or may not tell us a good deal about Syrian air defense, broadly conceived. Syria has about 10 times the air defense capability that Libya had, and it's compressed into about one-fifth the space of Libya. It would be a challenging air defense environment.
(3PA: On April 30, Gen. Martin Dempsey chairman of the Joint Chiefs of Staff stated that compared to Libya: "In Syria you've got five times more air defense systems, some of which are high-end systems, which means higher altitude, longer range. More importantly, they're all collapsed into the western one-third of the country. So it's a much denser and more sophisticated system."  Which is it? Stravidis: 10 times and one-fifth, or Mullen: five times and one-third?)
---
Julian E. Barnes, "Shrinking Budget Forces Army Into New Battlefield," Wall Street Journal, May 10, 2013.
"It is almost like the Army needs a therapist," said a senior Army official. "Go lie down in a dark room and think about what does the nation expect of me and how am I going to do that."
---
"The Use of Armed Drones Must Comply With Laws," International Committee of the Red Cross, May 10, 2013.
---
"How to Generate Distrust on Drones," New York Times, May 9, 2013.
President Obama says he wants greater transparency for the clandestine killing of terrorists overseas, largely using missiles fired by drones. There has been little public action on this pledge, but if he is serious, he should consider many of the recommendations made this week by a former legal adviser to the State Department, Harold Koh. Speaking at Oxford University on Tuesday, Mr. Koh said the legal standards and procedures of the killing program are far too secret, even to Congress and American allies. That has fostered a growing sense that the program is "illegal, unnecessary and out of control," he said.
(3PA: For my thoughts on Koh's remarks, see "Talking in Circles.")
---
Dexter Filkins, "The Thin Red Line," The New Yorker, May 13, 2013.
Still, Obama has said that he is worried that arming the rebels will have unintended consequences: a genocide against the Alawites; weapons falling into the hands of Islamist extremists, as happened when the U.S. armed Afghan jihadis in the nineteen-eighties; or a rapid political collapse that demolishes the state's institutions. "If we're not careful about who gets weapons, we'll be cleaning that up for years,'' the senior White House official told me. "We saw that movie in Afghanistan."
---
Ernesto Londono, "Special Ops Halted From Responding to Benghazi Attacks, U.S. Diplomat," Washington Post, May 6, 2013.
As the weakly protected U.S. diplomatic compound in eastern Libya came under attack the night of Sept. 11, 2012, the deputy head of the embassy in Tripoli 600 miles away sought in vain to get the Pentagon to scramble fighter jets over Benghazi in a show of force that he said might have averted a second attack on a nearby CIA complex.
Hours later, according to excerpts of the account by the U.S. diplomat, Gregory Hicks, American officials in the Libyan capital sought permission to deploy four U.S. Special Operations troops to Benghazi aboard a Libyan military aircraft early the next morning. The troops were told to stand down.
---
Robert Burns, "AP Exclusive: Air Force Sidelines 17 ICBM Officers," Associated Press, May 8, 2013.
The Air Force stripped an unprecedented 17 officers of their authority to control — and, if necessary, launch — nuclear missiles after a string of unpublicized failings, including a remarkably dim review of their unit's launch skills. The group's deputy commander said it is suffering "rot" within its ranks.
"We are, in fact, in a crisis right now," the commander, Lt. Col. Jay Folds, wrote in an internal email obtained by The Associated Press and confirmed by the Air Force.
---
Craig Whitlock, "Lawmaker Wants Military to Promptly Alert Congress About Drone Strikes," Washington Post, May 8, 2013.
A leading House Republican said Wednesday that he wants to require the U.S. military to "promptly" inform Congress about every drone strike it conducts outside Afghanistan as well as other military operations to kill or capture suspected terrorists outside declared war zones.
Rep. Mac Thornberry (Tex.), the chairman of a House Armed Services subcommittee, said his panel already receives regular reports on counterterrorism operations from the Defense Department. But he said he will introduce a bill Thursday that would codify the practice into law to reassure the public that Congress is providing adequate oversight of drone strikes and other sensitive military operations…
Thornberry's bill would require the administration to produce a report describing its legal justification and decision-making processes for military drone strikes and other capture-or-kill operations outside Afghanistan. Although the administration has recently shared some of its legal rationale with lawmakers, it has done so reluctantly and behind closed doors.
(3PA: Much of what Thornberry proposes is already being done with joint special operations command reporting to the armed services committees. However, this was the first time an armed services committee chair acknowledged its oversight role in targeted killings, unlike Sen. Dianne Feinstein (D-CA) and Rep. Mike Rogers (R-MI) chairs of the intelligence committees who routinely tout their oversight of CIA operations. The text of Thornberry's bill is not yet available on thomas.gov)