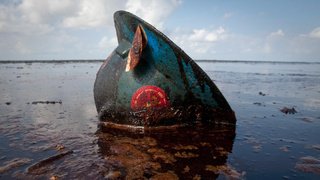 Ecological Disasters
1958 – 2010
The Gulf of Mexico oil spill disaster involving Britain's BP has direct implications for the environment and economy of at least four U.S. states and could have a lasting impact on U.S. offshore drilling policy. It marks the latest instance of an industrial disaster pitting companies from one country against citizens and governments of another. History has shown that in addition to health, environmental, and economic damage, such events can lead to lengthy legal challenges and initiate new global regulations. This timeline provides a chronology of ten major instances in which multinational corporations were involved in industrial incidents, and their legal and regulatory aftermath.
Niger Delta Oil Pollution
An estimated thirteen million barrels of oil have been spilled in the Niger Delta during the last fifty years, mainly from oil operations jointly owned by Shell and the Nigerian government, making the delta one of the most polluted areas in the world. Other multinational oil company operations involved in spills include Chevron and Exxon Mobil. Civil unrest flares over how the government distributes oil wealth; militants have kidnapped and killed oil workers, blown up pipelines, and stolen oil. Nigeria also faces unrest over extensive damage to fisheries as well as water and soil quality. In 2008, four Nigerian farmers file a lawsuit at The Hague in the Netherlands against Shell, alleging negligence, and a community affected by a 2010 Exxon spill demands the company pay $1 billion in damages. Shell says only a small percentage of the spills are from operations failures and that most are caused by sabotage and theft stemming from the country's internal conflict. In 2009, the company settles a lawsuit accusing it of colluding with the government in the 1995 execution of six oil activists—but admits no wrongdoing.
Ecuador's Amazon Degradation
Four hundred thirty million barrels of toxic oil waste are released into watersheds from oil operations in the Amazon over nearly thirty years, which the indigenous community contends is causing widespread health problems. Indigenous communities sue for damages for cleanup in U.S. courts, but the case later moves to courts in Ecuador at Chevron's request. Chevron argues Petroecuador, the state-owned oil firm it partnered with during that time period, is responsible for the environmental damage, and it files an international arbitration suit at The Hague against the Ecuadoran government for trying to avoid contractual responsibilities. In February 2011, the court rules in favor of the plaintiffs for $8.6 billion in damages plus another $9 billion if Chevron fails to apologize. But Chevron vows to challenge the ruling via The Hague and U.S. courts.
Peru's Amazon Degradation
An estimated nine billion barrels of oil wastewater is released into Amazonian watersheds, which members of Peru's indigenous Achuar community say has caused unexplained diseases, tumors, skin ailments, and miscarriages from oil exposure. In 2007, Peru's Achuar community sues Occidental in U.S. courts for the environmental and health damage caused by the pollution. Plaintiffs allege the company ignored industry standards and violated U.S., Peruvian, and international law. The company says there is no evidence of detrimental health effects. The case is still pending in U.S. federal court, but in 2010 plaintiffs also take their case to the company's May shareholder meeting.
Papua New Guinea's Panguna Mine War
The residents of Bougainville Island allege large-scale environmental destruction from Rio Tinto's Panguna copper mine, one of the world's largest open-pit mines. Since the mine was opened in 1972, about one billion tons of waste rock containing sulfur, arsenic, copper, zinc, cadmium, and mercury was dumped into the local river system, rendering a forty-mile portion of the system biologically dead, according to environmental activists. The situation gives rise in 1989 to a decade-long revolt by residents of Bougainville against the government for unanswered grievances. In 2000, island residents sue Rio Tinto in U.S. federal court under the Alien Tort Claims Act, which allows claims against companies that violate international law. Rio Tinto calls the suit's allegations false and defamatory. The mine remains closed since the uprising, but Rio Tinto Bougainville Copper says it hopes to reopen the mine in the next five years.
Italy's Seveso Dioxin Cloud
A dioxin cloud from an accident at a chemical plant near Seveso, Italy, sickens at least two thousand people and causes eighty thousand animals to be slaughtered to keep the poison from entering the food chain. Five employees of Givaudan's subsidiary are criminally prosecuted and convicted, and the company is required to pay 20 billion lire (roughly $13 million) in compensation following a settlement in 1980. The accident also prompts Europe to adopt the Seveso Directive in 1982, regulating manufacture and storage of hazardous materials.
France's Amoco Cadiz Tanker Spill
An Amoco tanker oil spill dumps an estimated two million barrels of oil off the coast of France, polluting approximately two hundred miles of coastline and harming wildlife. The disaster occurrs just one month after a meeting of the MARPOL convention aimed at expanding safety requirements for tankers that would make them less likely to pollute. In response to a suit brought by the French government, businesses, and private citizens, a U.S. district court orders Amoco to pay $200 million in cleanup costs and damages to the French government and towns. A sufficient number of countries ratifiy the MARPOL convention in 1982, and the new international rules for tankers go into force a year later—but it is unclear how much of an impact the incident has on ratification.
India's Bhopal Cyanide Gas Leak
The leak of methyl isocyanate gas from a chemical plant operated by U.S. company Union Carbide in Bhopal, India, kills at least four thousand people, sickens an estimated half million people, and leaves the survivors with numerous health ailments, including blindness, chronic respiratory trouble, and birth defects. The Indian government accepts a settlement of about $470 million from Union Carbide in 1989 that victims say is inadequate. Victims continue to fight with the government over compensation, and India continues to seek the extradition of the company's CEO from the United States for criminal prosecution. Following the incident, the Indian government passes a number of laws to address industrial accidents, including the 1986 Environment Protection Act and the 1991 Public Liability Insurance Act.
Romania's Baia Mare Cyanide Spill
A gold mine in Romania spills more than 34 million gallons of cyanide into the Lupes, Somes, Tisza, and Danube Rivers. The spill decimates aquatic and plant life for dozens of miles downstream, affecting the local fishing industry and impeding access to drinking water for residents of Serbia, Hungary, Romania, and Bulgaria for several months. Hungary sues the mining company for about $200 million in damages to fisheries in 2001. A few months after the incident, mining resumes, but in 2005, an EU judge bans mining on 85 percent of the site, pending further investigation. Efforts to ban cyanide use in mining in Romania are repeatedly rejected, but in May 2010, the EU parliament bans cyanide use in mining across the European Union. The ban is expected to go into effect at the end of 2011.
Ivory Coast's Toxic Waste Dumping
Four hundred tons of toxic waste consisting of caustic soda and petroleum residue are transported from Amsterdam to Abidjan in the Ivory Coast and dumped into the city's waste system. The deaths of seventeen people and illnesses of as many as one hundred thousand are linked to the waste. Trafigura admits no wrongdoing and blames a subcontractor for the incident, but pays nearly $250 million in damages and cleanup costs. In July 2010, a Dutch court imposes a fine of nearly $1.3 million on Trafigura for illegally exporting toxic waste. The company faces another criminal lawsuit in The Hague.
An explosion from an oil rig in the Gulf of Mexico, which was drilling in underwater depths of more than a mile, kills eleven people and causes the largest oil spill in U.S. history, which takes nearly three months to stop. Beaches and wildlife experience significant damage as U.S. officials struggle to contain and clean up the spill, estimated at nearly five million barrels of oil. The U.S. government pressures BP into establishing a $20 billion escrow account to pay for damages and cleanup. The incident also has significant repercussions for U.S. energy policy. The U.S. government places a temporary ban on offshore drilling, particularly in deep water. The incident also leads to discussions between the U.S. and British governments over the treatment of BP.