Diversity and Inclusion at CFR
The Council on Foreign Relations (CFR) has a longstanding commitment to making the foreign policy community in the United States more representative of American society as a whole.
CFR advances this goal through building a diverse membership, staff, and board, as well as by conducting outreach activities to academic and religious institutions, hosting events on relevant topics, and collaborating with other organizations working toward the same mission.
CFR looks to cultivate the next generation of foreign policy leaders, both within the organization and more broadly. Through the initiatives outlined below, among others, CFR works to attract and develop future leaders in international affairs.
Conference on Diversity in International Affairs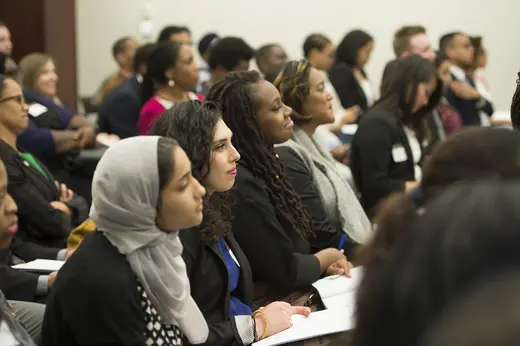 CFR has hosted the Conference on Diversity in International Affairs in collaboration with the Global Access Pipeline (GAP) and the International Career Advancement Program (ICAP) since 2013. An annual event, the conference connects students and professionals from diverse backgrounds with career opportunities in international affairs.
Speakers have included U.S. National Security Advisor Susan Rice, former minority leader of the Georgia House of Representatives Stacey Abrams, former Secretary of Homeland Security Jeh Johnson, actor and former Associate Director for White House Office of Public Engagement Kalpen Modi, Morgan Stanley Vice Chairman and Managing Director Carla Harris, president and CEO of the International House Calvin Sims, and NASA Administrator Charles Bolden. Highlights and videos can be viewed for the 2013, 2014, 2015, 2016, 2017, 2018, 2019, 2020, 2021, and 2022 events.
Robina Franklin Williams Internship Program
The Robina Franklin Williams internship program at CFR was established for undergraduate and graduate students with a serious interest in international relations. Diverse students are strongly encouraged to apply. The internship develops the knowledge and leadership skills necessary for work in the foreign policy arena. Interns can gain experience in program coordination, substantive and business writing, research, and budget management. In addition, they are encouraged to attend CFR meetings and events and participate in training sessions designed to enhance management and leadership skills. For more information and to apply, please visit the internship career page.
Global Kids Summer Institute and Roundtable Series
For more than twenty years, CFR has partnered with Global Kids, a high-school and after-school program for youth living in underserved neighborhoods. Global Kids was recognized by Nonprofit New York in 2019 to receive the Diversity, Equity, and Inclusion Special Recognition because of their proactivity about addressing power dynamics while creating an inclusive work environment. The United States in the World Initiative is a three-week summer institute that combines Global Kids' leadership development activities with opportunities to interact with leading CFR experts on critical issues in international affairs. Hosted by CFR, the annual institute takes place during the month of July. The program requires all participants to design and implement projects that educate peers, promote critical thinking, and inspire youth involvement in the discussion of U.S. foreign policy and international relations.
During the course of the academic year, the Global Kids roundtable series brings Global Kids participants together with CFR fellows and staff. The series, consisting of monthly meetings, covers issues such as the global economy, U.S.-Cuba relations, the International Criminal Court, China, terrorism, national security, climate, and humanitarian intervention.
CFR Membership, Fellowships, and Employment
Membership
CFR maintains a diverse membership, including special programs to promote interest and develop expertise in the next generation of foreign policy leaders. With over 5,000 members, CFR's reach spans the country and includes Americans residing abroad. The group is unmatched in accomplishments in the field of international affairs. For more information on membership, visit the membership page.
Staff
CFR offers exceptional opportunities for individuals at all levels in their careers. The Council on Foreign Relations is an equal opportunity employer and actively seeks candidates from diverse backgrounds. To view current and to learn more about working at CFR, visit the career opportunities page.
Fellowships
CFR's Fellowship program offers unique opportunities for midcareer professionals focusing on international relations to broaden their perspective of foreign affairs and to pursue their own research. CFR hosts fellows coming from a wide range of fields including academia, journalism, business, government, and the military. Fellows are recruited year-round, and the duration of each fellowship is generally twelve months. The Fellowship Affairs team encourages individuals from diverse backgrounds to apply for the programs and, in 2018, was awarded a certificate of appreciation for speaking at the White House Initiative on Historically Black Colleges and Universities Conference about CFR opportunities. For more information and on the Fellowship program and the application process, visit the Fellowships page.
Community Outreach
Workshops and Events
CFR provides forums for educators, students, and religious and civic leaders to join the debate on U.S. foreign policy. Outreach events attract participants from across the country and allow for robust discussion of pressing international issues with multiple perspectives represented. Opportunities include interactive webinars; workshops for college and university presidents, professors, and high-school teachers; events for students at CFR's New York headquarters and Washington office; roundtable discussions for faith leaders; and live streaming of CFR meetings. Additionally, CFR's Religion and Foreign Policy Initiative convenes an annual gathering that brings together faith leaders, scholars, and policymakers from forty faith traditions for conversations on a range of public policy concerns at the intersection of religion and global affairs.
Partnerships
CFR collaborates with a variety of professional, academic, and religious organizations to build connections with communities both within and outside of the traditional foreign policy sphere. Current partnerships include the American Academy of Religion, International Studies Association, Hispanic Association of Colleges and Universities, Historically Black Colleges and Universities Faculty Development Network, and Harvard National Model United Nations. CFR staff members regularly attend conferences and career fairs, as well as visit university and college campuses, to connect with new audiences and publicize CFR opportunities and resources.
Resource Sharing
CFR is dedicated to serving as a resource for interested citizens in order to help them better understand how international issues shape their own lives and the lives of others across the globe. Resources from CFR cover a wide range of issues from every region of the world and offer balanced, nonpartisan perspectives from a diverse group of experts. Most print and multimedia resources are available free of charge, including award-winning interactive issue guides, teaching notes to accompany CFR books; audio, video, and transcripts of CFR events; and Model Diplomacy, a National Security Council simulation program. Exam copies of CFR reports and books are also available upon request.