China Wants Your Attention, Please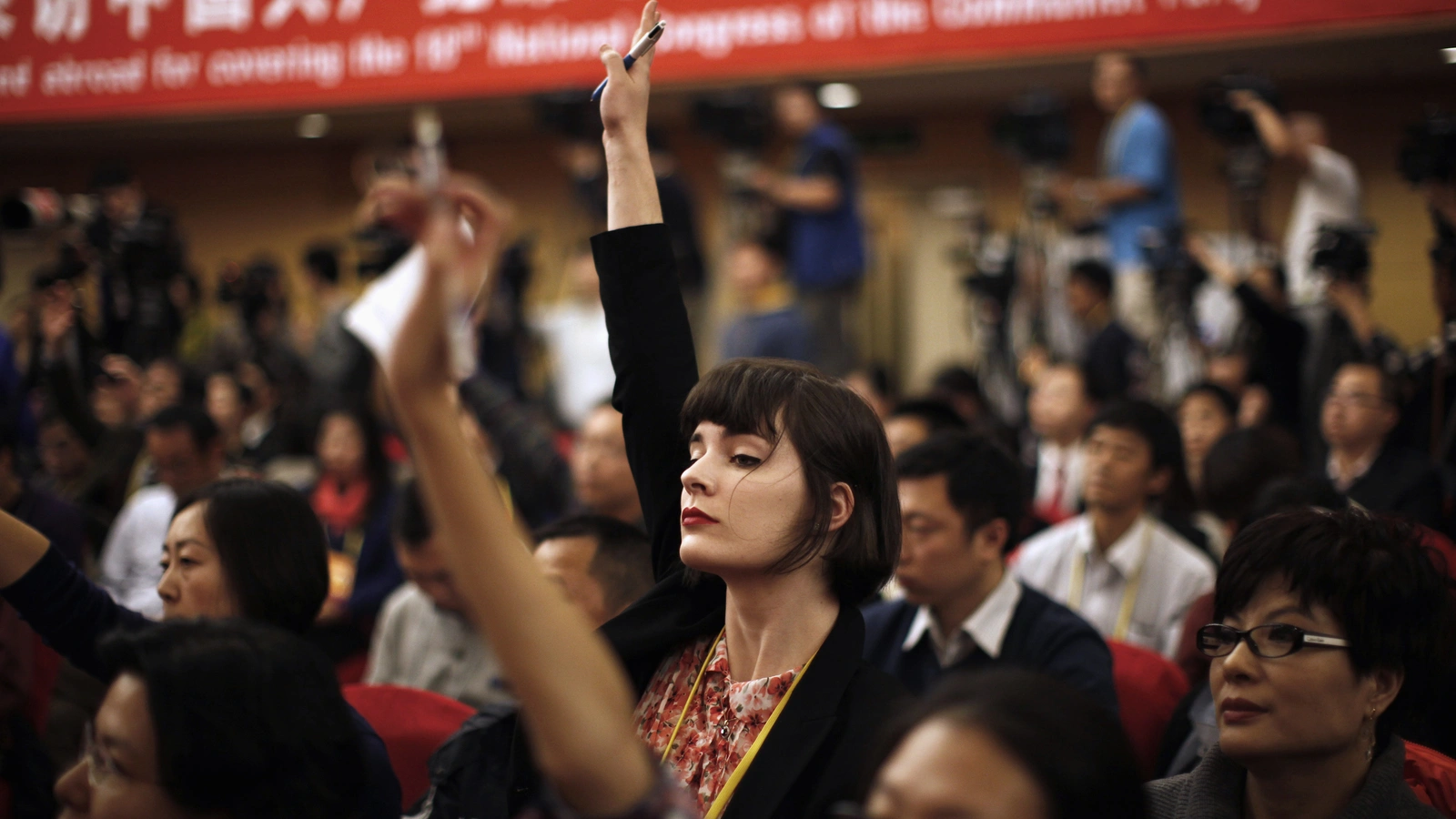 Beijing's massive expansion of state media hasn't quite worked as planned. But watch out for Xinhua's growing global deals.
Originally published at Foreign Policy
December 28, 2022 4:35 pm (EST)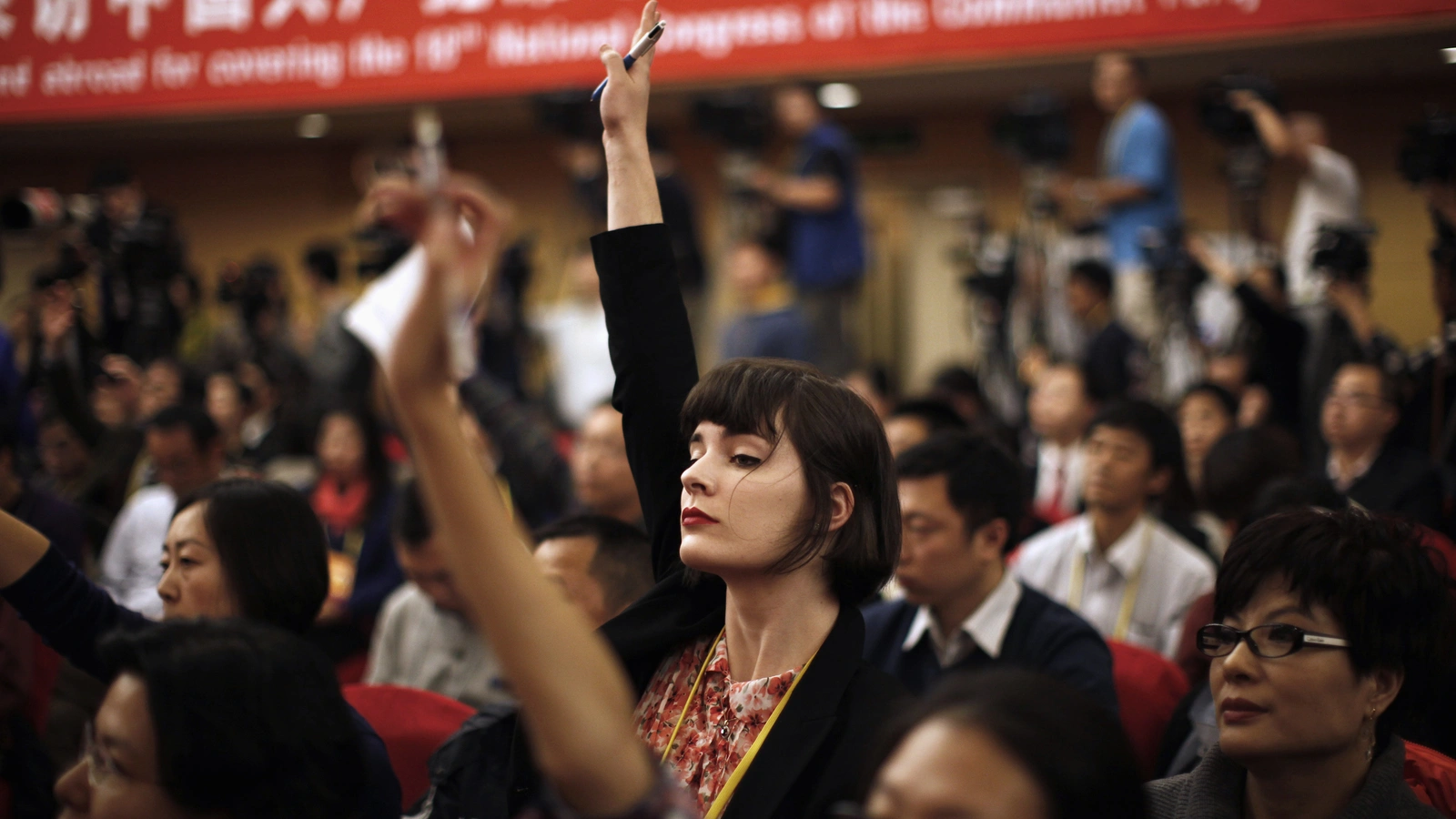 Article

Current political and economic issues succinctly explained.
Over the past decade, Beijing has invested heavily in trying to upgrade its major state media outlets such as China Global Television Network (CGTN), Xinhua News Agency, and China Radio International (CRI), and to make them seem more professional. It has tried to normalize them to audiences as little different from the BBC, CNN, or Al Jazeera—most likely Beijing's preferred model—a station based in an authoritarian state but producing respected work.
For years in the 2010s, China hired respected foreign reporters to staff bureaus of outlets such as CGTN in the United States, Europe, Africa, Southeast Asia, and other places, and initially gave them a bit of room to cover interesting stories—as long as those did not directly affect China. The global journalism market is terrible: between 2001 and 2016, newspaper publishing in the United States lost more than half the jobs in the industry, a higher rate of loss than in coal mining, not exactly an industry of the future. China's outlets found many willing and credentialed reporters to join. Today, the Chinese government's funding for state media dwarfs that of any other country's state media funding, including that of the United States. In 2018, CGTN reportedly spent around $500 million to promote the network in Australia alone; it has also engaged in extensive promotion in Europe and North America.
In an effort to expand its influence within the domestic politics and societies of other countries, China in the past decade dramatically expanded other tools of influence as well, which I chronicle in my new book, Beijing's Global Media Offensive: China's Uneven Campaign to Influence Asia and the World. These have included the use of disinformation online, payments to politicians to spout pro-China ideas, control of Chinese student associations in many countries, the funding of programs at universities, and other tactics.
But state media has been central to China's efforts to influence other countries, control information about and protect the party, and gain what Chinese leaders and officials have called "discourse power" to amplify China's narratives about its policies, its party, its leader, and its role in the world. Beijing's cause is helped by a global environment in which resources for quality media are decreasing, democratic and authoritarian leaders alike are demonizing media, and publics' trust in journalism is falling. Such a set of circumstances would seemingly make it easier for Chinese outlets to win readers, listeners, and viewers.
Yet China's state media (excluding local-language Chinese media within specific countries), other than Xinhua, has hardly been a triumph for President Xi Jinping and the Chinese Communist Party (CCP), even with money gushing in.
Indeed, Xi's bold goal to wield state media power globally, a priority noted in CCP documents, has not worked to great effect—and that goal is fading even faster as the world sees the failure of Xi's China model, which was heavily advertised in state media abroad. China's global influence efforts, fueled in part by state media, have not prevented publics in many countries from souring on Beijing's increasingly assertive diplomacy; being angry at the initial cover-up of COVID-19; fuming at how China increasingly uses economic coercion against other states, even tiny ones like Lithuania; or seeing the flaws in China's own politics. In public opinion studies released in 2020, 2021, and 2022, such as those conducted by Pew, opinions of China in states from Sweden to South Korea to Australia turned sharply negative. Negative views of China reached historic highs in many states.
What evidence shows how China has failed to use state media effectively? China's biggest state media outlets, other than Xinhua, have not sold many programs abroad or gained noticeable audience shares in most countries. China's training programs for journalists, while rapidly expanding (at least before zero COVID), have not created a shift in how foreign reporters cover China.
Take one example, the appeal of Chinese TV show exports globally. South Korea, a far smaller country, regularly outpaces the value of Chinese TV show exports. South Korea also has exported increasingly successful films and scripted shows—as well, of course, as one of the most popular bands in the world.
Similarly, while China ranked second in the Lowy Institute's annual Asia Power Index, Beijing's lofty numbers come mostly from its high rankings in economic relationships, diplomatic influence, and future power. The Asia Power Index's measures of China's influence over the region's information landscape, including the influence from state media, show far less impressive results. The Lowy study uses influence maps based on internet search trends to assess Asians' interest in regional media outlets. These maps have shown that CGTN is only the 10th-most popular broadcaster in the Asia-Pacific, and its reach is a fraction of outlets such as CNN. The maps show that CGTN's "reach is inconsequential," as noted by the coordinator of the influence maps. Other Chinese outlets save Xinhua also fare badly on these influence maps.
Using the Freedom of Information Act, I obtained more than twenty studies, produced by Gallup as a contractor for the U.S. government, of viewing habits in countries in Africa, Southeast Asia, and South and Central Asia, among other regions. They generally show that even though Chinese state media are widely available in many countries, they usually attract minuscule viewership or listening numbers. In Laos, for instance, a country on China's border with a growing population of Chinese speakers, one Gallup study of viewership in Laos found only 1.2 percent of the country's population regularly watched Chinese broadcasting, a much lower figure than those who watched Voice of America or Radio Free Asia or Thai channels.
Chinese media outlets' audience shares and perceived credibility lag behind local news sources, the BBC, and other Western broadcasters even in regions like Africa, where public opinion toward China is not as negative. In Ivory Coast, for instance, CRI has expanded its programming, but the Gallup study I obtained shows that CRI was listened to by less than 1 percent of Ivorians weekly, among the worst figures of any radio station's reach in the country. (The BBC was listened to by 13.7 percent of Ivorians.) In Nigeria, a bigger target for Chinese state media, both CGTN and CRI performed abysmally in a similar Gallup study. In Nigeria, CGTN had 3.7 percent viewership, a quarter the audience of the BBC.
Even in Kenya, the hub of CGTN operations in East Africa, Chinese outlets have fared poorly. Studies suggest most Kenyans who consume news do not even utilize Chinese state media.
These figures are consistent with the still-low audience shares of CGTN, CRI, and state media outlets, save Xinhua, in many other regions of the world. In Asia, Chinese broadcast and radio state media outlets have not reached a large audience. A Gallup study of the weekly reach of television stations in Vietnam found that CGTN was only watched by 0.7 percent of Vietnamese adults, far less than the BBC, CNN, France's TV5 Monde Asie, and South Korea's Arirang TV. Two-thirds of Vietnamese who watched the BBC said they trusted that outlet a great deal, but only about 7 percent who watched CGTN said the same.
In Western democracies, too, in Europe and North America, CGTN has largely fizzled. In the United Kingdom, which has a sizable audience of people who are fluent in Chinese, a study found that CGTN was being watched by a minimal number of Britons—even before the British government kicked CGTN off the air in 2021 because it did not have autonomy from the Chinese state. Similarly, though CGTN launched a European subsidiary in 2019 via its London hub, it has made few inroads into the continental European market. And throughout Latin America, including in several large democracies, CGTN's Spanish-language channel has significantly expanded the number of households in which it is available over the past decade but has not proved popular. A comprehensive study of CGTN-Español, CGTN's Spanish-language channel, by Peilei Ye and Luis A. Albornoz, suggests that the Chinese government usually releases information only about the size of the audience CGTN potentially reaches—the number of households it is available in—and not the actual audience, most likely because the actual audience size is embarrassingly low.
Why has China's state media—other than Xinhua, which I'll come to later—failed so badly? It simply produces, in the Xi era, content that is too boring, staid, and timid. In an era more restricted than the 1990s, one in which China has today become much more authoritarian, state media reporters now instinctively tailor their stories to ensure they do not anger anyone at headquarters back in Beijing, which makes for weak and bland reporting.
CGTN reporters note that while they had more freedoms six or seven years ago, now the biggest focus in their minds is whether the stories will prove acceptable to the top leadership in Beijing rather than news consumers in foreign countries. This is "domestic signaling," as the Guardian called it in an exposé of China's soft- and sharp-power efforts—"telegraphing messages [via reporting in state media] that demonstrated loyalty to the party line in order to curry favor with senior officials."
This does not make for exciting journalism. Further, a considerable part of the state media's efforts to reach foreign audiences was designed to advertise China as a developmental success story—Xi was the first recent Chinese leader to openly embrace a Chinese model of development. But the past three years of China's disastrous zero-COVID strategy, protests, supply chain disruptions, and serious economic slowdowns—all visible to the world, and even more so now that protests are raging in China—have undermined that main prong of the state media's foreign messaging.
Chinese state outlets are going to find it harder to gain audiences as many leading democracies put roadblocks in their way. These have included the United Kingdom pulling CGTN's license and the United States forcing state media to register as agents of foreign influence, which drives away U.S. national and Chinese national reporters who do not want to be tagged as influence agents. Some democracies have created commissions or legislation designed to closely examine foreign investment and influence inside their borders, such as Australia and Singapore. European states, too, are assessing ways to better monitor foreign investment and influence in media and information sectors.
Xinhua, alone among China's biggest state media outlets, has expanded significantly while also boosting its global audience and gaining some credibility. Beijing has placed a high premium on modernizing Xinhua and getting foreign news outlets to use Xinhua stories by signing content-sharing deals, in the process legitimizing Xinhua to some editors and readers. Xinhua has inked many such deals, including for stories in many languages other than Chinese, and because it covers so many topics unrelated to China, its reporters sometimes have more room from Beijing to operate. It is likely that, in the next decade, with the pandemic forcing more outlets to cut staff, and with media outlets around the globe continuing to suffer financially, the appeal of signing deals with Xinhua, a cheap or free newswire, will only increase. Indeed, Xinhua could become China's most powerful information weapon.
As of this writing, Xinhua has not yet forged enough connections to consistently write the first draft of global news stories, as wires do. Since some major outlets such as the BBC and the New York Times do not regularly use Xinhua stories, distrusting them, Xinhua still does not circulate as widely among elite publications as stories from Reuters or The Associated Press or Bloomberg. But that may be changing rapidly. In recent years, Xinhua has inked cooperation agreements with major global and regional newswires, including Agence France-Presse; news services in Australia; Germany's Deutsche Presse-Agentur; Poland's Polish News Agency; Class Editori in Italy; Le Soir in Belgium; Athens News Agency in Greece; RAI, Italy's public broadcaster; and ANSA, Italy's leading wire service.
And on many occasions, in places where it has a massive manpower advantage, like Southeast Asia and, of course, China itself, Xinhua is beating competitors to stories or is covering stories competitors do not have the resources to cover. As Xinhua grows (and offers its service free to many outlets in developing countries), and as other newswires struggle financially, the Chinese newswire will get to more stories first—and earn editors' and publishers' trust. It is rapidly opening bureaus. By early 2021, Xinhua had a reported one hundred and eighty-one bureaus globally. This would give Xinhua a reach close to that of The Associated Press, which has around two hundred and fifty bureaus worldwide, or the BBC, which is a giant in Africa, Asia, and other regions. Meanwhile, the Chinese newswire has a massive advantage over most of its competitors in that it does not have to make a profit.
Xinhua also is attempting to boost its credibility in other ways in Southeast Asia and other areas physically close to China or where populations have relatively positive images of China. In Southeast Asia and Africa, where Xinhua has poured resources into expansion, the Chinese state newswire can cover stories that may not get mentioned by other media organizations such as Reuters, The Associated Press, Agence France-Presse, or large international newspapers with foreign staffs. One former U.S. official analyzing China's expanding state media called this a "hyperlocal approach," a strategy focused on offering detailed stories in regions that some global outlets ignore.
Eventually, if governments and news organizations do not put roadblocks in its place, Xinhua copy, via content-sharing deals, will appear in more and more news outlets, shaping public and elite opinion in a growing number of countries, as it already does in places such as Thailand. A range of evidence shows Xinhua's growth in size and influence. There, Xinhua has signed content-sharing deals with many top Thai publications, including those of the Matichon Group, the most-respected Thai-language news organization. These deals have allowed China to shape news narratives in Thailand, where many more Thai outlets now run Xinhua copy. Overall, not only is China portrayed more positively in the Thai media than in the past, according to many Thai journalists, but serious critiques of China are vanishing from many Thai outlets.
A range of evidence shows Xinhua's growth in size and influence. The Lowy Institute's maps of digital influence in Asia show Xinhua is making inroads across the region. Indeed, the maps show that Xinhua has become the second-most-influential news agency regionally, behind only The Associated Press, and that Xinhua is making significant gains in influence in the media environment of several Northeast Asian and Southeast Asian states. And unlike with, say, a television station that a viewer has to actively turn on, and probably knows the channel, most print or online readers do not check the bylines of news articles—making it easier for Xinhua copy to slip through to readers.
Notably, media outlets have been signing deals to carry Xinhua even in countries where the U.S. government—and private nonprofits hailing from democratic states—have invested heavily in promoting the creation of a vibrant local media. In Afghanistan, for instance, where donors including the United States have plowed money into the local media, an International Federation of Journalists (IFJ) report shows that Xinhua has inked contracts with twenty-five to thirty Afghan media outlets. These deals include ones with the biggest television stations and websites in the country.
The IFJ report notes that China's content-sharing deals have helped reshape journalists' messaging about Beijing in multiple countries, including those known for robust local journalism. Its survey of Philippine journalists found that China's increasingly close links with the Philippines' state television, the Philippine News Agency, and the Philippine Information Agency, built through content-sharing and training programs, are having an effect on Philippine news outlets' coverage of China.
Indeed, China's closer links to Philippine media, and the spreading use of Xinhua in the Philippines, are depriving Philippine news consumers of independent reporting on Beijing. These shifts are depriving Filipinos of independent coverage even as Beijing squeezes the Philippines in the South China Sea, and even though the population as a whole in the Philippines has not become markedly more pro-China. "The way they write their stories now, they reflect the way how Xinhua or how the state media in China is writing their stories," one Philippine journalist told IFJ. "It's normally propaganda." Another told IFJ, "Instead of getting insights on journalism from free countries like the United States, United Kingdom, Western Europe and even Japan, they [journalists in the Philippines] are learning state control."
Xinhua is gaining readership in many states through such content-sharing deals, or simply because more news outlets are choosing to use Xinhua stories. And as Xinhua buys access—and gets into more websites, newspapers, and magazines—its stories will become as ubiquitous as those of The Associated Press. Then Xinhua, still a state company, still a propaganda organ that provides intelligence briefings to top Chinese leaders, will be able to shape even more of the world's news coverage. It is indeed the only true weapon, among China's state media, that has come of Xi's grand desire for more control over global "discourse power."
If Xinhua, inking more and more content-sharing deals, is able to write the first draft about stories outside of China, which is what wires provide, and set the tone and parameters for international coverage by other outlets, as wires do, it could have a huge effect on how the global public understands the news. As The Associated Press and Reuters have done for years, Xinhua would be able to initially define many news stories for the world—a dangerous proposition for free and independent media and for honest coverage of China.