2012 Update: Jon Huntsman, Jr.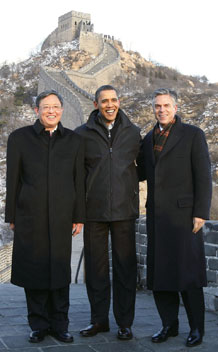 Former Utah Governor Jon Huntsman looks to be edging closer to launching a bid for the 2012 GOP presidential nomination. Yesterday he told the White House that he intends to step down as U.S. Ambassador to China on April 30.
On paper, Huntsman looks to be an appealing general election candidate. Success as a governor? Check. Success as a businessman? Check. (He was an executive for Huntsman Coporation, an $8 billion company that manufactures and markets differentiated chemicals.) Record of bipartisanship? Check. (He was co-chair of John McCain's 2008 presidential campaign and then became President Obama's choice for envoy to China.) Foreign policy experience? Check. (He is fluent in Mandarin.) Youthful vigor? Check. (He is fifty, has competed in motocross, and likes to bike around Beijing.)
Huntsman is such an appealing candidate that people have speculated that Obama tapped him as ambassador to China as a way to sidetrack his presidential ambitions.
The only fly in the ointment for Huntsman is that to be the GOP standard bearer in November 2012 he first has to win the Republican nomination. There things don't look so rosy. Today's New York Times story makes the point succinctly:
It remains an open question how Mr. Huntsman would appeal to Republican primary voters, particularly because of a moderate record he assembled in his four years as governor of Utah, where he became a leading moderate voice of the party on issues like immigration, gay rights, and the environment.
That's not a platform likely to appeal to a Tea Party voter. And then there's that little matter of his work for the Obama administration. Obama's quip at a press conference last month makes the point well:
I'm sure that him having worked so well with me will be a great asset in any Republican primary.
The GOP's primary calendar doesn't help Huntsman either. Iowa and New Hampshire are the two early states. Social conservatives are a force in the Iowa Republican caucuses. They are not looking for a candidate who is strong on gay rights. Mitt Romney has a natural advantage in New Hampshire given his ties to neighboring Massachusetts. So Huntsman's strategy for winning the nomination is not obvious.
Does that mean Huntsman's candidacy is doomed even before it starts? No. None of the Republicans mulling over a 2012 presidential bid looks to be a compelling candidate. All of them have flaws. But one of them is going to win the nomination.
Question for the protocol experts: Which title takes precedence, "Governor" or "Ambassador"?