ASEAN's Complete Failure on Myanmar: A Short Overview
ASEAN has proven ineffective in responding to the Myanmar military's brutal crackdown since the 2021 coup.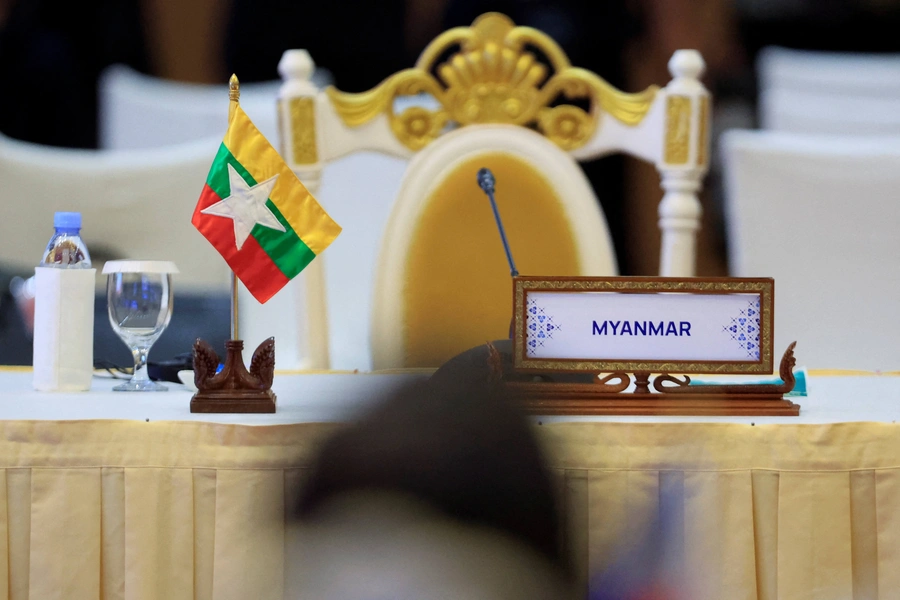 A year and a half after the 2021 coup that formally reinstalled Myanmar's military, the junta continues its brutal campaign against resistance groups. The army has targeted both ethnic armed organizations and the People's Defense Force, groups that launched unsuccessful nonviolent protests in response to the coup. The army continues to commit massive rights abuses in many areas of the country, while also holding Rohingya in virtual concentration camps and increasing pressure on activists—most recently executing four prominent activists.
As I note in a forthcoming Japan Times article, out later this week, the military is increasingly desperate. Fighting has spread to urban areas, defections from the military have risen, and army recruits are (somewhat) beginning to recoil at committing abuses, even as the military loses more battles to ethnic armed groups and the People's Defense Forces. The military may not seem to have its back against the wall, but in many aspects it now does.
By executing the four activists, the ruling junta showed its disregard for the opinion of its Association of Southeast Asian Nations (ASEAN) peers. The military is willing to be a pariah, but ASEAN refuses to take tough action commensurate with the junta's brutality.
Indeed, ASEAN has been paralyzed since the coup—consumed with in-fighting, offering weak responses to the junta, demonstrating an inability to shift messages, and an unwillingness to truly confront the brutality of Naypyidaw. When Brunei served as chair in 2021, ASEAN merely took symbolic actions, like banning Myanmar from meetings. But ASEAN has never put significant pressure on the generals, and it stood by meekly while the ASEAN special envoy was stonewalled by Naypyidaw.
With Cambodia serving as ASEAN chair in 2022, prime minister Hun Sen initially welcomed the generals back into the ASEAN fold, visiting Naypyidaw and pressing for the brutal military regime's renormalization. As a longtime autocrat himself, Hun Sen has only become more repressive in recent years. Why should he care about the Myanmar regime's increasing atrocities and complete policy mismanagement of economic, refugee, and health problems that has affected the region? 
ASEAN has now banned Myanmar's generals from meetings until the organization's supposed peace plan makes progress. But that plan, which is now about fifteen months old and completely stale, has generated no interest from the generals and done nothing to affect their murderous regime. ASEAN is now issuing vague threats to take further action if Myanmar does not comply with the plan. But that seems unlikely, given the organization's need to act by consensus and opposition from other authoritarian governments within ASEAN to a tough response, for fear of future implications for their own regimes.
The army in Myanmar claims it is adhering to its own peace plan, but that seems to mean destroying all opposition and calling it peace. (Tacitus would be familiar with the idea.) 
To do anything meaningful about Myanmar, ASEAN must abandon the stale peace plan, openly admit the plan is useless, and then take stronger actions against Naypyidaw as the regime increases its brutality. ASEAN has many ways to punish Myanmar, which I will address in a future blog – but to this date, ASEAN has failed miserably in deterring Naypyidaw, and there is little evidence it plans to change its approach.