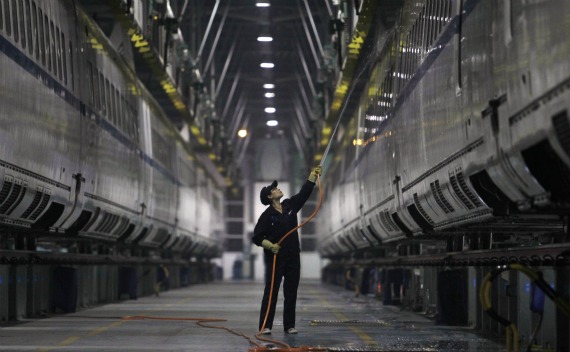 Jared Mondschein looks at the key stories in Asia behind the headlines.
- Clamping down in cyberspace: With more than 485 million Internet users and 300 million microbloggers, the Internet in China allows "netizens" to voice their opinions on everything from Wukan to Beijing's air quality to North Korea. Beijing, however, has never been quite comfortable with such an open marketplace of ideas. Now, in an attempt to "purge online rumors and enhance social credibility," Guangzhou and Shenzhen have joined Beijing in requiring new users of China's microblogs to register with their real names. China's netizens unsurprisingly have not taken well to the clampdown, as one microblogger wrote: "There will only ever be a single voice speaking now."
- Who's the fairest of them all? There's no doubt that the center of economic gravity in Asia is China, while the United States holds the security card for the region. But whom do regular citizens across the region prefer? According to a Gallup poll of citizens in Cambodia, Australia, South Korea, India, Malaysia, Indonesia, Thailand, Vietnam, and the Philippines, for the most part there is a higher approval for U.S. leadership: The median approval rate for U.S. leadership stands at 44 percent while China's is at 30 percent. Respondents ranked U.S. leadership more highly than Chinese in eight out of the nine countries polled.
- High-speed rail slows down: This February will mark one year since Railways Minister Liu Zhijun was fired for "severe violations of discipline." His dismissal was only the beginning of a terrible year for the former jewel in China's infrastructure crown. Crippling power failures and a deadly crash in July angered the people and raised questions about the potential for high speed rail to be exported abroad. Beijing recently announced that railway investment would be cut by 15 percent in 2012, suggesting that Beijing may be taking a step back from its all-out push on high-speed rail. Hopefully it will produce a new focus on quality over quantity.
- Foreigners' tax in China: According to the Heritage Foundation's index, China ranks 135th in the world in economic freedoms, behind Tajikistan and Niger, among others. The government's new social security tax just for foreigners (instituted in October of this year) will certainly not contribute to a higher ranking. Many see the tax primarily as a scheme to force foreign companies to hire more Chinese workers, although Beijing is pitching it as a ticket to the opportunity for foreigners to retire in China. Foreigners don't appear to find either reason compelling; in Beijing alone the government has only succeeded so far in getting 2,000 of the approximately 30,000 foreigners in the city to pay.