Asset Stripping
What attitudes toward public infrastructure tell us about the state of the social contract in Nigeria.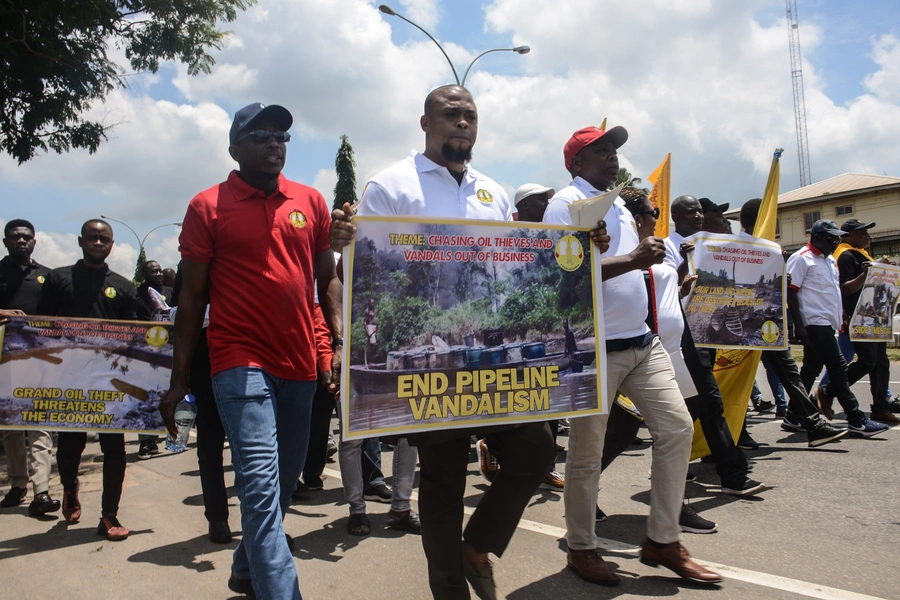 Two recent incidents in different parts of the country throw an instructive light on a critical aspect of Nigeria's much-lamented governance crisis. In Lagos, unidentified criminals brazenly disassembled and made away with ground lights at the domestic runway of the Murtala Muhammad Airport. Only reinstalled in November 2022 to much fanfare and official chest-beating, the lighting system suffered the fate of equipment and safety components regularly pilfered from airports across the country. In a second incident, unknown vandals reportedly dislodged and carted away road fittings on the Onitsha side of the newly commissioned Second Niger Bridge. Following widespread outrage, the respective authorities have promised to apprehend and bring those responsible to justice.
Vandalization and outright theft of public amenities are par for the course in Nigeria. In fact, in the larger scheme of things in the country, the above incidents are small beer. For every runway lighting and bridge expansion joint stolen or vandalized, countless public buildings, streetlights, electric cables, power transformers, railway tracks, telecommunications masts, and oil pipelines are looted or destroyed as the case may be. According to the Nigerian National Petroleum Corporation Limited (NNPCL), "a total of 350 pipeline points were vandalized between January and July 2021" across the country. Between August and October of the same year, the country reportedly incurred losses totaling N556 billion due to the activities of pipeline vandals.       
This brings up an intriguing paradox. On the one hand, debate about good governance in Nigeria is impregnated by anxiety over infrastructure, and it is not unusual for poverty of infrastructure or, when it exists, its degraded state, to be cited as an illustration of the supposed estrangement between state and citizens in the country, and latterly, as justification for the emigration of young Nigerians to countries with more reliable physical infrastructure. At the same time, that Nigerians feel so emotionally disconnected from 'their' physical infrastructure to the point of being apathetic towards it is incontestable. Accordingly, even when public amenities are not being vandalized or stolen, the cavalier attitude towards them, coupled with the ostensible lack of concern for their longevity, can be jarring. Nigerians' constant bemoaning of the absence of a "maintenance culture" in the country is evidence that the problem is widely recognized.
How do we reconcile this fervent wish for infrastructure on the one hand with carelessness for its use and preservation on the other?
The answer is complicated.
To begin with, insofar as the near certainty that a particular crime will go unpunished stokes more crime, rampant theft or vandalization of public amenities in Nigeria owes directly to the breakdown of law and order, particularly the common knowledge that law enforcement lacks the forensic resources to investigate crime, and that justice can be purchased if push comes to shove. The collective shrug of the shoulders at the seeming 'confession' last month by Senator Adamu Bulkachuwa on the floor of the Nigerian Senate to the effect that he influenced his former President of the Court of Appeal wife to issue rulings in favor of his friends is telling. A 2022 National Endowment for Democracy-funded survey found that "about 71 percent of Nigerians lack trust in the judiciary."
Related to this is the realization that both theft and vandalization of public amenities pay off in different ways. For stolen pieces of machinery or equipment, there is a guaranteed market, more often than not in the same government establishments and offices from where they were initially 'stolen,' thus validating the hypothesis that not every instance of theft of public infrastructure is (the word is used advisedly) random. The reward for vandalization is not shabby either, as, for instance, militants who once blew up oil pipelines often end up winning government contracts for surveillance and 'protection' of the same. In August last year, the state-owned Nigerian National Petroleum Corporation (NNPC) hired a company owned by former militant Tompolo (real name Government Ekpemupolo) "whose movement's attacks on facilities in the early 2000s crippled oil production, to protect installations and tackle rampant theft…"
In the final analysis, a reputation for blowing up pipelines could be as effective and rewarding as actually blowing up pipelines.
That said, and while not underestimating the power of either as stimulants, neither lawlessness nor (anticipation of) reward fully explains the reckless attitude towards public infrastructure, particularly instances of vandalization with no apparent justification than vandalization or destruction for its own sake. On the whole—and this is the rub—there seems to exist a basic consensus that what belongs to government belongs to no one, itself part and parcel of a historical and persisting conflation of the public and private realms. Consider for instance the theft of an item belonging to a government office that the latter then has to buy back. In this hypothetical example, the theft itself would seem to be secondary to the understanding between the collaborators as to the ontological status of the entity that is being fleeced.
To clarify: corruption in Nigeria is by no means a simple matter of taking advantage of a public realm or state that belongs to nobody, a point that comes out most powerfully in the rampant venality witnessed across many "private" and civil society institutions, including churches, community associations, NGOs, and universities. For instance, in recent times, numerous presidents and bursars of public universities across the country have been indicted on charges of financial misappropriation. Nevertheless, there persists a vital difference in that defrauding the state (the amoral civic public as anthropologist Peter Ekeh famously captured it) finds authorization in the belief that it, i.e. the state, is a political orphan.
Furthermore, while the stealing of, say, aviation equipment and streetlights might suggest that this is purely a subaltern phenomenon, nothing could be further from the truth. On the contrary, if both the elite and the masses appear to agree on one thing, it is that government—and by extrapolation government property— belongs to nobody and is therefore fair game for appropriation (sic), vandalism, or misuse. It therefore comes as no surprise that senior public officials routinely convert public property to private use, exceed their stay in government residences, and take government property with them when their terms in office expire. Last month, security personnel recovered forty vehicles said to belong to the Zamfara State government from the private residence of past Governor Bello Matawalle. Within the same period, security officials attached to the National Assembly Complex in Abuja, the Federal Capital Territory, arrested legislative aides who carted away "valuables belonging to the second tier of government," including "television sets, cabinet shelves, electronics, computers, printers, furniture, air conditioners, rugs and carpets, and solar power systems."     
Problems of infrastructure (and I dare say problems of underdevelopment in general) are often portrayed as technical problems lending themselves to easy policy tinkering or adequate financing. This is not so much mistaken as grossly inadequate. As anthropologists Ulrika and Eric Trovalla have noted, "There are signs hidden in the infrastructure." In Nigeria, and as indicated above, infrastructure is simultaneously embedded in politics, history, and perhaps most important, culture. To be successful, policymaking must develop a sensibility whereby technocratic knowledge (including problems of financing) and expertise are combined with attunement to the hidden—and not so hidden—signs in the landscape of infrastructure. In Nigeria, this means, inter alia, being alert to the arguable collapse of public virtue and the civic disinvestment that is its concomitance.
We probably won't know the thieves who removed the lighting system from a runway at Nigeria's busiest airport, but understanding why such pilferage is frequent and pandemic is a good start.