Australia: Is the United States Still a Reliable Ally?
The pandemic and tensions with China are creating a wedge between Canberra and Washington.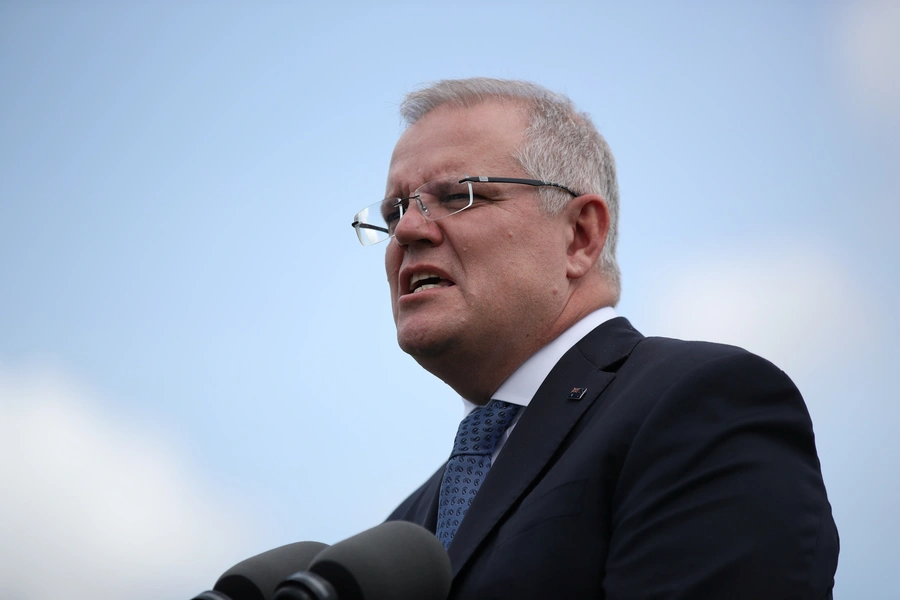 This post is part of a series from Asia Unbound. The post is authored by Daniel Flitton, editor of the Interpreter, a digital magazine published daily by the Lowy Institute. 
 
The most testing issue in Australian foreign policy, during wartime or peace, long has been the management of relations with the United States. For Scott Morrison, a prime minister not yet two years in the job, the challenge has been amplified by COVID-19, the resulting extraordinary global lockdown and economic cost—and a U.S. president with a wildly inconsistent response.

All the upheaval wrought by the pandemic has not changed the fundamental question that Australia has grappled with for years: Is the United States still a reliable ally? This question did not emerge only during the presidency of Donald J. Trump, although he has added to Australian questioning of U.S. reliability. And belligerence from Beijing has greatly complicated the conundrum.

It is the type of question that will never be directly answered by Australian leaders, and the asking of it often gets obscured by backslapping bonhomie and talk of shared values. It can only be assessed by actions. But Washington's response to COVID-19 has made plain Australia's doubts about U.S. reliability—doubts compounded by anxiety about the trajectory of the U.S.-China relationship as the U.S. presidential election unfolds.

Canberra has traditionally looked to make common cause with Washington during international crises. The pandemic has proven different, and markedly so. Australia's early success in addressing COVID-19, and relatively low rate of deaths, compares sharply with the huge toll in the United States, and illustrates the differing national approaches in Canberra and Washington.

In diplomacy, Australia has had no expectation of global leadership from the White House. No Australian effort was made to work with the United States to build a coalition of likeminded nations to foster a uniform response, for example, to establish common and trusted protocols for testing, smooth passage for trade, and ensure the international recovery occurred as swiftly as possible. For Australia, this represented a remarkable break with what had been an instinctive attitude to turn to Washington for support for joint initiatives or follow the U.S. lead in international policymaking.

Instead, with COVID-19, Canberra's goal has been to stop the Trump administration from making matters worse. Morrison has still presented Australia as a dutiful friend to the United States, and the prime minister may indeed believe this. Only in October, he declared in unequivocal terms, "our alliance with the United States is our past, our present and our future". He did speak with Trump about the virus on April 22, describing the two countries as "the best of mates" and pledged to "align our efforts" in the recovery. And the prime minister allowed an annual deployment of U.S. marines in northern Australia, provided the troops underwent a two-week quarantine upon entering the country.

Yet the idea of Morrison somehow working in alignment with Trump appears forced and awkward. The sharply partisan politics in the United States, which has fostered doubts among some Americans about the severity of the virus, are quite different from Australia's largely bipartisan cooperation between states and the federal government, and, despite some early missteps, Morrison's evident seriousness in dealing with COVID-19. Polling of public attitudes by the Lowy Institute has consistently shown Australians have little expectation that Trump would "do the right thing in world affairs," and two thirds of those surveyed believe the U.S.-Australia alliance has weakened under his presidency. The Trump administration response to coronavirus will do nothing to shift such views.

This points to a policy dissonance that Canberra has struggled to resolve: A history of close ties and intertwined national security systems—for intelligence agencies and in the defense realm—against a sense that the U.S. approach to the virus has been inimical to Australia's interests. The United States became the largest source of imported coronavirus infections to Australia, yet the Morrison government resisted urging in early March to stop travelers from the United States despite signs of the seriousness of the outbreak there—a move that would have been in line with earlier bans Australia had imposed on people traveling from China, Iran, South Korea, and Italy. (Canberra shut Australia's borders to everyone but citizens and residents on March 19.)

It is not only in health policy that this disconnect was illustrated. Initial Trump administration claims that poor lab safety in Wuhan had potentially led to the initial outbreak received a sympathetic airing by a senior Australian minister, only for the Morrison government to soon ensure there was firm distance between itself and these suggestions about the origin of the virus.

Australia's position as a member of the Five Eyes intelligence network, along with the United States, Canada, New Zealand, and Britain, allows Canberra access to shared and secret information. After some Australian media outlets prominently featured a supposed secret dossier supporting claims that the virus initially emerged from a lab in Wuhan, another Australian outlet reported "widespread suspicions" inside the Morrison government that a staff member at the U.S. embassy in Canberra was the source of the leak as part of an effort by the Trump administration to lend international credibility to the theory. Australian intelligence officials pointedly, although anonymously, denied having access to secret evidence the virus had emerged from a Wuhan lab. Morrison himself has said COVID-19 most likely emerged from a wet market involved in wildlife trade. The Trump administration subsequently appeared to back down from claiming with some degree of certainty that the virus emerged from a Wuhan lab, although it was unclear if Australia's actions led to this backdown.

None of this will ease Australia's relations with China. If anything, Beijing has piled on the pressure, illustrating how Australia must navigate the U.S.-China rivalry while protecting its own interests. Indeed, China's hypersensitivity about COVID-19 has made the prospects for cooperation between Canberra and Washington even more difficult; Australia has been caught between its most strategically important treaty ally and its largest trading partner.

Barely veiled threats of a Chinese consumer boycott quickly followed an Australian proposal on April 19 for an independent international inquiry into the origins of the virus outbreak, which Beijing complained was merely Canberra "pandering" to Washington. Such an inquiry has considerable merit. It could improve multilateral cooperation on public health issues, and enhance the working of the World Health Organization. Carefully reviewing the various national lessons on how to address COVID-19 and improving transparency had the potential to make significant contributions both to tackling COVID-19 and to containing any potential future pandemics.

Yet the plan has been undercut in part by U.S.-China antagonism. Secretary of State Mike Pompeo sought to claim the idea of the inquiry as a U.S. initiative, saying he was "heartened to see Australia, [and] other countries joining us, demanding an investigation". Earlier speculation by a senior Australian minister about a "reset" in the world's interactions with China also became a sore point between Canberra and Beijing. China's ambassador in Canberra responded with an intemperate breach of diplomatic protocol in seeking to characterize private discussions with the head of Australia's foreign service as an admission from Canberra that it was not the right time for an inquiry.

Australia has become accustomed to being the target of China's anger. Xi Jinping has refused to speak with Morrison, and Beijing has effectively severed ministerial ties with Canberra since 2018 over Australia's passage of laws against foreign interference in Australian politics and banning Huawei from the Australian 5G network. The foreign interference legislation was widely seen as directed at Beijing's meddling in Australian politics. But despite fears of Australian goods being turned away at the docks in China due to strained relations, economic ties between the countries have continued to grow. China-Australia two-way trade grew to $154 billion in 2018-19, up from $127 billion the previous fiscal year. This growth reflects the reality that the two markets are highly complementary, since China depends in significant part on Australian energy exports.

So, any U.S. talk of "decoupling" from China—whether real or rhetorical—poses a major challenge for Australia, when the world economy eventually begins to recover. There are early signs that despite prickly diplomatic ties between Canberra and Beijing, Chinese demand for Australian resources will rebound strongly with an economic rebound.

Australia long has enjoyed a trade surplus with China, whereas the United States has not. The danger remains that the United States will judge Australia's prosperity harshly, as built solely from trade with China—at the same time as Washington's bipartisan consensus solidifies around the idea that China's growth has come at least in part at the expense of U.S. jobs and some U.S. companies. Should the United States come to demand its ally join in the punishment of Beijing, costing the Australian economic recovery as a result, Morrison is about to face an even more difficult test in managing the U.S. relationship.