Australia's New Brutal Politics—Not New, and Not That Brutal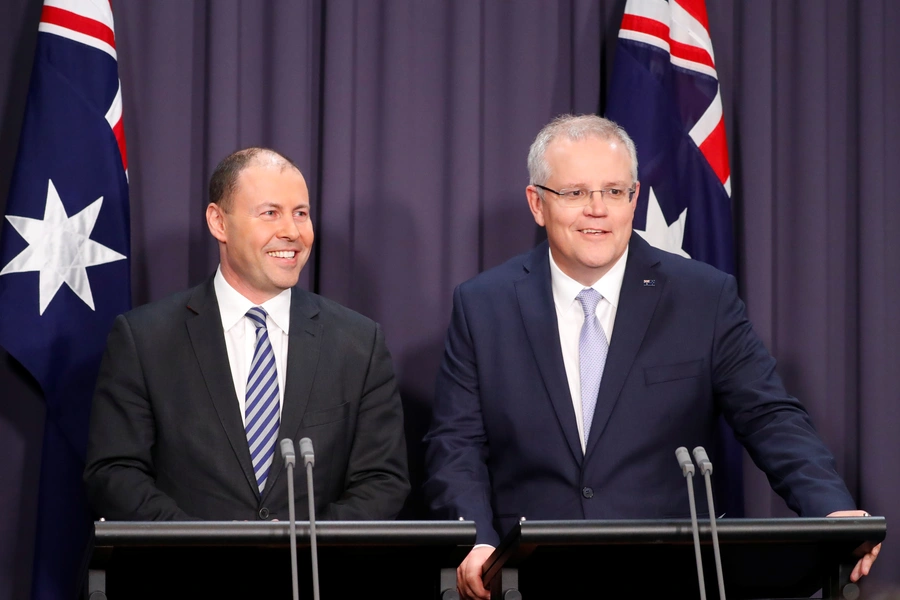 Tom Switzer is executive director of the Centre for Independent Studies in Sydney and a presenter at the Australian Broadcasting Corporation's Radio National. 
As Australia welcomes Scott Morrison as its sixth prime minister since 2010, observers might be forgiven for thinking that the country has developed a certain political bloodlust. And it is not just at the top of government where such slicing and dicing has become a national pastime. The past decade has seen the two main parties—the center-right Liberals and their center-left Labor opponents—run through nine party leaders. 

Last week it was Malcolm Turnbull's turn. Just a few weeks short of his third anniversary as prime minister, the former investment banker fell victim to a coup within the Liberal party. According to the Liberal party's center-right base, the more moderate Turnbull was a walking contradiction of all they believed in. He was always out of kilter with them, irreparably so, and perhaps there was no point in prolonging the agony. Turnbull's ouster followed mounting public discontent with his policies and a long run of bad public polls for his government.

For many Liberals, Turnbull's removal was an act of self-preservation for the party ahead of a general election due next year, although it might not be enough to stop a Labor victory. But the political coup against Turnbull also raises questions again about the vicious nature of Australian politics.

The reasons for Australia's vicious and often gridlocked politics are manifold. A hostile upper house of parliament, the Senate, all too often blocks important legislation. For generations, it was easier for the Senate to rubber stamp House legislation. However, in recent times, a Senate crossbench of a more varied crew of lawmakers has made it more difficult for governments to govern. In addition, the political climate has become increasingly poll driven, which means reporting of politics usually concentrates on the horse race rather than policy debates, and politicians also become driven by the horse race.

Indeed, the 24/7 news cycle, together with noisy and polarizing social media, has fostered the growth of "infotainment" in political news. That makes it very difficult for any prime minister, from either side of the aisle, to implement thoroughly thought-out, reformist policies.

And yet, despite these new trends, and while the churning of political leadership in Australia during the past decade looks exceptional, it is hardly a new development in the country. From 1901 when Australia became an independent state to 1914, when Australia entered the First World War, the country had ten prime ministers. From 1966 to 1972, during part of the era of Australian involvement in the Vietnam War, the country had six prime ministers. Two of the country's most noted political leaders were toppled in 1941 (Robert Menzies) and 1991 (Bob Hawke), though the former bounced back in 1949 to win seven elections and become the country's longest serving prime minister. 

Moreover, as unstable as politics appear now in Canberra, the polarization, partisanship and policy dysfunction are far worse in Washington and Westminster. Nor does the populist nationalism that is proliferating across other parts of the world, especially Rome, Warsaw and Budapest—and which has played a major role in politics in the United States—resonate in Australia. These populist movements represent a backlash against political establishments and focus on economic insecurity, immigration, and terrorism, problems to some degree exacerbated by political dysfunction and hyped up by the media.

In Australia, Pauline Hanson's One Nation, an economic nationalist and anti-immigration movement that came to prominence more than two decades ago, is a spent force. And although the two major parties' share of the vote has been dropping in recent times, there has been no nation-wide lurch toward the populist left or right.

Why not? For one, Australia has not experienced a recession in twenty-seven years. Thanks largely to market reforms from 1983 to 2007, Australia has experienced a less inflation-prone economy, a wider choice of goods and services at lower (real) prices, and (until around 2011–12) the longest income boom since the era of Australian gold rushes. Thanks also to a surge in exports of commodities to China, Australia has been able to weather external financial storms, such as the 2008–09 global financial crisis, and keep growing year after year.

Indeed, the OECD often touts Australia's economic record. In 2011, it found that Australia's overall living conditions are the best among the world's thirty-five developed countries. 

Second, Australia's tough border-protection policies—implemented under Prime Ministers John Howard (2001–07), Tony Abbott (2013–15), and Turnbull (2015–18)—have boosted public confidence in large-scale, legal and non-discriminatory immigration. The lesson: strict controls combined with sizable legal immigration help reduce xenophobia.

Although Canberra is regarded as the political coup capital of the world, Australia is hardly in dire straits. In fact, according to the Economist Intelligence Unit's Global Democracy Index, Australia remains in the world's top ten democracies. And the consensus among many seasoned observers of Australian politics is that compulsory voting, by inoculating the country from voter apathy, helps ensure the integrity of Australian democracy. For now, Australia is immune to the kind of insurgency forces that threaten to upend political establishments in the United States and Europe. 

Perhaps Australia's political class is doing something right.