"Bandits" Shoot Down Alpha Jet as Nigerian Airpower Comes Under Scrutiny
Weeks ago, bandits shot down a fighter jet in northern Nigeria. This comes amid questions over the Nigerian Air Force's readiness to curb insecurity and a slew of deals by the Nigerian government to upgrade its airpower.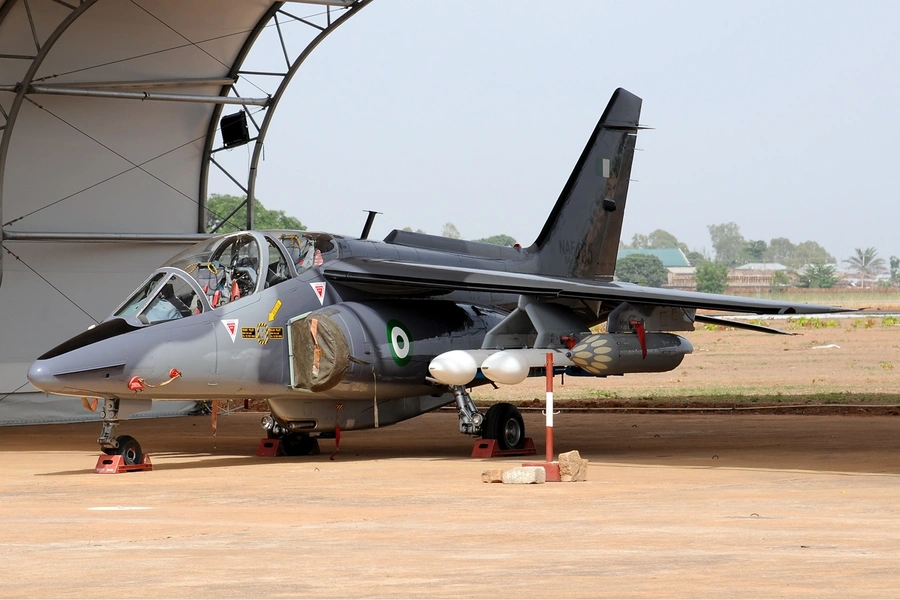 On July 18, "bandits" shot down a Nigerian Air Force (NAF) fighter jet in northern Nigeria on the border between Zamfara and Katsina states. The pilot successfully ejected from the aircraft and avoided capture by the "bandits" using his "survival skills" until he reached an army installation. While NAF planes have crashed in the past—including earlier this year when a plane crash killed Chief of Army Staff General Ibrahim Attahiru—this is apparently the first time a jet has been brought down by enemy fire.
Some observers are expressing concern that this episode indicates that criminal gangs now possess heavier weapons in the past. This is plausible. However, it has not been made public how high the jet had been flying. A Boko Haram video also claims responsibility for the shoot-down. The claim has been exposed as a fake; the terror group reused a video from April in which it claimed—again, falsely—to have shot down an Alpha jet (A-Jet). In the past, however, Boko Haram produced grisly video of the beheading of a pilot who had fallen into their hands. Absent other information, the Nigerian government's claim that this jet was shot down by a criminal gang is plausible.
The "tiny, low-tech" A-Jet, a training jet co-manufactured by the French Dassault and German Dornier aerospace companies, was part of a fleet of Nigerian A-Jets that was put out of commission for more than a decade. In 2013, however, thirteen were returned to service to fight against Boko Haram. Now they are also used against "bandits." But a string of disasters involving NAF aircraft has brought into question the Nigerian fleet's safety and its adequacy in the country's fight against insecurity. The crash that killed Attahiru prompted—following pressure from the opposition—an internal safety audit, while the Christian Association of Nigeria asked President Buhari to declare military plane crashes a national emergency. The most recent shoot-down will likely spur conspiracy theories that tend to follow major air disasters in Nigeria.
Amid this backdrop, the Nigerian government has been looking to upgrade its fleet of attack aircraft. The Nigerian government has purchased twelve A-29 Super Tucanos, light aircraft manufactured in the United States in partnership with Brazilian aerospace giant Embraer, despite delays due to human rights concerns expressed by the Obama administration. The first deliveries were made just weeks ago. However, the Indigenous People of Biafra (IPOB), a separatist group, has sued the U.S. secretaries of state and defense in a bid to halt further deliveries and seek the return of the planes that were delivered. IPOB claims the deal violates the Leahy law, which prohibits the U.S. government from using funds for assistance to units of foreign security forces credibly accused of gross violations of human rights. Separately, U.S. lawmakers last week put on hold the sale of Cobra attack helicopters to Nigeria due to human rights concerns.
What difference any blocking of U.S. arms sales to Nigeria would make with respect to human rights is unclear, as the Nigerian government has also sought non-Western sources of military technology. In May, an initial delivery was made of three JF-17 fighter jets purchased from the Pakistan Aeronautical Complex. Nigeria's military has also purchased Chinese armed drones as well as Russian attack helicopters to fight banditry and terrorism.
The saga of the pilot's ejection from the jet and then his clandestine passage through enemy territory indicates how little control the Nigerian government has on the ground in certain parts of the north. Hence, its increasing reliance on airpower to curb insecurity.
Nolan Quinn contributed to this post.