Beijing's AI Strategy: Old-School Central Planning with a Futuristic Twist
China's new artificial intelligence strategy is a signal that Beijing wants to be a leader in AI. How it gets there is a different story.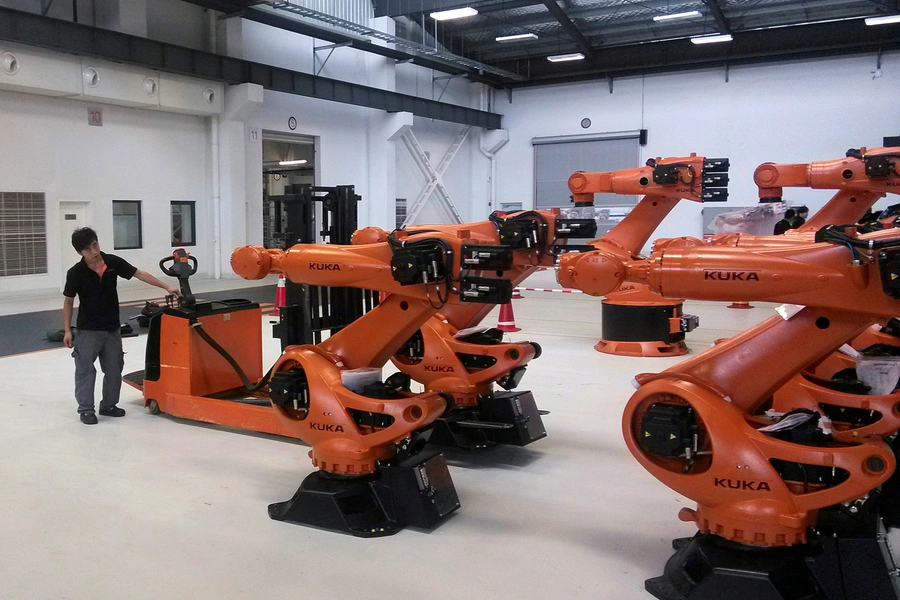 Lorand Laskai is a research associate in Asia studies program at the Council on Foreign Relations. You can follow him @lorandlaskai. 
Rarely do government policy documents come off as manifestos about the future. China's much-anticipated "Next-Generation Artificial Intelligence Development Plan," which was released last month, is an exception. For a country that releases a bevy of slogan-filled 'plans' each year, most of which are as vague as they are forgettable, the AI development plan is different. What the plan lacks in concrete details, it makes up for in vision and ambition. It depicts China of the future overcoming the challenges of an aging population and resource constraints through integrating AI into everything from agriculture and manufacturing to governing and public security.
The document also reveals that China's opening salvo in the global race to dominate AI will rely on old-school centrally guided economic development. The question is, will it work?
In raw numbers, China's massive ambitions for AI are clear: the plan proposes transforming China's fledgling AI industry into a 'world leader' worth RMB 400 billion ($60 billion) by 2025 and a 'premier innovation center' worth RMB 1 trillion by 2030 ($150 billion). With China's AI industry currently hovering around RMB 10 billion ($1.5 billion), this is a tall order. And even though the plan rattles off a long list of technologies that China wants to make breakthroughs in, the plan provides few concrete actionable steps to get there.This is not unusual for the central government, which often releases plans or frameworks to communicate to cadres in the bureaucracy and at the local level what the leadership deems a priority. With the AI development plan, top Chinese officials are signaling that the leadership views AI as central to China's future.
In all likelihood, China's cadres already knew that AI is a priority. Government ministries, provinces, and large municipalities like Shanghai and Tianjin have already unveiled a slew of policies to nurture the technology as part of the country's thirteenth five-year plan. Scientists from the Chinese Academy of Science (CAS) and Chinese Academy of Engineering (CAE) have embarked on a series of AI 'megaprojects' including 'China AI 2.0' and 'China Brain Project,' which some have compared to the U.S. Apollo program. China's commercial enterprises are responding, if not already leading the way. The big three—Baidu, Alibaba, and Tencent—are investing heavily in AI. At the same time, a new class of large Chinese AI mega-enterprises, like Sensetime, Mobvoi, and iFlytek, are rising. Unconstrained by strict privacy norms, China is arguably commercializing certain AI applications, like facial and object recognition, at a faster pace than the West.
What's the point of the central government's plan if major actors are already making AI a priority? In one sense, the plan is China's Ministry of Science and Technology (MoST) attempt to reestablish its prerogative over high-tech developments. Rather than allowing other ministries or experts at CAE and CAS to steer the way on China's AI research agenda, the bureaucrats at MoST are reasserting their voice in the process through the new 'AI Plan Implementation Office.' This can be bad for innovation and the overall development of the technology since it will insert an additional layer of bureaucracy and competing objectives to the mix. Top MoST officials already have a history of intervening in research programs and funding decisions to meet short-term political objectives.
Viewed more broadly, China's AI development plan can be accurately framed as a roadmap for how the central leadership wants to shape and spread the inchoate technology. This is why the plan is packed with fantastical societal visions of the technology's applications. These include AI enhanced policymaking like 'smart courts' that streamline everything from evidence collection to trial and 'intelligent government' that employs AI to forecast public demands, collect data, and help make decisions. Some applications defy easy description, like one project to use AI and blockchain to "enhance social interactions and promote credible communication."
Less sensational—and probably more consequential—steps are outlined in the plan as well: creating industrial parks to nurture AI companies; pushing companies in all sectors of the economy to upgrade their 'smartness levels' through integrating AI into core operations; and reorienting the education system to train Chinese students to work with AI. Rather than the stuff of science fiction, these are the hallmarks of China's central-guided development—which appears to be the main advantage that the Chinese government is betting on to win the AI race. Through a central push, China believes it can launch a coordinated strategy, leveraging more resources, launching more moonshot projects, and thinking bigger than any other government can.
Will Beijing's plan work? Like many grandiose ambitions of central planning, the more spectacular elements will likely fall by the wayside. However, the plan might still succeed if only because China is committing resources to a society-wide AI push. Here former Baidu Chief Scientist Andrew Ng's comparison of AI to the invention of electricity is instructive. Like electricity, the transformative effects of AI will be immediate and impact every aspect of the economy and society. But as Miles Brundage and Joanna Bryson point out, electrification was a multiple-decade process (the U.S. did not fully electrify until 1950) that required the mobilization of considerable state resources. AI will also demand a concerted push if the technology is to spread throughout society. With its AI plan, Beijing is signaling that China is determined to being the first country to make that push.