Belated Birthday Wishes to the United States Army!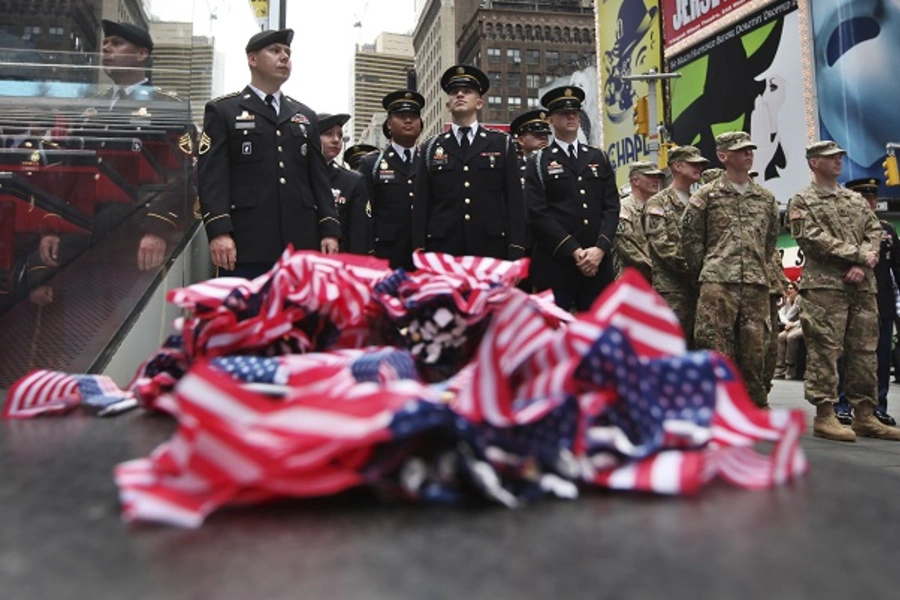 Yesterday the United States Army celebrated its 241st birthday. Alas, while I wrote out my birthday wishes I failed to post them. (Yes, I have been known to write cards and forget to send them.) But being a big believer in "better late than never," here are my belated birthday to wishes to every active duty, former, or retired member of the United States Army.
The Army website provides a short but thorough overview of its history. Here are five things worth knowing:
The Army is the oldest of the four services. It was created on June 14, 1775, so it's four months older than the United States Navy, five months older than the United States Marine Corps, and 172 years older than the United States Air Force, which began as part of the Army.
Eleven Army generals have gone on to become president of the United States: George Washington (General), Andrew Jackson (Major General), William Henry Harrison (Major General), Zachary Taylor (Major General), Franklin Pierce (Brigadier General), Andrew Johnson (Brigadier General), Ulysses S. Grant (General), Rutherford B. Hayes (Major General, Brevet), James A. Garfield (Major General, Volunteers), Benjamin Harrison (Major General, Brevet), and Dwight D. Eisenhower (General). No Navy Admiral, Marine Corps General, or Air Force General has ever been elected president. (Chester A. Arthur was Quartermaster General of the New York State Militia at the start of the Civil War, but I don't believe he was mustered into federal service.)
The highest rank in the Army is General of the Armies of the United States. Only two men have held it: George Washington and John Pershing. Efforts to give General Douglas MacArthur the title failed. Washington got his title posthumously on July 4, 1976. During his lifetime, the highest rank he achieved was Lieutenant General. President Ford issued the executive order elevating Washington to six-star status because given the military's strict hierarchy he was technically outranked by the four- and five-star generals who came after him. President Ford's executive order directs that Washington shall always be considered the most senior United States military officer.
The Medal of Honor has been awarded to a member of the Army 2,448 times. Put differently, 70 percent of all 3,514 Medals of Honor awarded have gone to soldiers.
There are about 475,000 active duty Army personnel. Over 54,000 are stationed overseas.  May they all return home safely.
I asked Colonel Michael Fenzel, an active duty U.S. Army officer spending the year as a military fellow at the Council, what to read to learn more about the Army's history. Here is what he recommended:
T.R. Ferenbach, This Kind of War (2000). Ferenbach tells the history of the Korean War from the perspective of the soldiers and commanders who fought in it. Colonel Fenzel says that This Kind of War is "simply extraordinary." If you're looking to get a sense of what the Army does and how it does it, Colonel Fenzel particularly recommends reading the introduction and chapter 25, "Proud Legions."
James Kitfield, Prodigal Soldiers (1997). Kitfield looks at how Army and Air Force officers who fought in Vietnam used the lessons of that war to remake their services. Colonel Fenzel says that Prodigal Soldiers is "a must read."
Peter Singer and August Cole, Ghost Fleet (2015). Singer, a senior fellow at the New America Foundation, and Cole, a former Wall Street Journal reporter, wrote a thriller speculating about what World War III might look like. China, Russia, and the United States are all at war on a battlefield that now includes cyberspace and outer space. Colonel Fenzel says that Ghost Fleet is now required reading for the Army's Maneuver Center of Excellence.
Guy Sajer, The Forgotten Soldier (2000). Sajer's memoir recounts his experiences fighting as an infantryman in the Germany Army on the Eastern Front in World War II. Although not about the United States Army, Colonel Fenzel says that Sajer's story provides a "tremendous understanding" of army life in battle.
Colonel Fenzel also had some film recommendations in case you prefer to understand the Army experience by watching movies rather than reading:
We Were Soldiers (2002). Mel Gibson stars as Army Lt. Colonel Hal Moore, who must lead his men through the la Drang Valley, better known as the Valley of Death, during the Vietnam War. Colonel Fenzel say the film is "simply extraordinary. I don't know if there is a better Army movie."
The Longest Day (1962). This Oscar-winning film tells the story of D-Day from both the Allied and German points of view. Colonel Fenzel recommends this classic in honor of D-Day's proximity to the Army's birthday.
A Bridge Too Far (1977). A star-studded cast recreates Operation Market Garden, an ultimately unsuccessful Allied military operation during World War II. Colonel Fenzel thinks "it should be required for all high school students to watch this," and with good reason. It does a great job of showing that freedom isn't free.
Ender's Game (2013). Set in the distant future, young Ender Wiggin is recruited to lead the fight against aliens determined to exterminate the human race. Although Ender's Game has no connection to the United States Army, Colonel Fenzel noted that the film has "had an impact on the culture of the Army" and "shows the importance of renewing your ideas."
If you have any reading (or viewing) recommendations about the United States Army, please post in the comments below.