And then there were two. Nearly fifteen months after the first candidate officially declared for the presidency, we finally have our two presumptive nominees. As Hillary Clinton and Donald Trump make their pitches to voters over the next five months, they face a country that is either unsettlingly gloomy or surprisingly upbeat. Take your pick.
On the gloomy side of the ledger, Gallup released a poll yesterday showing only 29 percent of Americans are satisfied with "the way things are going" in the country. That's pretty bearish compared to the upbeat mood of the 1980s or the late 1990s.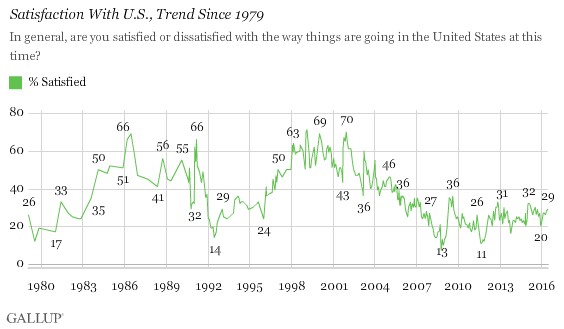 Of course, just how gloomy things look depends on whom you ask. Democrats are fairly positive about the country's direction. Few Republicans, however, see anything to be happy about.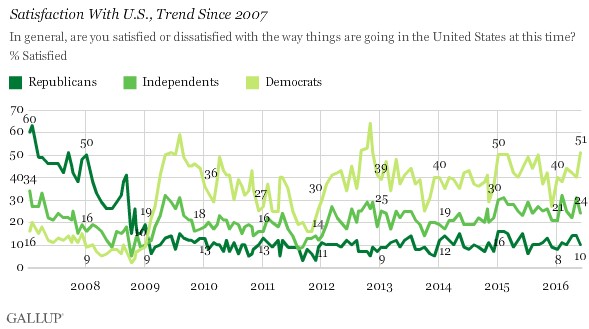 When the question shifts from where the country is headed to whether "now is a good time to find a quality job," Americans seem a lot cheerier.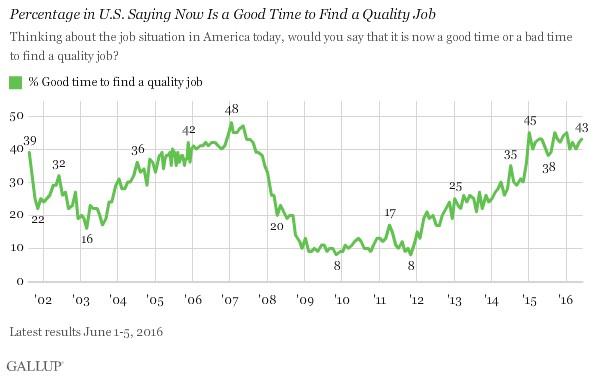 The public's mixed mood parallels what the two presumptive presidential nominees are saying. Trump's message is that the country is in a steep decline. Clinton's is that much has been accomplished and more can be done. We'll see which sentiment dominates come November 8.
In Case You Missed It
Trump announced that he plans to give a major speech "lambasting the corrupt dealings of the Clinton family" early next week. He also said he intends to rebut Clinton's most recent foreign policy speech. Following his victories on Tuesday, Trump courted Sanders supporters, telling them that trade deals "will be taken care of far better than anybody ever thought possible" under a Trump presidency. In her victory speech Tuesday night, Clinton assured her supporters that her "vigorous debate" with Sanders "had been very good for the Democratic Party and America." She then accused Trump of wanting to "wall off Americans from each other." Following Tuesday's terrorist attacks in Tel Aviv, Clinton reiterated her "unwavering support of [Israel's] right to defend itself."
Dan Drezner argued that Trump's love of needling the Republican foreign policy establishment may ultimately hurt him. Eric Brander wrote, as have other journalists before him, that there is no evidence that Trump opposed the Iraq War prior to the 2003 invasion. My colleague Micah Zenko examined Trump's positions on military interventions. Former Secretary of Defense Leon Panetta criticized Trump for his "'dangerous' and 'irresponsible' approach to foreign policy." In response to Trump's continued comments about the need for U.S. allies to pay more, Germany's ambassador to NATO defended his country's contributions to the alliance. Trump foreign policy advisor Walid Phares said that Trump, if elected, would not immediately negate the Iran nuclear agreement, but would instead work on "revising, reviewing, and maybe trying to modify" it. The president of the U.S. Soccer Federation suggested that a President Trump would be bad for a U.S. bid for the 2026 World Cup.
Max Ehrenfreund examined how a Clinton administration could broker a deal on the Trans-Pacific Partnership. Michael Cohen predicted that Clinton's foreign policy expertise will be a significant strength for her in the coming months, while Amir Handjani argued the reverse. Eli Stokols predicted that Trump will try to show that Clinton is "willing to compromise national security." Molly O'Toole wrote that Trump will likely hit Clinton on her poor foreign policy judgment. Patrick Smith argued that Hillary Clinton's foreign policy is "the last thing Americans need now."
Looking Ahead
The District of Columbia has the honor of hosting the final nominating contest of 2016. On June 14, Democrats in our nation's capital will vote in D.C.'s Democratic primary. There are forty-five Democratic delegates available.
The Republican National Convention opens in another thirty-eight days at the Quicken Loans Arena in Cleveland on July 18. The Democratic National Convention starts seven days later at the Wells Fargo Center in Philadelphia on July 25. Here are where things stand with the delegate count: (The Democratic count includes super delegates, elected Democratic officials and members of the Democratic National Committee who can vote for the nominee but who aren't selected by voters or bound by what they want).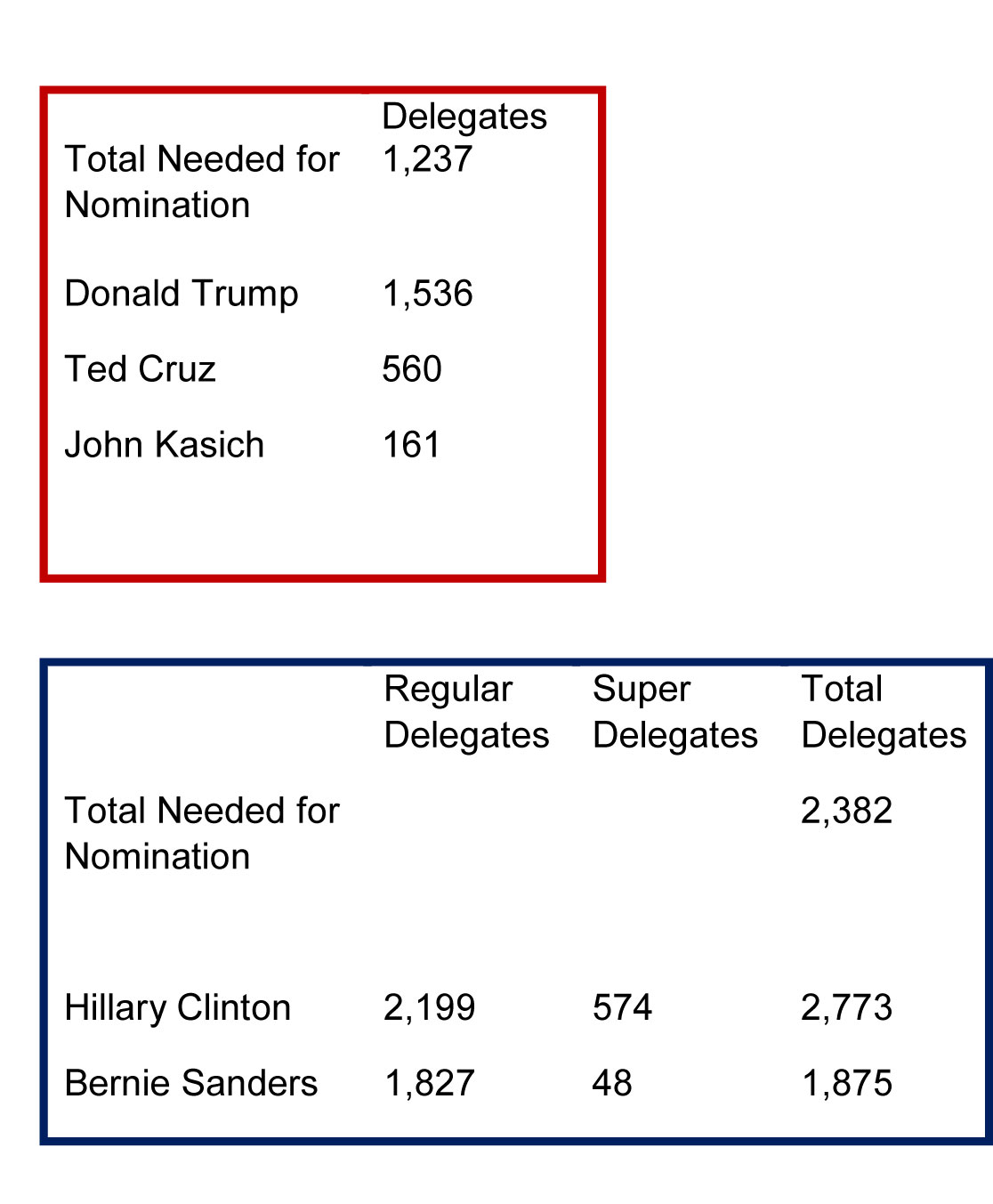 Election Day is 151 days away.
Brett Ekberg and Jonathan Hyman assisted in the preparation of this post.