Biden's Policy Review Leaves North Korea Challenge In Limbo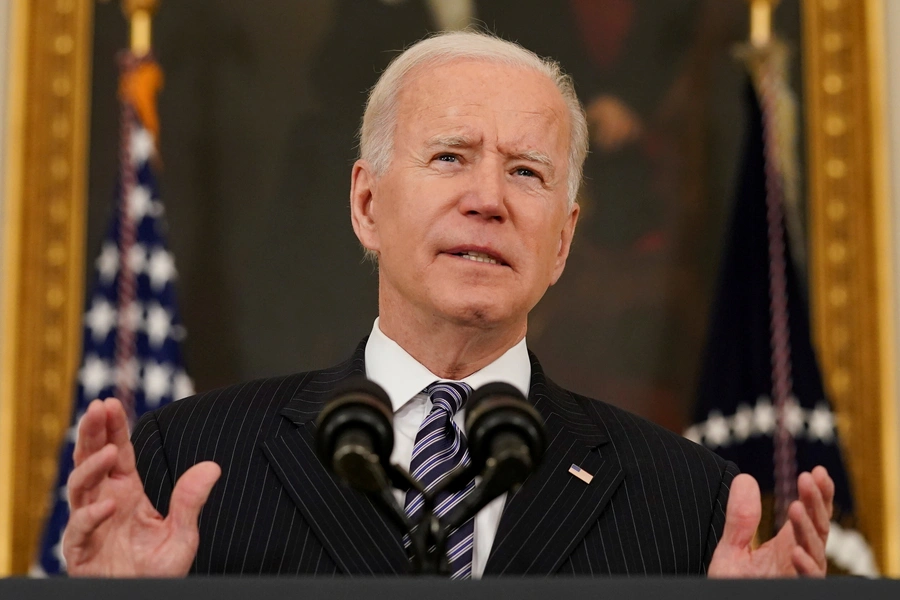 In a speech to a joint session of Congress marking his first hundred days in office last month, U.S. President Joe Biden described his North Korea policy as a combination of "diplomacy, as well as stern deterrence." Hours later, Press Secretary Jen Psaki told reporters that the White House intends to adopt the classic middle ground policy option of a "calibrated, practical approach"—framed between former Presidents Barack Obama's "strategic patience" and Donald Trump's "grand bargain."

"Our goal remains the complete denuclearization of the Korean Peninsula. With a clear understanding that the efforts of the past four administrations have not achieved this objective, our policy will not focus on achieving a grand bargain, nor will it rely on strategic patience." Psaki said.

"We have and will continue to consult with the Republic of Korea, Japan, and other allies and partners at every step along the way," she added.

Having emphasized coordination with alliance partners Japan and South Korea, it is unsurprising that the policy outcome would wed South Korea's desire for a diplomatic breakthrough with Japan's strict emphasis on deterrence.

Biden's policy review laid out the instruments in the U.S. foreign policy toolbox and reasserted "complete denuclearization" as the enduring U.S. bottom line, but failed to satisfactorily address the main problem that has bedeviled decades of policy toward Pyongyang under successive U.S. administrations: how to dissuade North Korea from pursuing unremitting nuclear development objectives to guarantee regime survival, stand equivalent to the U.S. as a nuclear power, and reshape the regional strategic environment in North Korea's favor.

To be fair, no U.S. administration has found a satisfactory answer to this question since U.S. satellites began surveilling North Korean nuclear efforts in the 1980s. But this failure is more indicative of North Korea's isolation, persistence, and weakness than of U.S. policy.

A North Korean regime dependent on economic support from China needs to showcase its nuclear accomplishments as a basis for internal legitimacy, as a deterrent against "hostile forces," and as an obstacle to South Korea-led unification of the Korean Peninsula.
U.S. assurances that it is not hostile to North Korea cannot bring peace to the Korean Peninsula, unless North Korean leader Kim Jong-un is willing to abandon his revisionist aims.

Due to Kim Jong-un's persistent commitment to nuclearization, even capping North Korea's nuclear development en route to "complete denuclearization" appears to be an impossible task that is only achievable through the inordinately costly course of regime change.

Increasingly severe UN sanctions have slowed North Korea's nuclear development, but failed to halt it. Diplomatic proposals to negotiate a cap and freeze might induce a measure of North Korean voluntary self-restraint—until the next U.S. administration comes along. The North Koreans, despite a few weeks of perhaps genuine doubt during the crescendo of "fire and fury" and Trump's threats of North Korean annihilation during late 2017, concluded long ago that their nuclear deterrent will forestall a military invasion.

One might hope that North Korea's quarantine and self-induced economic distress would change Kim's mind and open the door to diplomatic talks, but he appears to have dismissed the Biden administration's early dialogue feelers and doubled down on economic recentralization and nuclear development at the Eighth Party Congress in January.

North Korea's economic distress may induce its diplomats to accept assistance in return for participation in diplomacy, but the regime has underscored that it will not succumb to external diplomatic pressure.

Not to mention that Pyongyang had already warned Washington earlier this month that the U.S. "will face worse and worse crisis beyond control in the near future" if Biden's administration is to follow its approach.

"Now that what the keynote of the U.S. new DPRK policy has become clear, we will be compelled to press for corresponding measures, and with time the U.S. will find itself in a very grave situation," North Korea said in a statement issued by its state news agency KCNA.

The Biden administration's decision not to appoint a special negotiator for North Korea reflects low expectations for North Korea to return to denuclearization negotiations at this time. Instead, the U.S. Directorate of National Intelligence anticipates that North Korea will likely pursue provocative actions, before it will be willing to return to the negotiating table. 

In the meantime, Pyongyang will likely continue its three decade-long effort to nuclearize its way to prestige and equivalency, with the United States through mutual nuclear deterrence. This is a formula for stalemate in negotiations that pits U.S. denuclearization objectives against North Korea's nuclear development, with the North perceiving its steadily expanding fissile material stockpiles and missile development as counter-leverage against U.S. "maximum pressure."

Unless the Biden administration can find a way to induce or impose self-restraint on the expansion of North Korea's arsenal, the dimensions of the North Korean nuclear challenge will only continue to grow.