Buhari's Attacks on the Press in Nigeria Continue Unabated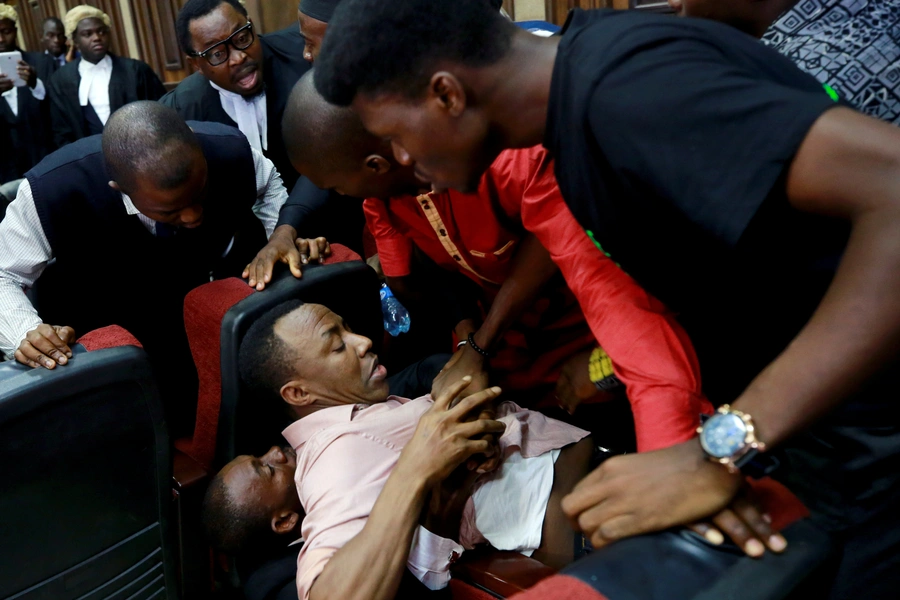 On December 6, the Department of State Security (DSS) stormed into an Abuja courtroom and illegally detained journalist Omoyele Sowore. The episode is deeply disappointing to American friends of Nigeria who are invested in that country's democratic trajectory. The DSS flagrantly violated the rule of law and the sanctity of a courtroom by violently manhandling Sowore and causing the judge to flee her own chambers. The episode unfurled in full view of national and international media, dragging Nigeria's international reputation through the mud.
Sowore is a Nigerian citizen, but his wife and children are American citizens. He lives in New Jersey, where he publishes the well-regarded online newspaper "Sahara Reporters." New Jersey's two senators have issued blistering statements on his arrest. Senator Bob Menendez characterized Sowore's seizure as a "blatant miscarriage of Justice…symptomatic of closing political and media space in Nigeria." He promised to work with the American ambassador in Nigeria to secure Sowore's release. Sen. Corey Booker, a candidate for the Democratic presidential nomination, called on Nigeria to "cease its attacks on freedom of expression." The U.S. State Department tweeted "respect for the rule of law, judicial independence, political and media freedom, and due process are key tenets of #democracy." Others denouncing the episode have included Nobel Laureate Wole Soyinka and Amnesty International. 
On Monday in Nigeria, a coalition of civil society organizations issued an ultimatum, promising mass protests if their demands are not met in fourteen days. Among other things, they are asking the government release detained journalists, obey court orders, and stop restricting free speech. The Punch, a daily Nigerian newspaper, published a scathing article detailing the Buhari administrations past abuses against other journalists and public figures. The newspaper promised that, henceforth, in all of its publications, it will refer to Buhari by his military rank, major general, and to his administration as a regime. 
Sowore has long been a democratic activist and a thorn in the side of Nigerian governments, and Sahara Reporters regularly reports on the corruption of Nigerian political figures. In 2019, Sowore ran unsuccessfully for the presidency. In the aftermath of those flawed elections, he organized a protest dubbed "Revolution Now," and called for "Days of Rage." This seems to be the nominal basis for his arrest, with the government in response accusing him of treason and seeking to overthrow the government, among other fanciful charges. 
The Nigerian government's response thus far has been lame: Garba Shehu, media spokesman for President Muhammadu Buhari, excused DSS by saying that Sowore is a "person of interest" and DSS accordingly acted properly. In fact, this latest episode is the culmination of months of extra-legal government steps against Sowore. The DSS has refused to release him on bail twice, contrary to court orders. Further, there have been numerous attacks on journalists, and there is a bill in the National Assembly that would make "hate speech" a capital offense. In January, for example, security services stormed multiple offices of an influential newspaper after it had reported on military setbacks in the fight against Boko Haram. President Buhari moved quickly to end the occupation, suggesting he had lost control. It is unclear whether Sowore is being held for his political activity, his journalism, or both. In any event, the episode is a public relations disaster for the Buhari administration. Either the administration is, indeed, moving to restrict freedom of the press in Nigeria or the DSS is operating outside the president's authority. Either is bad for Nigeria.