Burma's Upcoming Elections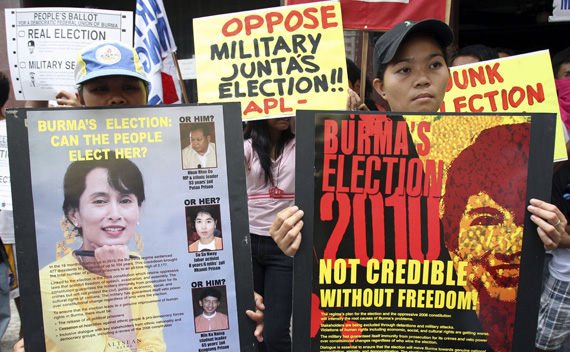 In the new issue of the London Review of Books, I have an article analyzing the prospects for the upcoming national elections in Burma (Myanmar). The elections, which will be the first since 1990, likely will take place this fall, though the ruling junta, which is tightly controlling most aspects of the poll, has not yet announced an actual date, likely as a strategy to make it harder for parties not favored by the military to make any headway with the population before the vote.
The election is highly controversial, both within Burma and among the community of Burma-watchers outside the country. Though the longtime opposition party National League for Democracy, led by Nobel laureate Aung San Suu Kyi, has officially boycotted the poll, because of all the restrictions on parties imposed by the junta, some Burmese activists have organized their own parties to contest the election, feeling that any poll at all is a step forward they should not ignore. As several Burmese activists noted to me, by participating in a string of highly dubious elections in Zimbabwe, the opposition Movement for Democratic Change, though unable to get rid of dictator Robert Mugabe, did manage to establish itself as a viable and popular force, and ultimately, win a power-sharing agreement with Mugabe.
Yet at the same time, the election poses a challenge for the international community. Any civilianization of the Burmese regime at all could be positive, since it might allow outside actors like the United States, China, and the ASEAN countries to interact with a more professional class of leaders, who might at least be interested in real economic development, and might be less xenophobic and secretive than the current junta. But the Burmese regime, despite its secrecy, has a long history of playing the international community for fools, seeming to open up and reform just a bit, winning outside assistance or investment, and then slamming the door.
(Photo: Romeo Ranoco/courtesy Reuters)