A Callous Disregard for Child Victims of Gun Violence Is American Exceptionalism Run Amok
As a developed economy, the United States' failure to protect its youth is as uniquely American as its aversion to ratifying international treaties. That exceptionalism, however, goes too far in the context of school shootings.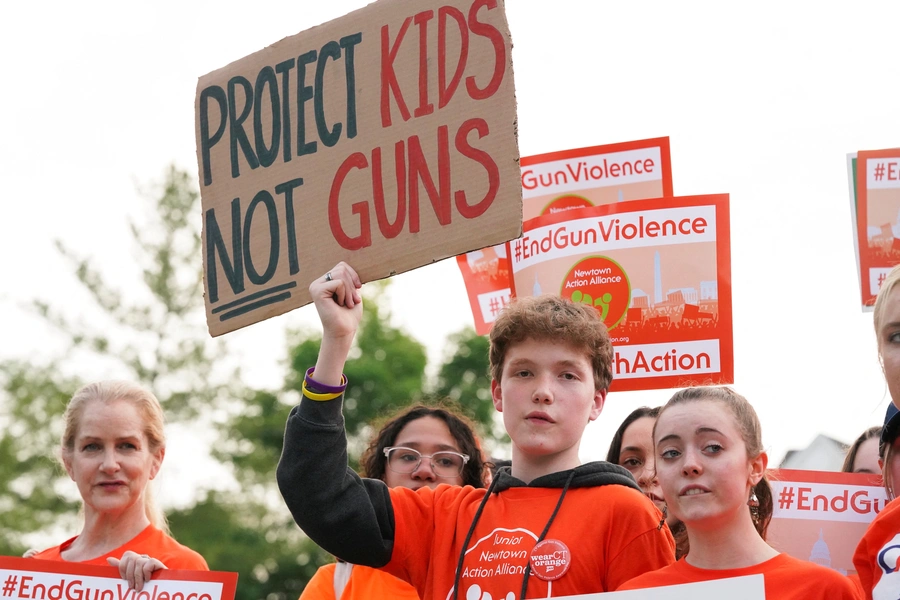 In May 2010, thirty-one Republican senators cosponsored a resolution opposing a UN human rights convention, claiming that it would "undermin[e] traditional principles" of U.S. law; "interfere with the principles of sovereignty, independence, and self-government;" and constitute an "inappropriate attack on the capability of U.S. legislators." Among its many abominations, lawmakers warned, would be the codification of a right to choose one's own religion.
What was this dangerous convention, and why did Republican legislators reject its mere submission to the full U.S. Senate for advice and consent? The instrument in question was the 1990 UN Convention on the Rights of the Child (CRC). According to the self-styled "party of family values," the CRC would erode the authority parents were entitled to exercise over their minor children and empower faceless UN bureaucrats to determine matters of a fundamentally domestic character. This is, of course, despite the fact that nineteen of the CRC's provisions acknowledge the significant role parents and caretakers play in the lives of children, including articles specifically codifying their rights vis-à-vis a child's customs (Article 5), care (Article 7), and religious outlook and upbringing (Article 14). In fact, the treaty's commitment to recognizing parental rights is another source of conservative antagonism: it might force U.S. lawmakers to recognize the rights of same-sex parents.
Republicans also warn that the convention, as clarified by the UN Committee on the Rights of the Child, could bar parents from using "common disciplinary measures" involving corporal punishment and force the United States to abandon its title as the only country where children can be sentenced to life without parole. However, even if spanking and lifetime juvenile imprisonment are indeed such venerated U.S. virtues, nothing prevents the United States from ratifying the treaty with reservations.
Additionally, accession might spur a recalibration of U.S. priorities. Several states revved up efforts to address issues like education and child poverty upon ratifying the convention. Joining the CRC means that the United States could be next, with U.S. lawmakers finding themselves pressured to actually focus on youth issues. As Jim DeMint (R-SC) has pointed out, several parties to the CRC have already been found in contravention for "inappropriately prioritiz[ing]" military expenditures over children's programs. These are all specious claims, and yet they carry political heft among sovereignty-obsessed senators.
The United States, which signed the CRC in 1995, remains the only country in the world that has yet to ratify it. This is shocking but alas not surprising, given the country's allergy to international treaties. Indeed, the United States is the exception in terms of its nonparty status on copious multilateral issues, including biodiversity, ocean governance, and disability rights. It has also ratified fewer human rights treaties than any other advanced economy. However, the country's absence in this case is particularly predictable considering its shameful failure to protect and serve the interests of children—the same children legislators have called the nation's "greatest natural resource" and the "foundations of [its] future." While the nation's neglect of its youngest citizens has many dimensions, including early education and poverty, the most disgraceful example of such "American exceptionalism" is the recurrent slaughter of its innocents, most recently the massacre in Uvalde, Texas.
The United States stands apart from other advanced market democracies in its incidence of gun violence and public mass shootings, and it is too often children who bear the brunt of that "exceptionalism." Firearm-related deaths are the leading cause of child and adolescent mortality in the United States, a country that has twice as many firearms per capita as Yemen and isn't even in a civil war (at least not yet). Between 2009 and 2018, the country has experienced nearly sixty times as many school shootings as any other advanced economy. In 2018 alone, the United States saw two of its deadliest school shootings, with ten lives (nine students) lost to gun violence in Santa Fe, Texas, and seventeen (fourteen students) in Parkland, Florida.
The repeated failure to respond to these tragedies with sensible gun regulations (which are preserved under District of Columbia v. Heller), prevent their too-frequent recurrence, and ensure that American children can obtain an education without the real threat of an active shooter undoubtedly constitutes a grave infraction of Articles 3, 6, 19, 28, and 29 of the CRC, all of which refer to a child's right to safety, protection (e.g., from violence), life and/or education. While the United States, a nonparty, cannot be held to account for these violations, it is answerable for violating at least one international treaty it has ratified. The 1976 International Covenant on Civil and Political Rights, acceded to by the United States in 1992, established that "every human being has the inherent right to life" and "the right to liberty and security of person." Although holding no binding legal status, the UN Universal Declaration of Human Rights, the product of a committee chaired by former U.S. First Lady Eleanor Roosevelt, was adopted as a common and international standard by the UN General Assembly in 1948. It also protects the rights to life, liberty, security of person, and education.
Joining the CRC won't end the epidemic of gun violence against U.S. children. Indeed, Somalia, which acceded to the convention in 2015, leaving the United States the world's sole outlier, still experiences appalling rates of violence against and involving children. What accession to the CRC would do, however, would be to formally commit the United States to its principles and standards, elevate the protection of children's rights and interests in U.S. discourse, and give child rights advocates within and outside government more voice and leverage to advance their efforts.
Unfortunately, prospects for ratification, which requires approval by a two-thirds Senate majority, remain dismal. Democrats, many of whom previously expressed support for the CRC, control the chamber by the skin of their teeth—and possibly not for much longer. Even though the United States played an active role in the convention's drafting, commenting on almost every article and positing the original text of seven, three of which came directly from the U.S. Constitution and were proposed by the Ronald Reagan administration, the CRC has never been brought before the Senate. Although then-presidential candidate Barack Obama described the United States' exceptional status as "embarrassing," his administration had neither vocalized nor demonstrated any intention of submitting the treaty for advice and consent when the aforementioned Republican senators, some of whom are still in office, delivered their 2010 resolution. With the CRC having received such a warm welcome then, it is hard to imagine that the Joe Biden administration, which is struggling to align Democratic support behind popular domestic initiatives, could successfully seek ratification in the current, hyperpolarized political climate.
The doomed prospects of the CRC in the United States expose the often contradictory nature of its politics (and, in this case, particularly that of its Republican party) that has undermined its ability to faithfully protect its youth. Deeply concerned with shielding children from negative American history and Toni Morison, Republicans have channeled tremendous energy and resources into beating back the dangers of truth, racial literacy, and sexual health. They do so while worrying that ratifying the CRC might provoke demands that the U.S. government foot the bill for providing the social and economic rights enshrined in the treaty, such as disability assistance. Furthermore, conservatives seem to be much more concerned with defending the right to life before a child is born than protecting it after.
The failure of the United States to protect its children also exposes Republicans' selective reading of the U.S. Constitution. Republicans cite the Constitution as being, along with state constitutions, "the primary safeguar[d] for the legal rights of children in the United States." The right of U.S. children to not "be deprived of life, liberty, or property, without due process of law" is indeed protected under the Fifth and Fourteenth Amendments, yet Republican constitutional originalists seem to ignore that provision while unapologetically and ardently defending the Second Amendment. Accordingly, Senate Minority Leader Mitch McConnell (R-KY) made sure to walk an extremely fine line when cryptically indicating his support for the framework behind the Bipartisan Safer Communities Act. The bill—which seemed doomed just last week but managed to pass a Senate test vote Tuesday night with the support of a whopping fourteen Republican lawmakers—would modestly expand U.S. gun control regulations but fall short of introducing crucial reforms (e.g., a new assault weapons ban). Indeed, Senator John Cornyn (R-TX), the lead Republican negotiator for the bill, himself assured fellow party members that he would "not, under any circumstance, support new restrictions for law-abiding gun owners."
There was no due process for those slain at Uvalde, or Santa Fe, or Parkland. And, if history provides any indication, the same will likely be true for any future victims at any other American school. Phil Collins might say that's just the way it is—but it doesn't and shouldn't have to be.
Ania Zolyniak is a research associate with the Council on Foreign Relations' International Institutions and Global Governance program.