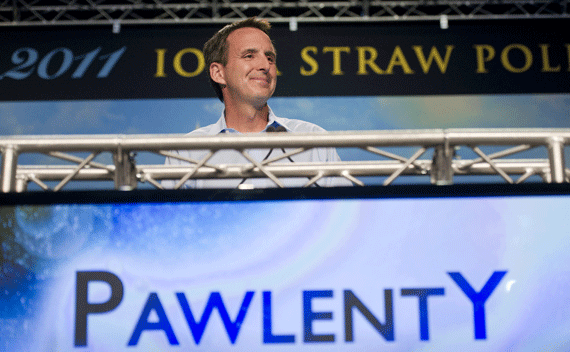 Ames, Iowa proved to be Tim Pawlenty's Waterloo. Despite spending an estimated $1 million trying to win the Ames Straw Poll, the former Minnesota governor finished a disappointing third. Having bet big and lost, he has formally dropped out of the presidential race. So it looks as if it will be at least another four years before someone who graduated from a Big Ten University is elected president of the United States.
Pawlenty's departure shouldn't have a major impact on the broad contours of the foreign policy debate among Republicans. Texas governor Rick Perry, who officially declared himself a candidate on Saturday, is championing the same robust, muscular, "hawk internationalist" foreign policy that Pawlenty had pushed.  So Rick Santorum won't be the only GOP candidate contesting Ron Paul's non-interventionist foreign policy or Jon Huntsman's skepticism about Afghanistan.
Where Pawlenty's departure could make a difference is on the debate over foreign aid. The former Minnesota governor had not argued for slashing aid funding but rather for redirecting it "toward building good allies, genuine democracies governed by free people according to the rule of law." Last month his senior foreign policy adviser said:
Governor Pawlenty believes very much in projecting an American foreign policy that is very much focused on clarity and strength, with the capabilities to back it up. And that means not cutting the international affairs account and defense spending.
That claim probably was exaggerated. Given budgetary and political realities, foreign aid is not going to escape the budgetary axe regardless of who wins next November. But Pawlenty was at least rhetorically willing to defend foreign aid. It's not obvious that the remaining GOP presidential contenders will go even that far.