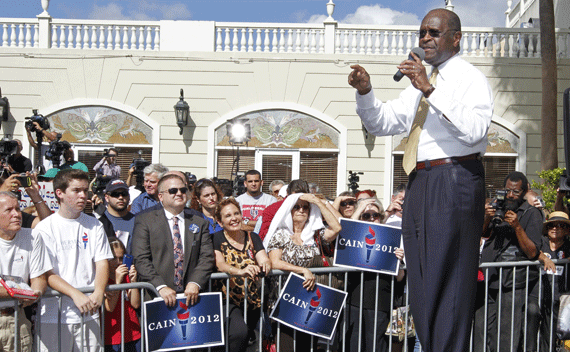 Herman Cain has succeeded in shifting media attention away from his gaffe on Libya, but not in the way that helps him. In a visit yesterday to the Versailles Café, a favorite spot for Miami's Cuban-American community, he shied away from the usual campaign practice of denouncing the Cuban government. He instead praised the café's coffee and croquetas, asking the crowd "how do you say delicious in Cuban?" (Politico has posted the video of Cain's remark.) This has set the blogosphere and twitterverse afire, as you can see here, here, and here. So the question of whether Cain knows enough about foreign policy to be president continues to dog his campaign.
Cain is not alone in being in hot water for something he said. President Obama is too. At the Asia-Pacific Economic Cooperation Summit over the weekend, he was asked about impediments to foreign investment in the United States.  He responded by saying that "the United States is still the largest recipient of foreign investment in the world." He went on to add:
We've been a little bit lazy I think over the last couple of decades. We've kind of taken for granted that people will want to come here and we aren't out there trying to sell America and attract new businesses into America.
Mitt Romney almost immediately charged Obama with saying "Americans are lazy," which is not quite what he said. Rick Perry has gone a step further than Romney and built a new campaign ad around Obama's remark:
Click here to view this video on YouTube.
Politico is asking experts to debate whether the "lazy" comment will hurt Obama.
Michele Bachmann told voters yesterday in Storm Lake, Iowa, that the United States needs to do more to instill fear in others:
That's the problem today in foreign policy: You want the other nations to fear us. They don't fear us today. They laugh at us. This is serious. The United States is being mocked at and laughed at. We're the military super power of the world and we're being mocked at and laughed at and being disrespected?

I will use absolutely everything in our arsenal against the Iranians. Because they need to know that they should fear the United States.
Bachmann is making this argument just as former Minnesota Republican senator Norm Coleman and former Arkansas governor and 2008 GOP presidential candidate Mike Huckabee publish a piece at Politico arguing that soft power was part of Ronald Reagan's legacy.
In another Iowa appearance yesterday, Bachmann called waterboarding "uncomfortable" and compared the decision to use the technique to President Harry Truman's decision to drop two atomic bombs on Japan at the end of World War II:
It was a terrible decision that Harry Truman had to make, he made it. And he said, if I have to kill a thousand Japanese to save one American life, I will… If I had knowledge that we could use something like a waterboarding to be able to save the American people, would I use it? Yes, I would.
Media outlets are paying more attention to what the GOP presidential candidates have to say on foreign policy. ABC News outlines the divisions among the candidates on issues such as Iran and Afghanistan. The Associated Press looks into candidates' focus on Iran as a pressure point they can use against Obama on foreign policy. Foreign Policy profiles Jon Huntsman's foreign policy positions and concludes that former governor and ambassador is a "moderate realist."
Fox News asked Republican primary voters: "Which Republican presidential candidate would you trust the most with nuclear weapons?" Thirty percent named Newt Gingrich, 23 percent said "Don't Know," and 17 percent said "Mitt Romney." No one else broke into double digits. Fox News also asked the reverse question: "Which Republican presidential candidate would you trust LEAST with nuclear weapons?" The most common response was "Don't Know" with 33 percent, followed by Ron Paul with 13 percent, Bachmann with 11 percent, and Cain with 10 percent.