Campaign 2016 Friday Foreign Policy Roundup: Hillary Clinton Questions Donald Trump's Foreign Policy Fitness
June 3, 2016
Blog Post

Blog posts represent the views of CFR fellows and staff and not those of CFR, which takes no institutional positions.
Hillary Clinton used her highly touted speech in San Diego yesterday to lace into Donald Trump. Her message was simple:
Donald Trump's ideas aren't just different–they are dangerously incoherent. They're not even really ideas–just a series of bizarre rants, personal feuds, and outright lies. 
He is not just unprepared–he is temperamentally unfit to hold an office that requires knowledge, stability, and immense responsibility. 
This is not someone who should ever have the nuclear codes–because it's not hard to imagine Donald Trump leading us into a war just because somebody got under his very thin skin.
As Dan Drezner points out, Clinton's decision to use the speech to blast Trump's qualifications and temperament makes it hard to analyze her speech in terms of its substantive policy arguments. To be fair, Clinton did list six principles that should guide U.S. foreign policy:
First, we need to be strong...
Second, we need to stick with our allies...
Third, we need to embrace all the tools of American power, especially diplomacy and development, to be on the frontlines solving problems before they threaten us at home...
Fourth, we need to be firm but wise with our rivals...
Fifth, we need a real plan for confronting terrorists...
Sixth, we need to stay true to our values.
Most Americans probably would applaud these generalities. The disagreement arises over how to apply them to specific issues. Clinton provided little insight on that score.
Of course, Clinton didn't give the speech to satisfy policy wonks wanting detail on how she plans to counter Chinese island building in the South China Sea or revise the TPP into a gold-standard trade deal. It was to hit back at Trump's bullying and name-calling and to paint him as beyond the pale.
That may be the smart play, but it won't make for pretty politics. Trump is happy to brawl. He has already responded to Clinton's broadside by calling her "Lyin', Crooked Hillary" and dismissing her speech as "pathetic" and "phony." To make yesterday's speech stick, she will need to repeat its main points over and over.
For some, Clinton's decision to jump into the fray rather than stand above it has livened up the campaign. But for those of us hoping that the campaign might just elevate the public debate, it looks like it will be a long six months until Election Day.
In Case You Missed It
Trump told the Rolling Thunder motorcycle rally on Memorial Day in Washington, DC, that America's great generals are "spinning in their graves when they watch we can't beat ISIS." He also repeated his threat to consider withdrawing U.S. troops from NATO, Japan, and South Korea. Trump told a rally in California that Clinton "has no natural talents to be president."
Even before Clinton spoke in San Diego, she made clear that she holds Trump in similarly low esteem. She called him a "fraud" who "is trying to scam America the way he scammed all those people at Trump U." She also characterized his policies toward veterans as "disrespect."
A Gallup poll released on Wednesday found that Americans continue to say that the next president should focus on the economy. Only 4 percent said that Obama's successor should prioritize foreign policy. A Quinnipiac poll released on Thursday found that most American voters do not believe Trump will be able to carry out his immigration policies. A Gallup poll released today found that Clinton has a thirty-one point lead over Trump when it comes to having the experience needed to be president; Trump's biggest edge over Clinton is nine points on the question of being a strong and decisive leader.
Despite repeated statements that he intends to make America's allies pay up—or else, Republican senators Joni Ernst of Iowa and Dan Sullivan of Alaska, both of whom support the presumptive GOP presidential nominee, assured audiences in South Korea this week that the next president won't walk away from existing trade deals or coerce Seoul into paying more money to keep U.S. troops on South Korean soil. Further north on the peninsula, the North Korean state media praised Trump in an editorial.
Ian Bremmer examined the global risks of a Trump presidency. Chris Carlson asked whether Trump will be able to carry out his policy promises. Michael Brendan Dougherty offered that "the best reason for conservatives to withhold their support from Donald Trump is that he cannot be trusted to lead America's foreign policy or command its military." Aaron David Miller explored whether the world "could survive a perpetually combative President Trump." Alex Ward argued that "instead of 'America First,'" Trump should call his foreign policy "doctrine 'America Alone.'" Jennifer Yachnin and Evan Lehmann, as well as Simon Maloy, joined the list of writers who have criticized Trump's energy speech from last week.
Donald Trump's son Eric told Fox News that Clinton's "foreign policy has literally cost this country trillions of dollars, thousands of lives." The Republican National Committee published an article on its website calling Clinton "a disaster to U.S. national security."
Damian Paletta broke down how Clinton and Trump see the world. Embattled Venezuelan president Nicolas Maduro endorsed Bernie Sanders.
Looking Ahead
The last major nominating contests of 2016 take place next week. Democrats and Republicans in California, Montana, New Jersey, and New Mexico all have primaries, while North Dakota Democrats vote in the final caucus of 2016. California is the big prize with 546 Democratic and 172 Republican delegates at stake. There are twenty-seven Republican and twenty-seven Democratic delegates at stake in Montana, fifty-one Republican and 142 Democratic delegates up for grabs in New Jersey, twenty-four Republican and forty-three Democratic delegates in play in New Mexico, and twenty-three Democratic delegates on the table in North Dakota.
The Republican National Convention opens in five weeks at the Quicken Loans Arena in Cleveland on July 18. The Democratic National Convention starts in six weeks at the Wells Fargo Center in Philadelphia on July 25. Here are where things stand with the delegate count: (The Democratic count includes super delegates, elected Democratic officials and members of the Democratic National Committee who can vote for the nominee but who aren't selected by voters or bound by what they want).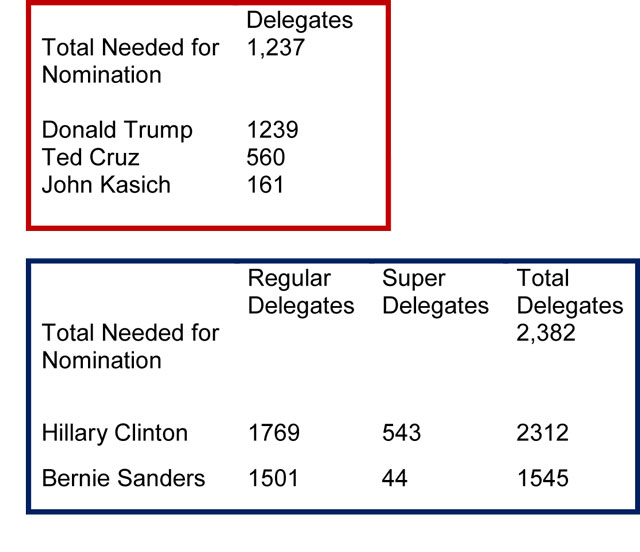 Election Day is 158 days away.
Brett Ekberg assisted in the preparation of this post.