Campaign 2016 Friday Foreign Policy Roundup: Americans Remain Open to U.S. Commitments Overseas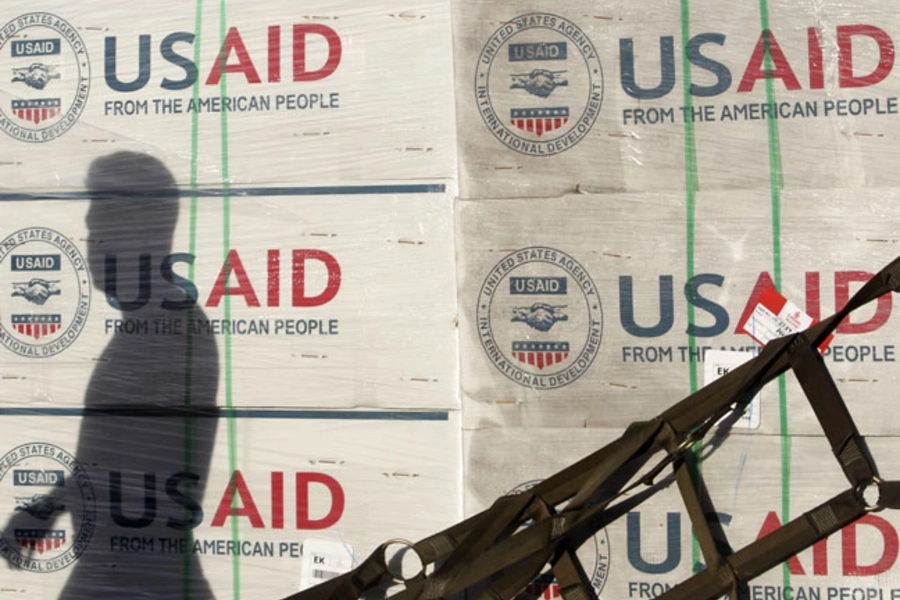 What candidates say on the campaign trail matters for how elections turn out. But so too does what the public is thinking. On that score, two things stand out in the Pew Research Center's recent poll on what Americans think about the U.S. role in the world.
The first is that Americans overwhelmingly want the next president to make domestic policy the top priority, as the chart below shows:
True, this finding isn't surprising. Americans seldom prioritize foreign policy over domestic policy. But in a campaign distinguished by what's different, it's worthwhile to highlight what remains the same.
Knowing that the public is most worried about domestic matters doesn't necessarily mean that foreign policy will be irrelevant to this November's vote. A candidate could argue that America's overseas commitments are keeping it from tackling problems here at home. Indeed, that's the case Donald Trump is making in his wholesale assault on how American foreign policy has been practiced by both parties for a quarter century.
Here's where a second finding in the Pew poll stands out. Despite Trump's repeated complaints that America can't afford its foreign policy, public opinion on whether the United States is doing too much overseas hasn't moved much so far, as the chart below shows: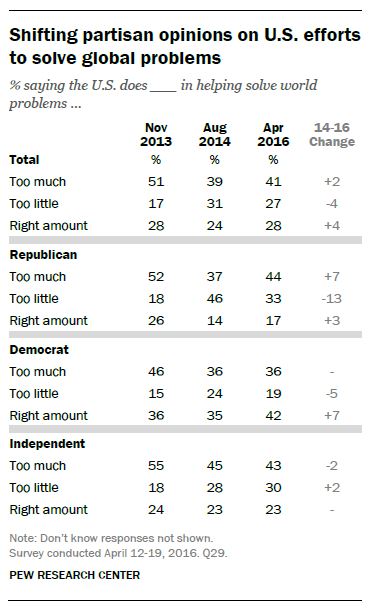 Yes, Republicans have soured somewhat over the past two years on U.S. overseas commitments, which could be a Trump effect. But during the same time period, the percentage of Americans overall thinking that the United States is doing too much overseas is up only two percentage points, which is within the poll's margin of error. In short, changes in how Republicans view U.S. foreign policy commitments have been largely offset by opposite changes among Democrats and Independents.
Of course, the operative words above are "so far." Public opinion isn't static. It responds to events and arguments. Just three years ago the percentage of Americans thinking that the United States was doing too much overseas was ten percentage points higher than today. Perhaps public opinion will move back in that direction over the next six months. But at a minimum, the Pew poll shows that Americans overall aren't yet persuaded by Trump's call for the United States to substantially scale back its overseas ambitions–and remain open to a pitch that an activist foreign policy serves important American interests.
In Case You Missed It
Trump announced that Chris Christie will head up his transition team should he win in November. Gene Sperling, former director of the National Economic Council and a member of the Hillary Clinton campaign team, released a statement criticizing Trump's "suggestion he would consider defaulting on the national debt as president." The Clinton campaign also argued that Trump's tax plan would only benefit the wealthy and attacked him for suggesting he would abolish the federal minimum wage. Bernie Sanders told supporters at a rally at Rutgers University that, "Trump must not become president."
The mayors of London and Paris took Trump to task for his call to ban Muslims from entering the United States. Trump told Fox News in response that the ban was only a "suggestion."
Trump also faced criticism at home. Marco Rubio, who ruled out being a vice presidential nominee, dismissed Trump's foreign policy views as shortsighted. Without mentioning Trump by name, Vice President Joe Biden suggested that the developer's campaign statements are "actively undermining our security and prosperity."
Molly O'Toole noted that Rubio is not the only Senate Republican creating distance from Trump. Josh Rogan wrote that some senior Republicans hope Trump's foreign policy views will "evolve." Thomas Friedman criticized Trump's "Miss Universe foreign policy." Mark Thompson explored whether Trump could deliver on his foreign policy promises once in office. Darren Samuelsohn and Ben White speculated that a President Trump could find it hard to staff his White House. Mayumi Negishi and Josh Chin wrote that leaders around the world are assessing what a potential Trump presidency means for them. Aaron Mak argued that China is not afraid of Trump. David Yanofzky explored why Trump is less popular with the U.S. military than previous GOP presidential nominees. Kim Ghattas compared and contrasted Trump's and Clinton's foreign policy platforms. Michelle FlorCruz looked at how Clinton's policy toward China would likely differ from President Obama's.
Looking Ahead
There are two nominating events on the calendar next week. Kentucky will hold its Democratic primary on May 17, and Oregon will hold both Democratic and Republican primaries on the same day. Sixty-one delegates are at stake in Kentucky, while twenty-eight Republican delegates and seventy-four Democratic delegates are up for grabs in Oregon.
The Republican National Convention opens in another sixty-six days at the Quicken Loans Arena in Cleveland on July 18. The Democratic National Convention starts seven days later at the Wells Fargo Center in Philadelphia on July 25. Here are where things stand with the delegate count: (The Democratic count includes super delegates, elected Democratic officials and members of the Democratic National Committee who can vote for the nominee but who aren't selected by voters or bound by what they want).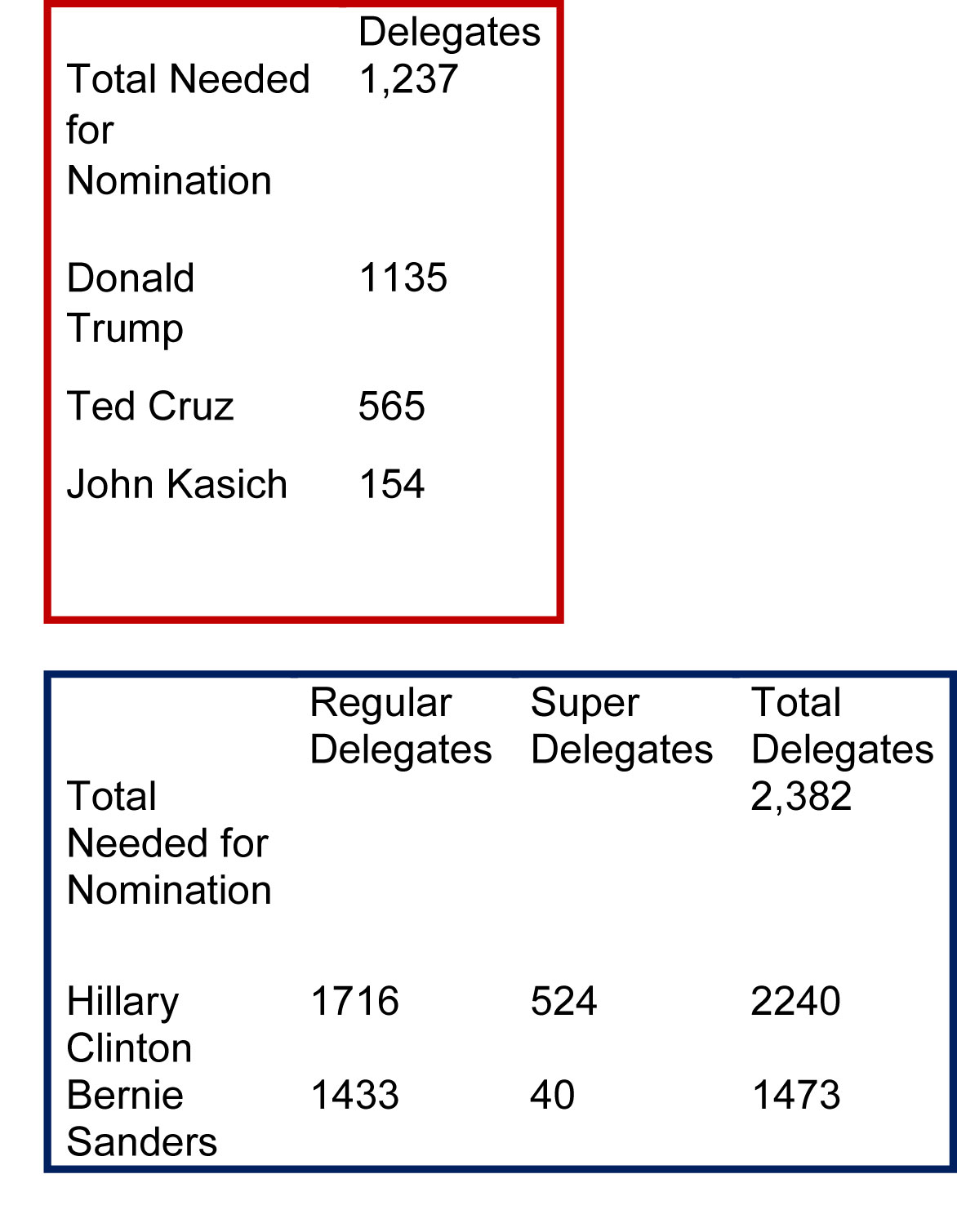 Election Day is 179 days, or less than six months, away.
Brett Ekberg assisted in the preparation of this post.