Donald Trump and Bernie Sanders have been lambasting U.S. trade agreements in recent weeks. Their attacks look to be taking a toll on American attitudes toward trade.
A year ago, nearly six in ten Americans thought that trade was a good thing for the U.S. economy. A Bloomberg poll out this week, though, found that 65 percent of Americans favor placing more restrictions on imported foreign goods to protect American jobs, and just 22 percent favor fewer restrictions. When asked about the North American Free Trade Agreement (NAFTA), 44 percent say it has been bad for America. Perhaps surprisingly, Republicans (53 percent) were more likely than Democrats (38 percent) to say that NAFTA has been bad for the U.S. economy.
Bloomberg also asked people if they would prefer that their community had an American-owned company that employed 1,000 workers or a Chinese-owned company that employed 2,000 workers. Nearly seven in ten said they would take the American company and fewer jobs over the Chinese company and more jobs. Just 23 percent opted for the reverse.
These poll results highlight the uphill battle that Obama faces in trying to persuade Congress to approve the Trans-Pacific Partnership (TPP) deal, something that won't happen until after Election Day, if then.
But not all is lost for pro-free trade folks. The Bloomberg Poll also shows that just two percent of Americans see trade as the most important issue facing the United States. Even more important, John Kasich, a supporter of both NAFTA and TPP, won the Ohio GOP primary and might win the Pennsylvania primary, two states where anti-trade sentiment is strong. Likewise, Hillary Clinton's position on TPP is that it should be improved, not dumped. So while free trade has become a tougher sell, a lot of Americans remain willing to hear the pitch.
 In Case You Missed It
Hillary Clinton, Bernie Sanders, Ted Cruz, and John Kasich all posted official statements on their campaign websites in response to Tuesday's terrorist attacks in Brussels. Donald Trump didn't follow suit, but he did tell the Today show that he would be "very tough on the borders" and that he was "fine" with waterboarding. He also told Fox Business News he would end the Visa Waiver Program, which allows citizens from approved countries to enter the United States without a visa, and that "Brussels was one of the great cities, one of the most beautiful cities of the world twenty years ago….And now it's a horror show. It's an absolute horror show." ISIS's propaganda wing immediately featured the latter quote in a video glorifying the Brussels attacks.
AIPAC, which bills itself as "America's Pro-Israeli Lobby," held its annual policy conference in Washington at the start of the week. Every candidate but Sanders showed up to speak. Trump declared his strong support for Israel, pledged to dismantle the Iran nuclear agreement "on day one," and said he would move the U.S. embassy to Jerusalem. Clinton argued that Israel would be best served by having an experienced president in the White House and pledged to continue to verify Iran's compliance with the nuclear agreement. Kasich pledged to strengthen the U.S.-Israel relationship and re-impose sanctions on Iran. Cruz, the last candidate to speak, vowed unwavering support for Israel, promised to halt U.S. government funding for any university that supports the boycott, divest, and sanction movement against Israel, and criticized Trump's recent comments on the Israeli-Palestine conflict. While Sanders was in Utah campaigning rather than in Washington, he gave a speech in Salt Lake City outlining what he would have said to AIPAC, namely, that he would restart Middle East peace talks and build a coalition of countries to defeat ISIS. The New York Times analyzed the Clinton and Trump speeches, while Politico had this coverage of Cruz's speech.
Donald Trump announced his foreign policy team in an interview with the Washington Post editorial board. Republican Senator Jeff Sessions of the Alabama is chairing the group. The other five people Trump mentioned included a retired Army Lt. General, a former Pentagon inspector general, and a 2009 DePaul University graduate whose LinkedIn profile highlights having been a delegate to the 2012 Geneva International Model United Nations. Trump's selections triggered a lot of head-scratching among Republican foreign policy experts, as articles in outlets as diverse as the New York Times, the National Review, and Politico all pointed out.
Trump's Washington Post interview also made news because he questioned whether NATO was still needed and suggested that his administration would retreat from America's many security commitments abroad. His main concern was cost, arguing that with $19 trillion in debt that NATO costs the United States too much and, "We certainly can't afford to do this anymore." Cruz denounced what he called Trump's "bizarre" foreign policy and embrace of "weakness." Clinton also criticized Trump's remarks, saying that leaving the alliance "would reverse decades of bipartisan of American leadership and send a dangerous signal to friend and foe alike." Ironically, Trump's complaints about U.S. allies doing less than they should came just days after the Atlantic Monthly released a cover story in which President Obama hit the same theme, saying "Free riders aggravate me." The president seemed to draw the opposite conclusion, though, that allies should do more and not that the United States should do less.
The New York Times looked at how the presidential candidates reacted to the Brussels terrorist attacks. Politico explored why Israel loves Donald Trump. Time speculated on how the Brussels attacks might affect the election. The Economist concluded that Trump would ditch half a century of Republican foreign policy thinking. Thomas Wright wrote about how Trump wants America to withdraw from the world. Paula Dwyer counted the ways that Trump is wrong on trade. The Hill noted that a New York Court threw out a lawsuit challenging Cruz's citizenship. Zach Beauchamp took exception to Clinton's tweet on how she would defeat ISIS.
Looking Ahead
Democrats in Alaska, Hawaii, and Washington State hold their caucuses tomorrow. A total of 172 delegates are at stake, with twenty in Alaska, thirty-four in Hawaii, and 118 in Washington State. The next Republican nominating event is the Wisconsin primary on April 5.
The Republican National Convention opens in another 115 days at the Quicken Loans Arena in Cleveland on July 18. The Democratic National Convention starts seven days later at the Wells Fargo Center in Philadelphia on July 25. Here are where things stand with the delegate count: (The Democratic count includes super delegates, elected Democratic officials and members of the Democratic National Committee who can vote for the nominee but who aren't selected by voters or bound by what they want).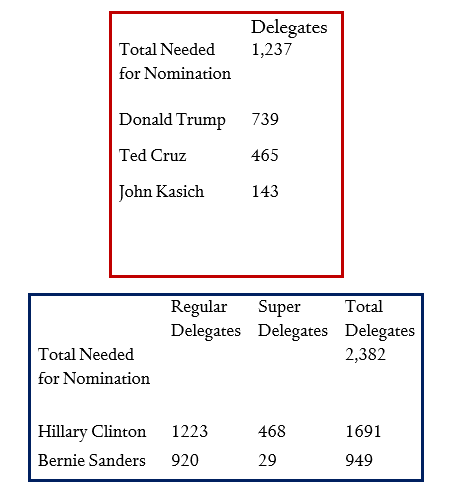 Election Day is 228 days away.