Trade has surged to the forefront of the campaign debate in recent weeks as nominating events have moved to the industrial Midwest. Both Donald Trump and Bernie Sanders have been hammering the inadequacies of America's existing trade agreements, arguing that they enrich corporations at the expense of American workers. Books can and have been written on the effects of trade, so I won't reprise all those arguments and counter-arguments here. But given that presidential campaigns often generate more heat than light, three things are worth keeping in mind about trade:
Trade can and does cost people jobs. That isn't to say that trade deals can't generate more jobs than they lose. But by definition greater trade exposes industries to more competition. Some inevitably won't fare well. The expectation has always been that workers hurt by trade will transition out of dying industries into growing ones. New economic research shows, however, what anyone who has driven through Akron, Ohio or Flint, Michigan already knows: that transition can take an awfully long time if it happens at all.

Trade gets more blame for job losses than it deserves. Technology, tax policy, regulations, skills gaps, and the strategic decisions that firms make all contribute to job losses. But when was the last time anyone campaigned on slowing down technological change? And companies always find it easier to blame unfair foreign competition than their own missteps.

Lot of American jobs depend on trade. Perhaps as many as one in five. So while some Americans have been hurt by trade, a lot have benefited from it. They have a tremendous stake in preserving an open economy.
How then does the United States preserve the gains from trade while mitigating the downsides? Trump's and Sanders's proposed solution, revoking existing trade agreements, would do far more harm than good—to ourselves and to others. Noah Smith has rightly likened it to "finding out that reading in low light can be bad for your eyes, and reacting by giving up books."
That leaves an opening for Ted Cruz, John Kasich, and Hillary Clinton, all of whom are more supportive of free trade. What mix of specific policies would they pursue to make trade work for all American workers?
Here's hoping that sometime between now and November we get some detailed answers to that question.
In Case You Missed It
Trump responded to a question about who he talks to on foreign policy by saying "I'm speaking with myself, number one, because I have a very good brain and I've said a lot of things." Hillary Clinton took direct aim at Trump in her victory speech on Tuesday night, saying that he was not strong but wrong. Kasich called on North Korea to release Otto Warmbier, the University of Virginia student and Cincinnati native recently sentenced to fifteen years at hard labor for attempting to steal a political propaganda poster in his Pyongyang hotel room. Ted Cruz came under attack for unveiling a national security advisory team that includes experts with extreme anti-Islam views.
The Trump campaign released a fifteen-second Instagram video contending that Hillary Clinton isn't tough enough to handle the foreign policy challenges facing the United States. The Clinton campaign released "Real Life," which features Hollywood actresses saying "I'm with Hillary." The Kasich campaign released "Bringing America Back," which compiles clips of the Ohio governor speaking about his hopes for the United States.
The Economist Intelligence Unit, a risk analysis firm, warned that a Trump presidency could slow down global growth. The Wall Street Journal reports that "GOP primary voters are conflicted on immigration, raising questions for Trump's stance." Former CIA and NSA Director General Michael Hayden said he did not think Trump was kidding when he said that the person he consults on foreign policy is himself. The Washington Post reports that foreign ambassadors are anxious about what a Trump presidency means for U.S. foreign policy.
Looking Ahead
Arizona Republicans hold a winner-take-all primary next Tuesday, March 22, the same day that Utah Republicans hold a caucus. Fifty-eight delegates are at stake in Arizona, and forty delegates are up for grabs in Utah. Democrats have only one nominating event next week—the Idaho Caucus on the 22nd. Twenty-seven delegates are on the line.
There are no more Republican debates to watch. Fox canceled the one scheduled for next Monday night in Salt Lake City after Trump said he would not participate and Kasich said he would not participate if Trump didn't. The Democrats still plan to hold another debate sometime in April.
The Republican National Convention opens in another 122 days at the Quicken Loans Arena in Cleveland on July 18. The Democratic National Convention starts seven days later at the Wells Fargo Center in Philadelphia on July 25. Here are where things stand with the delegate count: (The Democratic count includes super delegates, elected Democratic officials and members of the Democratic National Committee who can vote for the nominee but who aren't selected by voters or bound by what they want).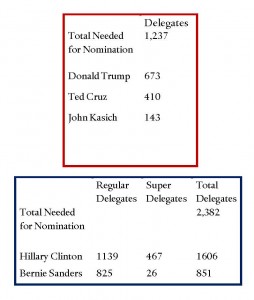 Election Day is 235 days away.