President Obama announced a plan this week to close the U.S. prison at Guantanamo Bay, Cuba. The reaction on the campaign trail split along predictable lines.
Republican candidates denounced the idea. Donald Trump was characteristically blunt:
This morning I watched President Obama talking about Gitmo, right, Guantanamo Bay—which by the way, which by the way, we are keeping open, which we are keeping open. And we're going to load it up with some bad dudes. Believe me, we're going to load it up.
Ted Cruz stands solidly with Trump when it comes to Gitmo:
Just today President Obama announced his plans to try to shut down Guantanamo terrorist detention facilities. Let me say this Mr. President: Don't shut down Gitmo; expand it. And let's have some new terrorists there.
You wake up this morning to the news that the president is planning to close Guantanamo, maybe even giving it back to the Cuban government. This is, this makes no sense to me. Number one, we're not giving back an important naval base to an anti-American, communist dictatorship.  And number two, we're not going to close Guantanamo, in fact, we shouldn't be releasing the people that are there now. They are enemy combatants. These are literally enemy combatants, in essence soldiers—not soldiers, terrorists—of foreign terrorist organizations, many of whom, as soon as you release them, they rejoin the fight against us. Not only are we not going to close Guantanamo, when I'm president, if we capture a terrorist alive, they're not getting a court hearing in Manhattan. They're not going to be sent to Nevada. They're going to Guantanamo.
Hillary Clinton and Bernie Sanders, however, both endorsed Obama's plan. Clinton argued:
I have been on record in favor of closing Guantanamo for a long time, since 2008. When I was secretary of state, working closely with the president, I had a special envoy to find places that could take back some of the prisoners, just as President Bush had done before President Obama. I believe the president is right to try to close it. I think it is a continuing recruitment advertisement for terrorists.
Sanders hit the same theme:
We look like hypocrites and fools to the entire world. What we have done is locked up people in a way that is causing all kinds of repercussions around the world. People say "Oh, you're a democratic society." We have locked people up in an island, and I think that has hurt us all over the world. Obviously, if people are terrorists, they need to be confined, and we need to make sure that they stay in jail until whatever happens, but I think the president is right. I think we should shut down Guantanamo. I think in the long run it will help us significantly.
Surprisingly, the moderators at last night's Republican debate didn't ask about Gitmo. They did ask about building a wall along the Canadian border. Seriously. The good news is that none of the candidates came out in favor of it.
In Case You Missed It
Hillary Clinton released several campaign ads: "Johnson Controls," "Stand," "All the Good," and "Brave."  "Brave," which features Clinton listening to a child worried that her parents will be deported, is the only one of the four ads to touch on a foreign policy issue. Bernie Sanders released a TV ad highlighting the endorsement he received from Minnesota Congressman Keith Ellison. Minnesota holds its caucuses next Tuesday.
A Quinnipiac poll this week found that 31 percent of likely Republican voters in Florida say that the economy and jobs is the single most important factor in their choice of president. Terrorism was the second most widely cited issue at 18 percent, with immigration at 14 percent and foreign policy at 8 percent. Meanwhile, Gallup poll found that North Korea, Russia, Iran, and China top the list of countries that Americans see as the "greatest enemy" of the United States. No surprises there.
Ezra Klein suggested that it's not necessarily a bad thing that Bernie Sanders' policy proposals still seem rough around the edges; if Sanders becomes president, he will have people for that. Foreignpolicy.com offered seven expectations of a Trump national security policy, arguing that it "looks rather like a sophomoric high school Model U.N. performance." Politico reported that Sanders has begun building a team of foreign policy advisors. The Hill discussed how foreign policy might affect the primaries, but concluded that at the end of the day foreign policy is unlikely to be a deciding factor come November. I have been saying that for a while.
If you missed the CNN Democratic Town Hall on Tuesday evening, CNN provides a transcript and a ninety-second video of key takeaways.
Looking Ahead
South Carolina Republicans held their primary last Saturday. Tomorrow, South Carolina Democrats hold theirs. Fifty-nine delegates are up for grabs. But the main event comes next week with "Super Tuesday." A dozen states will be holding nominating events: Alabama, Alaska, Arkansas, Colorado, Georgia, Massachusetts, Minnesota, Oklahoma, Tennessee, Texas, Vermont, and Virginia. By midnight Tuesday, 595 Republican delegates and 1,007 Democratic delegates will be allocated.
The Republicans hold their next debate on Thursday, March 3, in Detroit, Michigan at 9:00 p.m. (EST). The debate will be broadcast by Fox News Channel, live from the Fox Theatre. Chris Wallace will moderate. Clinton and Sanders will next debate on Sunday, March 6, in Flint, Michigan. Anderson Cooper will moderate the debate, which will be broadcast on CNN, CNN en Español, and CNN International. It will start at 8 p.m. (EST), live from the Whiting Auditorium.
The Republican National Convention opens in another 143 days at the Quicken Loans Arena in Cleveland on July 18. The Democratic National Convention starts seven days later at the Wells Fargo Center in Philadelphia on July 25. Here are where things stand with the delegate count: (The Democratic count includes so-called super delegates, elected Democratic officials and members of the Democratic National Committee, who can vote for the nominee but who aren't selected by voters or bound by what they want.)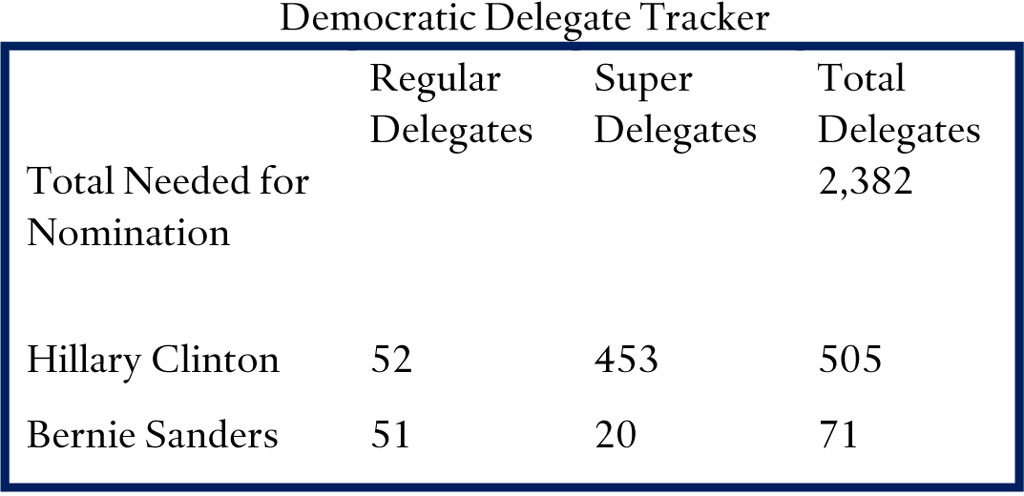 Election Day is 256 days away.