Campaign 2016 Friday Foreign Policy Roundup: It's the Economy, Stupid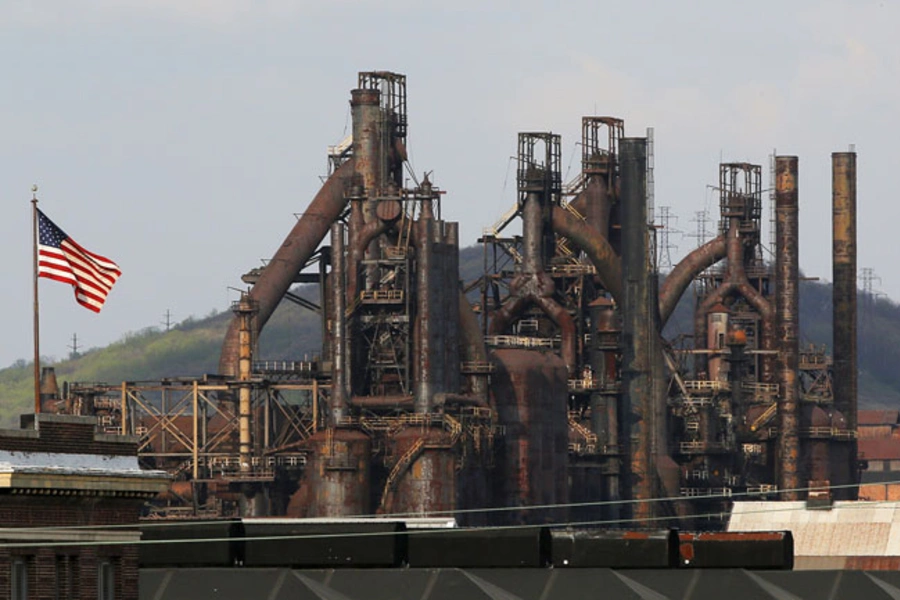 A Gallup poll out this week found that the economy remains the country's top concern. Eighteen percent of Americans flag the "economy in general" as the most important problem facing the nation, while smaller percentages flag jobs (9 percent), poverty (4 percent), and the gap between rich and poor (4 percent). Foreign policy issues fall farther down the list, with 4 percent of Americans pointing to terrorism and another 4 percent pointing to national security as the most important problem.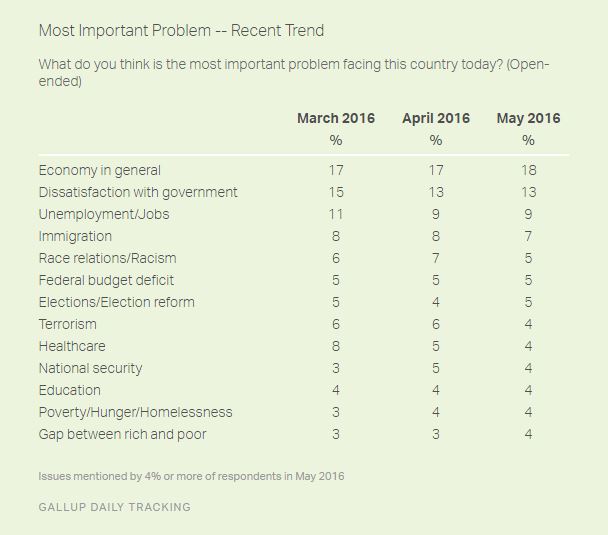 The Gallup results suggest that as unusual as Campaign 2016 has been so far, it will wind up being, like most American presidential elections, about what to do here at home rather than what to do abroad. However, the fact that Americans are looking inward has a flip side, namely, that candidates have much greater leeway to stake out foreign policy positions—even ones that are poorly thought through or even reckless. Voters generally don't punish candidates for talking about issues they themselves aren't worried about—especially when those candidates are saying pleasing things on the issues voters do care about. So the fact that some of what is being said about foreign policy on the campaign trail has experts recoiling in horror doesn't necessarily mean that the American public will react in the same way.
In Case You Missed It
Donald Trump met with Henry Kissinger to discuss foreign policy, though we don't know what they said. Trump tweeted that Thursday's crash of EgyptAir flight 804 was a terrorist attack and said that the plane's disappearance shows that Hillary Clinton "is not qualified to be president." Trump told Reuters that he is willing to talk directly with North Korea's Kim Jong-un and that he wants to renegotiate the Paris Climate Accord. Trump also said that British Prime Minister David Cameron's criticism of his call to ban Muslims from entering the United States means, "It looks like we're not going to have a very good relationship." The Clinton campaign issued a statement criticizing Trump for his remarks on Cameron and for challenging the new mayor of London to an IQ test. The Clinton campaign also attacked Trump's decision to "tap a climate skeptic as his top energy advisor." Jake Sullivan, a Clinton advisor, said that Trump's contradictory statements on foreign policy make him a "tremendously dangerous risk."
Politico concluded that, "The Never Trump moment is over" as Republicans are now closing ranks around the presumptive GOP nominee, while the Washington Post continued to divide members of Congress into four groups: "not a chance," "wait-and-see," "for the party," and "he's our guy." Former Secretary of Defense Robert Gates criticized Trump for thinking "he has all the answers and that he doesn't need any advice from staff or anybody else." Julia Ioffe looked at the Republican foreign policy experts who have chosen to support Clinton over Trump. Stephen Walt argued that being criticized by foreign policy experts may actually help Trump. A bipartisan group of twenty members of Congress introduced a resolution in support of NATO, which appears to be an indirect slap at Trump, who has called the alliance "obsolete."
Julia Preston, Alan Rappeport, and Matt Richtel analyzed Trump's immigration policies. After Trump said he was open to speaking with Kim Jong-un, Mark Landler surveyed the differences between Clinton and Trump on North Korea policy. Peter Hartcher wondered how Australia's relationship with the United States might change if Trump becomes president. Former Mexican President Vicente Fox said that Trump is creating a "phantom" enemy for the United States to combat.
Jeffrey Goldberg asked whether there is a "Hillary Clinton Doctrine." Jeffrey Stacey argued that there is indeed one, and he compared Clinton's foreign policy to Trump's and Obama's. Scott Horsley broke down Clinton's foreign policy.
Looking Ahead
There is just one nominating event next week. On Tuesday, Washington State will hold its Republican primary. Forty-four delegates are at stake.
The Republican National Convention opens in fifty-nine days at the Quicken Loans Arena in Cleveland on July 18. The Democratic National Convention starts seven days later at the Wells Fargo Center in Philadelphia on July 25. Here are where things stand with the delegate count: (The Democratic count includes super delegates, elected Democratic officials and members of the Democratic National Committee who can vote for the nominee but who aren't selected by voters or bound by what they want).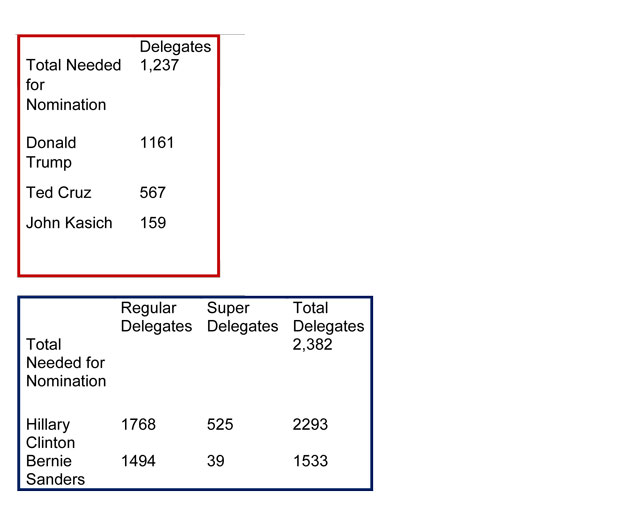 Election Day is 172 days away.
Brett Ekberg assisted in the preparation of this post.