Campaign 2016 Friday Foreign Policy Roundup: Trump to Give a Major Foreign Policy Address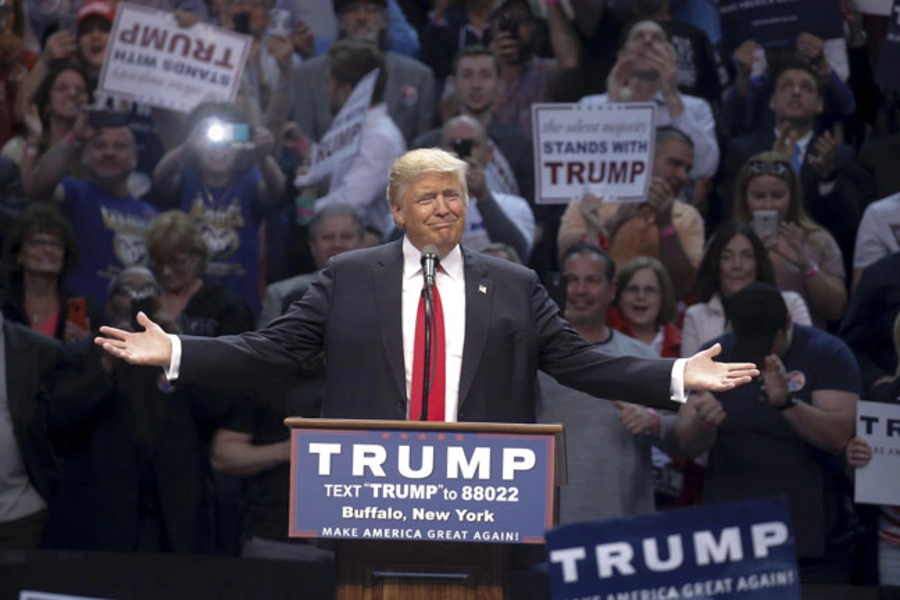 Foreign policy didn't make much news on the campaign trail this week. That's about to change. Next Wednesday, Donald Trump is scheduled to deliver his first foreign policy address. The setting is a luncheon at the National Press Club in Washington, DC. The Center for the National Interest is the host. Expect a torrent of analyses on whether Trump has changed either the tone or substance of what he has had to say so far about America's role in the world.
If you want to prep for Wednesday's speech, Rosa Brooks, Daniel Drezner, Stephen Walt, Thomas Wright, Chris Cillizza, and CFR's Stephen Sestanovich are just a few of the experts who have tried explaining Trump's foreign policy views.
In Case You Missed It
Robby Mook, Hillary Clinton's campaign manager, released a statement saying that the Sanders campaign's "false attacks have gotten out of hand." Bernie Sanders announced his support of Senator Schumer's 9/11 bill – Hillary Clinton did as well, but not on her website – which would allow families of victims of 9/11 to sue Saudi Arabia. Sanders also continued to campaign against free trade in Pennsylvania and raised questions about Clinton's fundraising. Ted Cruz released a statement supporting Israeli Prime Minister Benjamin Netanyahu's call for countries to recognize Israel's control over the Golan Heights. John Kasich released his #NeverTrump strategy for the April 26 primaries. During a town hall meeting hosted by NBC, Donald Trump pledged to negotiate better trade deals, reiterated his commitment to bombing ISIS, hit Clinton on Libya, and said that the United States would have been better off if "we never looked at the Middle East for the last 15 years."
Clinton released four ads this week. "My Mom" features the daughter of Dawn Hochsprung, the principal at Sandy Hook Elementary, saying that the former secretary of state is the only candidate who can stand up to the gun lobby. "Twenty Years Old," a radio ad running in Baltimore, features Rep. Elijah Cummings (D-MD) saying that he's supporting Clinton because she has fought to end gun violence. "Diversidad," a Spanish language radio ad running in Philadelphia, highlights Donald Trump's anti-immigrant rhetoric. "The Same" features Clinton saying that she will continue to fight for equal pay for women.
Sanders also released four new ads. "Baltimore" highlights his support of opportunity for all. "He's With Us" has Danny Glover praising Sanders's support of racial and economic justice. Ahead of last Tuesday's primary vote in New York, Sanders released "Sons of New York," linking his policies to those of President Franklin D. Roosevelt. "$27" ran in California last weekend highlighting that the average donation to Bernie Sanders is $27 and outlining Sanders's progressive policy goals.
Mark Landler explained how Clinton became a hawk. Obama adviser Ben Rhodes argued on David Axelrod's podcast that Clinton's plan for Syria won't work. Eric Li looked at what the Chinese think about the U.S. presidential election. David Rothkopf re-examined Trump's foreign policy on his podcast. Rep. Peter King (R-NY) told radio host Don Imus that "foreign countries are concerned" about Trump, a point that Edward-Isaac Dovere and Byran Bender also made. The State Department's spokesman, though, said it's not just Trump who is worrying foreign leaders. Karen DeYoung reported that many members of the GOP foreign policy elite remain unsure whether they would serve in a Trump administration.
Looking Ahead
Democrats and Republicans head to the polls next Tuesday, April 26, in Connecticut, Delaware, Maryland, Pennsylvania, and Rhode Island. Democrats will allocate 462 delegates: 70 in Connecticut, 31 in Delaware, 118 in Maryland, 210 in Pennsylvania, and 33 in Rhode Island. Republicans will split 212 delegates: 28 in Connecticut, 16 in Delaware, 38 in Maryland, 71 in Pennsylvania, and 19 in Rhode Island. Only the Republican primary in Delaware is winner-take-all.
The Republican National Convention opens in another 87 days at the Quicken Loans Arena in Cleveland on July 18. The Democratic National Convention starts seven days later at the Wells Fargo Center in Philadelphia on July 25. Here are where things stand with the delegate count: (The Democratic count includes super delegates, elected Democratic officials and members of the Democratic National Committee who can vote for the nominee but who aren't selected by voters or bound by what they want).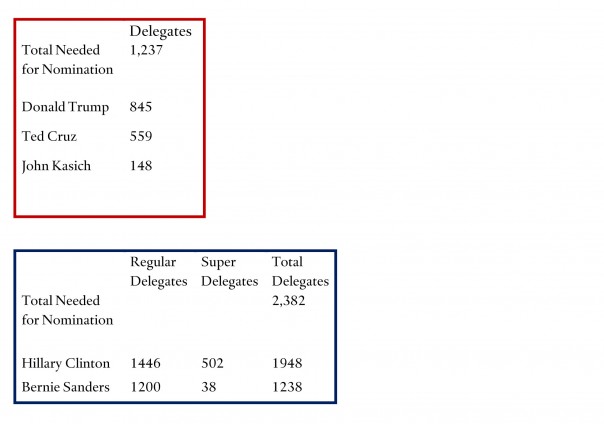 Election Day is 200 days away.
This post was prepared with the assistance of Brett Ekberg.