Campaign Foreign Policy Roundup: Tim Ryan Bows Out, Warren on Israel, and Geoengineering
Each Friday, I look at what the presidential challengers are saying about foreign policy.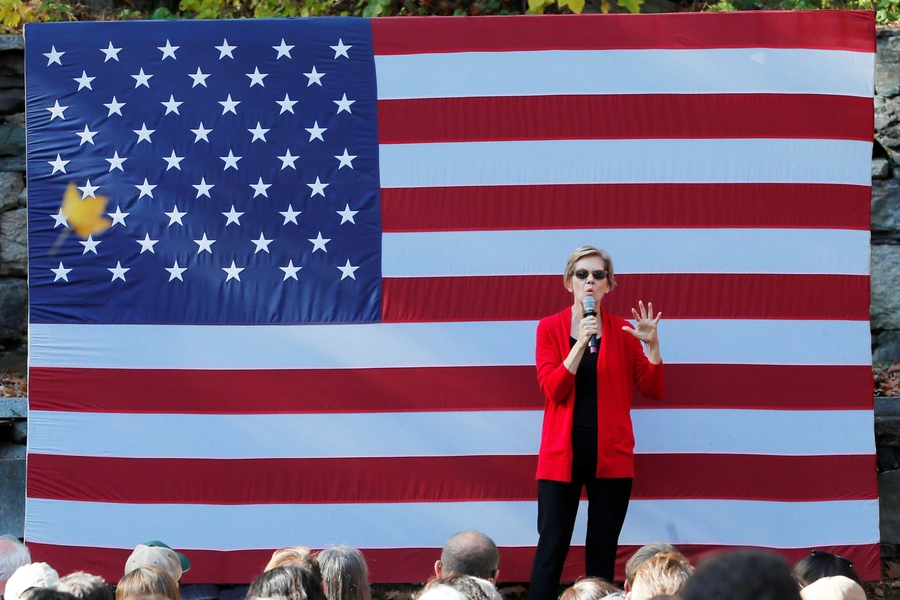 Tim Ryan announced yesterday that he has ended his run for the White House, saying he would continue his work in the U.S. House of Representatives "to advocate and fight for the working people of this country—white, black, brown, men, women." Ryan's decision was expected. He failed to make the last two rounds of Democratic debates and wasn't expected to make next month's debate.
What the Candidates Said
A reporter in Iowa asked Elizabeth Warren whether she would freeze U.S. aid to Israel if Israel failed to stop building settlements in the West Bank. Her answer was succinct:
It is the official policy of the United States of America to support a two-state solution, and if Israel is moving in the opposite direction, then everything is on the table.
Warren cut off the follow-up question by repeating the last part of her answer: "Everything is on the table." To be clear, Israel does not receive U.S. economic aid. It does, however, receive substantial military aid. The White House has asked Congress to appropriate $3.3 billion in Foreign Military Financing (FMF) for Israel this year.
Warren's comments go further than those of the other two Democratic candidates who have indicated they might link U.S. financial support for Israel to Israeli actions. Pete Buttigieg said back in June that he "would take steps to ensure that American taxpayers won't help foot the bill" if Israel annexes the West Bank. He didn't say, though, that he was open to freezing or cutting U.S. aid. In August, Bernie Sanders responded to Israeli Prime Minister Benjamin Netanyahu's decision to bar two members of Congress from visiting Israel by saying that if Netanyahu didn't "want members to visit, maybe he can respectfully decline the billions of dollars" Israel gets from the United States.
Speaking of Buttigieg, he appeared this past Sunday on Meet the Press. Over the course of the conversation with Chuck Todd, he said that rather than kick Turkey out of NATO for invading Syria, he would "engage Turkey as an ally." Todd didn't press him on what that meant in practice. Buttigieg also said he would leave a "light footprint presence" of specialized counterterrorism troops in Afghanistan. He didn't say what that meant in terms of actual troop numbers, or what those troops would do if the government in Kabul looked like it were about to fall.
Andrew Yang sat down for a seven-minute video interview with the Washington Post. When asked about climate change, he said one thing he "would do immediately is convene a global geoengineering summit." Geoengineering—that is, the conscious, large-scale manipulation of the climate—is a big idea that has some fans and a lot of critics. The challenge, as one expert put it, is that we don't know what "would work" and we "don't have a good sense of what could go wrong." Yang didn't explicitly endorse geoengineering. Instead, he noted that China might one day unilaterally resort to geoengineering, and "we have to try to get in front of that as quickly as possible." 
Kamala Harris joined Warren and almost one-third of the Senate in cosponsoring the Hong Kong Human Rights and Democracy Act. The bill would sanction mainland Chinese officials who violate Hong Kong's autonomy. The House of Representatives passed the bill last week on a unanimous vote. The Senate is likely to vote on it by the end of the month.
Amy Klobuchar became the ninth candidate to qualify for the next Democratic debate. It will be held on November 20 in Georgia. MSNBC and the Washington Post will host.
What Commentators Said
Daniel Drezner argued that American public opinion on foreign policy is far closer to what the foreign policy establishment advocates than many commentators, particularly populists and progressives, think.
The idea … that there is some yawning gap between the American public and the American foreign policy community is simply not borne out by the data … Indeed, if there is a gap between the public and elected officials, it is that the public is way less protectionist than most folks running for president.
Dan is right. He and others have been making the point for years that Americans understand the case for being engaged abroad. However, politicians and pundits continue to say Americans are turning inward. 
What is true is that foreign policy doesn't rank high with voters. A recent poll by Ipsos and FiveThirtyEight found that 12.3 percent of voters say that climate change is the most important issue shaping their vote. Just 2.9 percent mentioned foreign affairs. To put those numbers differently, more than four out of five voters point to something other than foreign policy as driving their vote. And the results of the Ipsos/FiveThirtyEight poll are typical. When Gallup asked Americans last month what is the most important problem facing the country, 6 percent said "environment/pollution/climate change," and only 4 percent volunteered anything that could be labeled as having to do with foreign policy or national security.
The Ipsos/FiveThirtyEight poll prompted the editorial board of Minnesota's largest newspaper, the Star Tribune, to write that voters are "underweighting" the importance of foreign policy and that the first job of a new president "will be to restore America's credibility in the world." Given the book I recently co-wrote, I obviously agree. But based on everything I know, the Star Tribune's admonition will fall on deaf ears.
There are 101 days left until the Iowa caucuses and 375 until Election Day.
Margaret Gach assisted in the preparation of this post.