Campaign Foreign Policy Roundup: William Weld Answers Twelve Questions
Each Friday, I look at what the presidential challengers are saying about foreign policy on the campaign trail.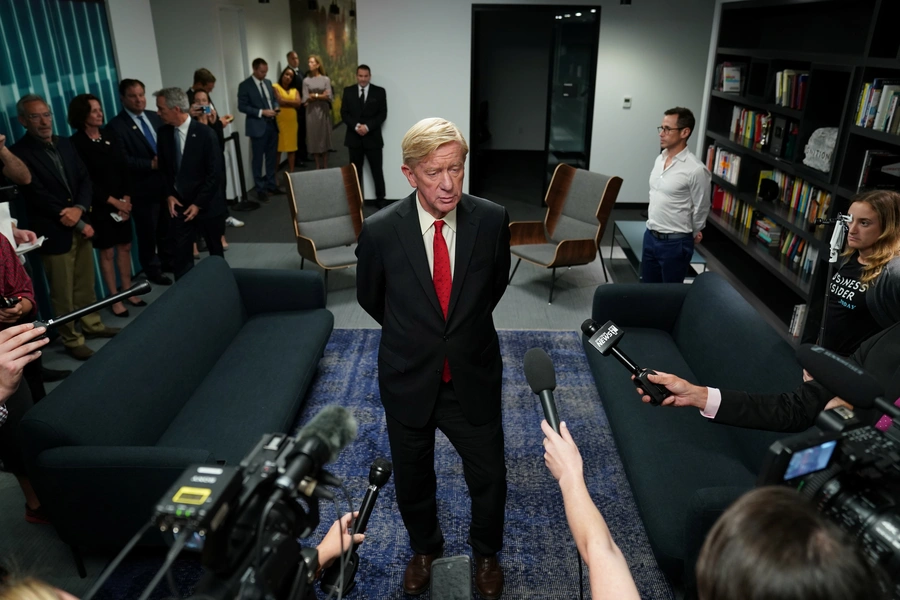 Former Massachusetts Governor William Weld has become the sixteenth presidential candidate—and the first Republican challenger—to answer the Council on Foreign Relations' candidate survey. His answers to all twelve questions are worth reading in full. I will note in summary that he would rejoin the Iran nuclear deal "without changes to the written agreement," withdraw all U.S. troops from Afghanistan "in my first year in office," and "rejoin TPP, now CPTPP."
As for my favorite two questions in the survey—What has been the greatest foreign policy accomplishment of the United States since World War II? What has been the biggest mistake?—he wrote:
The greatest foreign policy accomplishment was the peaceful and successful end of the Cold War. That was a world-historical achievement. The biggest mistake we have made since then was to behave as if other countries do not matter. As a result, we have wasted the opportunity to build a really inclusive, stable peace. And, of course, under Mr. Trump we have run up the national debt in an unconscionable fashion, and isolated ourselves from our close allies, friends, and partners to the advantage of those who wish us ill.
There's a lot to agree with in those eighty-nine words.
Bernie Sanders put his campaign on hold until further notice this week after having two stents inserted to clear up an arterial blockage. Before he underwent the medical procedure, he spoke about foreign policy at a couple of venues. While in the Quad Cities—for those of you unfamiliar with the heartland, that's Davenport and Bettendorf, Iowa, and Moline and Rock Island, Illinois—he sat down with a local news anchor to discuss the Israeli-Palestinian conflict.
He said that in his view, Israeli Prime Minister Benjamin Netanyahu is a "racist" and that his policies have made it "increasingly difficult" to pursue a two-state solution.
Then at an event at an Indian restaurant in Las Vegas hosted by "Muslims for Bernie," Sanders was asked about both Saudi Arabia and Indian policy in Kashmir. With the one-year anniversary of Jamal Khashoggi's murder having just passed, Sanders laced into Saudi Crown Prince Mohammed Bin Salman: 
MBS is a murderer. And it's not only his murder of Khashoggi. He murders many people. He treats women as third-class citizens and he runs a regime which is fiercely opposed to democracy. So this is not a country which should be our ally. We're going to change our relationship with dictatorships all over the world, and as we move to sustainable energy, we are not going to be needing their oil any longer.
"This is not a country which should be our ally" are pretty strong words. Sanders's remarks on New Delhi's decision to revoke Kashmir's special status under the Indian Constitution, which has been come with a crackdown on political dissent in the state, were tame by comparison: 
I was very disturbed by what India did in Kashmir. They broke a long-standing agreement. It is disturbing that the president of the United States has not called them out on that, but I will.
Such criticisms, though, are unlikely to persuade Indian Prime Minister Narendra Modi to back down on his decision to change Kashmir's status.
Elizabeth Warren wrote an op-ed arguing that "it is time for the United States to stand up to China in Hong Kong." What does "stand up" mean in practice? The Massachusetts senator says two things:
First, it must stop exports of police gear to Hong Kong. Protesters have asked for an independent investigation into the credible claims that the Hong Kong police have used excessive force. Until the report of such an investigation is released, the United States should stop all exports of U.S. security, police, or surveillance equipment to Hong Kong.

Second, it should provide temporary protected status or deferred enforced departure to Hong Kong residents. As the country did following Beijing's 1989 crackdown on Tiananmen, the United States should protect Hong Kong residents involved in protests and who travel to the United States until they are confident that they will not be punished for exercising the right to peaceful assembly.
This approach stands in sharp contrast to the one President Trump has followed.
Thomas Wright argues that "the Democratic front-runners should tell foreign powers that are considering interference in U.S. elections, either for Trump or against him, that any such act would severely and detrimentally affect the relationship between the United States and that country." The limitation of such a strategy is, as Tom acknowledges, that "constructing a response to rivals and adversaries such as Russia is necessarily more complicated" than punishing countries that depend on the United States for aid or assistance "because America possesses less obvious leverage" with its adversaries. But it's those countries that have a far greater incentive to meddle in U.S. elections than America's friends.
Politico has what it calls "the most comprehensive guide anywhere" to issues in the 2020 Democratic primary. The site certainly offers a lot of information. What is notably missing, though, is a section on foreign policy. There are sections on the military (with subsections on defense spending and overseas deployments) and trade (with subsections on China, NAFTA/USMCA, TPP, and tariffs), but you won't find anything on what the candidates have said about Africa or foreign aid or human rights or the future of transatlantic relations. That about summarizes how absent foreign policy has been in the campaign thus far.
Margaret Gach assisted in the preparation of this post.