The President's Inbox: Charles Edel and John Lee on the U.S.-Australia Alliance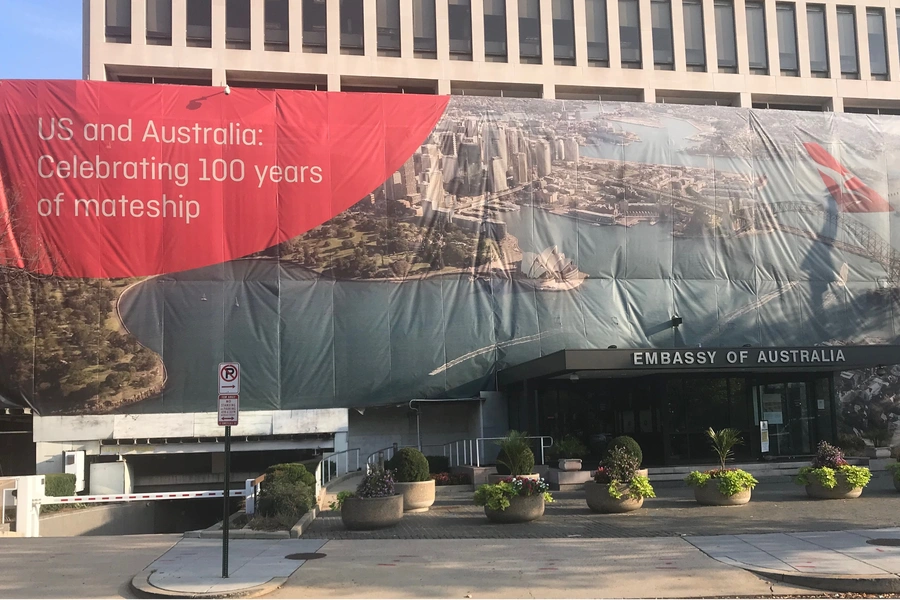 The newest episode of The President's Inbox is live. I sat down with Charles Edel and John Lee, fellows at the University of Sydney's United States Studies Centre, to talk about the future of the U.S.-Australia alliance.
Charlie and John recently penned a report on the challenges facing U.S.-Australian relations as China rises as a global power. Americans and Aussies like to talk about their century of "mateship." And the two countries share deep political, military, and cultural ties. But when it comes to trade, China is Australia's number one partner, and it's not even close. Last year, China's two-way trade in goods and services totaled nearly AUD$215 billion. That's nearly three times its two-way trade with the United States (AUD$79.3 billion), and the gap is growing. To be sure, U.S. companies, and Western firms more broadly, have invested far more in Australia than their Chinese counterparts do. Even so, Australians can already feel the gravitational pull of the Chinese economy. It's only likely to get stronger in the future.
Charlie and John worry that Canberra will increasingly find it harder to reconcile the competing demands of its main security partner, the United States, with those of its main economic partner, China. They note that proponents of strong U.S.-Australian ties have a lot of history and goodwill to fall back on. And Canberra has been pushing back against often ham-handed Chinese efforts to interfere in Australian politics. Just last year, Australia enacted "foreign interference laws" to criminalize efforts by foreign governments (think Beijing) to interfere in its politics.
But history and goodwill can sustain relations for only so long. Interests matter as well. Whereas Australia's economic ties with China are deepening, the Trump administration is pushing to de-link the U.S. and Chinese economies. That should give Washington greater freedom to press Beijing on a range of issues. The question is, would Canberra follow along, knowing that Beijing could retaliate economically, potentially plunging Australian firms into the red and costing ordinary Australians their jobs? Perhaps not. Late last month, for example, Australia's finance minister acknowledged the legitimacy of U.S. complaints about the global trading system but called on the United States and China to compromise in their trade war.
Charlie and John argue that keeping the U.S.-Australia alliance on track requires Washington and Canberra to acknowledge where their interests diverge and to be clear about their expectations for each other. That is probably good advice. But it's easier given than followed.
If you are interested in learning more about the debates down under over the U.S.-Australian alliance, you should read Hugh White's How to Defend Australia, which builds on an earlier essay he wrote, Without America. (White, a professor of Strategic Studies at the Australian National University in Canberra, has written a synopsis of the book for readers who are pressed for time.) White has been arguing for a while that Australians need to recognize a fundamental fact: U.S. power in Asia is waning and China's is growing. The trends are so powerful and consequential that Australians "have to accept that we can no longer simply assume that America will, 20 or 30 years from now, be there to prevent any major power from attacking us, or defend us if it did."
White's book has caused a stir in Australia's strategic circles. As you can see here, here, here, and here. Some American strategists have also weighed in on White's general thesis, as you can see here, here, here, and here. Wherever you come down on White's argument, the trends he points to aren't going away.
Margaret Gach assisted with the preparation of this post.