Chile's Constitutional Rewrite: A Difficult Path Ahead, but a Recipe for Inclusion
Regardless of the challenges to meeting demands for an overhaul of Chile's neoliberal economic system, the country's new constitution could facilitate the lasting inclusion of marginalized groups in political processes.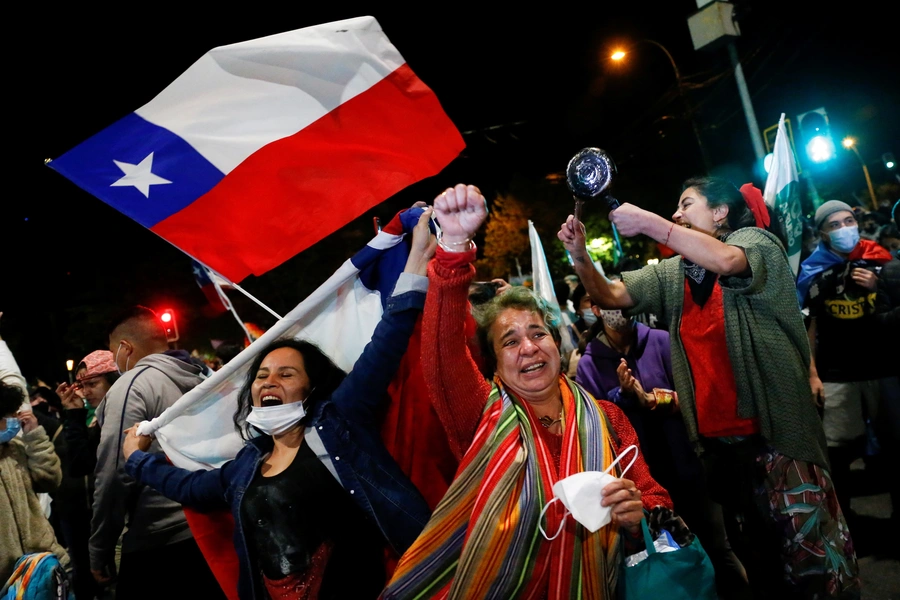 Sam Lynch is an intern for Latin America and European Studies at the Council on Foreign Relations.
Amid the uncertainty of the coronavirus pandemic and impending national elections in November, Chile is gearing up for another historic event: the rewriting of its constitution. Despite its reputation as one of Latin America's wealthiest and most stable countries—evident in praise for its successful vaccination campaign—Chile is also one of the world's most unequal, fueling social unrest that sparked a new movement for constitutional change in 2019. Although the prospects for radical changes to Chile's economy seem slim due to political polarization, debates surrounding the new constitution nevertheless suggest a growing willingness among the country's public officials to address exclusionary political elitism. Chile's constitutional convention could thus establish a new charter that is not only more representative, but also more inclusive.
Constitutional reform has long been a rallying cry for Chilean politicians to the left of center, serving as a core promise in Michelle Bachelet's 2013 presidential campaign. However, the current reform effort first began with demonstrations in October 2019 against a $0.04 metro fare hike, soon escalating into a mass social movement, which at times became violent, that targeted the Chilean constitution as the source of deep-rooted social and economic disparities. 
Supporters of the rewrite criticize the existing document, approved in a questionable referendum in 1980 during the military dictatorship of Augusto Pinochet, for its neoliberal foundations, which they say prioritize the privatization of public goods at the expense of economic equality and social inclusion. Privatization of the country's water supply, for example, has precipitated popular dissatisfaction with high water prices and stoked concerns of future shortages. Unique in Latin America, Chile's partially privatized health care system leaves those who cannot pay for private services—the majority of Chileans—with much poorer care. The same is true with its underfunded education system that produces dramatically different results for students in private versus public schooling. Likewise, the country's privatized pension system benefits only the fraction of Chileans who can make regular payments.
Activists envision a new constitution that allows for the dismantling of these exclusive systems by incorporating clauses that guarantee access to well-funded public services from health care and education to water.  The existing process for passing constitutional amendments requires a substantial congressional majority, which complicates efforts for progressive change within a conservative legislature, and previous reforms have primarily focused on protecting democracy and decreasing the role of the military without tackling inequality. The creation of a new charter, rather than simply passing new amendments, would also cast off the shadow of Pinochet from the document and enjoy greater public legitimacy.
The movement's first major victory arrived only a month after the outbreak of protests when President Sebastián Piñera agreed to schedule a referendum on whether to rewrite the nation's constitution, a proposition that received 78% approval in an October 2020 plebiscite. In accordance with these results, popular hopes for a democratic rewrite of the country's foundational document will be in the hands of the Constitutional Assembly, a 155-member body mandated to have equal gender representation and 17 seats reserved for representatives of indigenous groups. Once elected, the Assembly will have nine months to draft a new constitution—with the option of a one-time three-month extension. The draft constitution must be approved by two thirds of members and then proposed to the public in another referendum. 
The path to instituting a new constitution that meets Chileans' ambitious demands, however, will not be straightforward. In the leadup to elections for the Assembly—now set for May 15 and 16 following a one-month delay due to rising coronavirus cases—divisions within the political left could jeopardize efforts for sweeping reform. The performance of independent candidates from outside of the political establishment is likewise expected to be underwhelming due to the challenges of organizing in public spaces during the pandemic. Meanwhile, right-leaning candidates that tend to align with the Piñera government have managed to create strong coalitions that many believe will boost their performance in the election and thus block major structural changes to the existing constitution.  
The required two-thirds approval by the body of a new constitution is another key challenge, given expectations of an ideological split among members. Achieving a supermajority in the Assembly will be especially difficult as Chile selects a new president and representatives in November, a process likely to feed political polarization that could spill over into Assembly debates. And, even if a novel constitution is proposed to the public in 2022, popular approval is far from guaranteed. Convincing a sufficient majority of Chileans—on the right of the merits of the new document and on the left of potential compromises—could be a tall order. Finally, the radical change demanded by activists is further threatened by Congress' passage in December 2019 of constitutional Article 135, which opponents say protects Chile's neoliberal institutions by requiring that the new document "respect" existing international treaties and judicial decisions. 
Regardless of the success of the constitutional overhaul, the movement's real legacy may lie in a commitment to establishing greater representation for marginalized groups within the Chilean political system. With a seat at the negotiating table for indigenous populations—13 percent of Chile's population that is not even mentioned in the 1980 constitution—Chile's original inhabitants will have the opportunity to advocate for cultural recognition and protected land rights on a national stage. Gender parity in the Constitutional Assembly could also represent the first step towards equal access to positions of power and decision-making processes for women, who adopted the slogan "Nunca más sin nosotras"—Never again without us—in the campaign for a constitutional rewrite. Such commitments to political inclusion are necessary to strengthen Chile's democracy and to meet the long-neglected needs of its most vulnerable citizens.
Proponents of constitutional reform in Chile will be anxiously watching this month's elections and monitoring discussions within the Assembly into 2022. The country could, after over three decades, forsake its 1980 constitution, or the Pinochet-era document could be here to stay. But no matter the result, the inclusion of women and indigenous groups at unprecedented levels is a step towards true democratic governance.