More Than a Few Good Women: Improving Hemispheric Security by Advancing Gender Inclusivity in Military and Police
Latin America and the Caribbean remains the most violent region in the world. Overwhelmed police and military forces stand to improve their effectiveness and accountability by unleashing a secret weapon: more female recruits.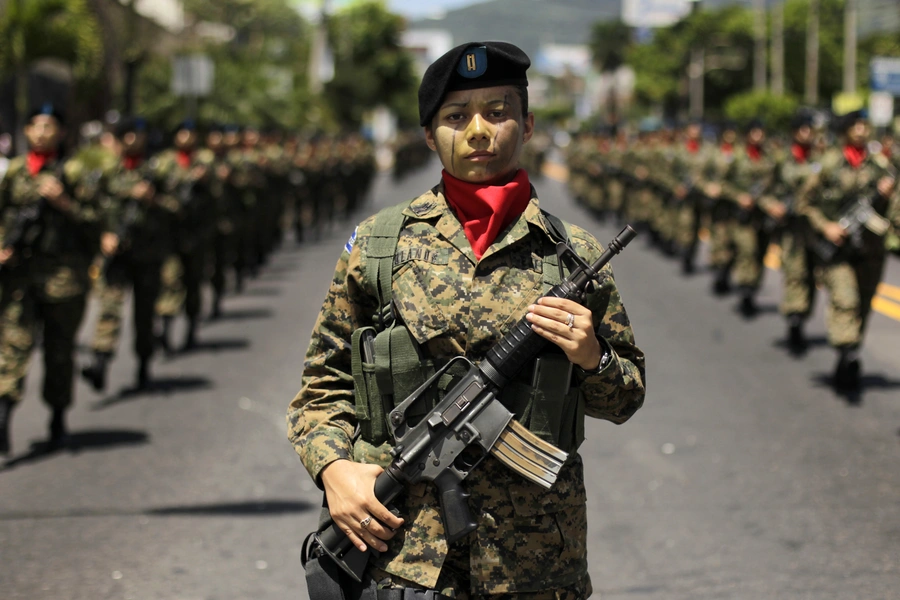 Paul J. Angelo is a fellow for Latin America studies at the Council on Foreign Relations. Lisa M. Munde is a plans, strategy, and doctrine consultant at the Naval Special Warfare Command.
The nomination of U.S. Army Lieutenant General Laura Richardson to lead the U.S. Southern Command (SOUTHCOM) is a historic step for diversity and inclusion for the U.S. Armed Services. If confirmed, Richardson will be the Army's first combat arms four-star general and only the second woman to command a U.S. geographic combatant command. Just as importantly, her candidacy is a signal for Latin America and Caribbean: women belong in the security sector. In a region where women's participation in the military and police has historically lagged, security forces stand to improve their credibility, performance, and results by prioritizing gender inclusivity.
Despite comprising more than 40 percent of the workforce in much of the world, women constitute a comparably small percentage of police and military forces—both globally and in the hemisphere. The United States, Canada, the Dominican Republic, Venezuela, Argentina, and Uruguay are the only countries in the region to surpass 15 percent force composition by women across all military branches. Throughout Latin America, women represent a mere 4 percent of armed forces personnel. What's more, only in a handful of countries can women enroll in the gamut of specialties and training opportunities available to their male counterparts. The United States only opened all military occupations and positions, including special operations, to women starting in 2016, but most other countries in the Americas still limit participation based on gender. This, in turn, limits promotion prospects for women, especially since female officers are often restricted from combat duties that are necessary for nomination to flag or general officer ranks.
The underrepresentation of women in military and police forces is not just undemocratic: it is a missed opportunity. The advantages of empowering women in national security and citizen security decision-making are well documented. For starters, women enhance the trustworthiness of security forces in the eyes of citizens—an important consideration given the predominance of public order missions for police and military alike. Female officers are also perceived as being more effective at combatting corruption. In Mexico and Peru, for instance, police forces have surged the ranks with female traffic cops in a bid to cut down on bribery, a move that has shown signs of success. Removing barriers blocking half of the population from service can additionally help resolve staffing shortages among security institutions that often fail to meet recruiting targets.
Likewise, improving representation of women in policing roles can help curtail brutality and human rights abuses perpetrated by military and police forces. Female police officers are less reliant on physical force and are better communicators, suggesting that they are uniquely equipped to de-escalate and prevent violent confrontations. They are more sensitive to issues surrounding gender in the provision of security, too, especially in dealing with victims of domestic disputes and sexual violence. And where women may be more likely to be seen as honest brokers in places ravaged by violence and war, they can more readily access populations that might otherwise distrust men in uniform, facilitating evidence collection and intelligence gathering. Given women's contributions across the security sector, empowering them to inform doctrine and procedures could lead to fewer undemocratic tactics, more nuanced strategies, and greater efficacy across the board. In Trinidad and Tobago and Jamaica, defense forces have begun to tap into this potential by bringing on uniformed gender advisers to shepherd greater gender integration and ensure female participation in policy and strategy decision-making.
Amid police reform initiatives in Central America during the Barack Obama administration, the U.S. government encouraged a transition toward community policing, including community conflict resolution, to improve the responsiveness of security forces to citizen demands. Increasing female officers' involvement in dispute mediation could help reduce homicides in Central America's most dangerous neighborhoods, as the participation of women tends to improve the prospects of success and the sustainability of conflict resolution. For this reason, as the Colombian government negotiated peace with the Revolutionary Armed Forces of Colombia (FARC), females from among the ranks of the insurgent group and from the government assumed prominent roles in the peace dialogue and are now leading peace implementation.
In addition to these practical considerations, the heightened susceptibility of women to crime victimization in Latin America and the Caribbean makes their involvement in devising solutions all the more necessary. Of the 25 countries in the world with the highest rate of femicide, 14 are in the Western Hemisphere—a trend that has worsened during the COVID-19 pandemic. And its ramifications extend beyond personal safety: the prevalence of gender-based violence is one driver of mass migration of women and their children from the region to the United States.
In Mexico, for example, ten women are murdered on the basis of gender every day. This crisis attracted international attention as organized protests coinciding with International Women's Day on March 8 were met with antagonism from the government, resulting in clashes that left nineteen injured. In a move that drew widespread criticism, Mexican President Andres Manuel Lopez Obrador ordered the erection of a ten-foot barricade—what some dubbed a "macho wall of shame"—around the presidential offices.
In El Salvador, which has the world's highest femicide rate, COVID-19 lockdowns have exposed longstanding challenges to combatting gender-based violence, including a lack of funding and resources for victims of domestic violence, as well as widespread impunity for male offenders. Similarly, an unprecedented humanitarian crisis in Venezuela, resulting in the international displacement of more than 5 million people in recent years, has left female refugees disproportionately vulnerable to abuse, human trafficking, and sex work recruitment.
Building lasting solutions to these challenges begins by acknowledging the unique and consequential contributions of women to the provision of security. In the United States, following President Joe Biden's announcement of General Richardson's nomination, a conservative television commentator derided the supposed feminization of the U.S. military. His comments inspired quick and far-ranging rebuke, including from the Pentagon's most senior leaders who unanimously extolled the importance and necessity of women in uniform. The countries of Latin America and the Caribbean would be wise to follow this example as they endeavor to get a handle on the scourge of violent crime that has beset the region. Women's security is human security, and it is well past time that women have full and equal participation in protecting their communities and countries. 
This publication is part of the Diamonstein-Spielvogel Project on the Future of Democracy.