China's Huawei Is Winning the 5G Race. Here's What the United States Should Do To Respond
China is successfully using the Belt and Road Initiative to promote the adoption of Huawei 5G, while the United States is looking to reverse these gains.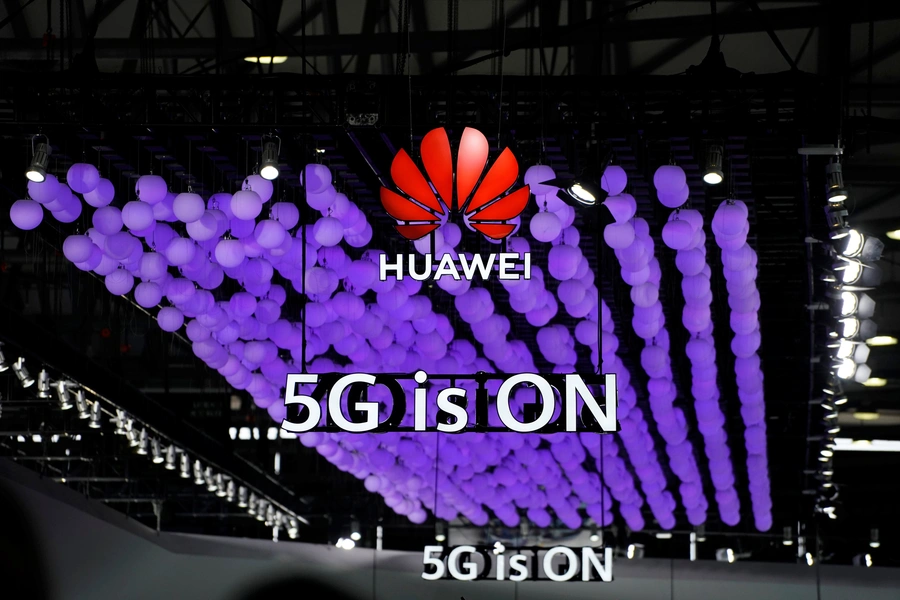 In 2015, China added the Digital Silk Road (DSR) to its massive Belt and Road Initiative (BRI). While Beijing uses DSR to offer a suite of technologies to BRI countries, Huawei's effort to provide next-generation communication networks to countries has drawn the most scrutiny in the United States.
U.S. officials have frequently claimed that Huawei is effectively an extension of the Chinese Communist Party. Under China's 2017 National Intelligence Law, Huawei, like all Chinese companies and entities, appears legally required to conduct intelligence work on behalf of the Chinese government. According to this analysis, the Chinese government has the ability to use Huawei-built fifth-generation (5G) networks to collect intelligence, monitor critics, and steal intellectual property. There are also worries that the company might bow to government demands and disable networks to exert coercive pressure on a country.
The United States also has commercial concerns. Once Huawei builds a country's 5G network, that country is likely to choose Huawei to upgrade those systems when newer technologies become available, thus excluding U.S. companies for potentially decades. Huawei has already finalized more 5G contracts than any other telecom company, half of which are for 5G networks in Europe.
In Africa, Huawei has built 70 percent of the continent's 4G networks and has signed the only formal agreement on 5G, with South African wireless carrier Rain. The export of Huawei telecom equipment along the DSR has enabled the company's share of global telecom equipment to increase by 40 percent in the years since BRI was rolled out.
In response to growing concerns about Huawei's reach, the Trump administration leveraged U.S. dominance in advanced semiconductors to bar sales of essential computer chips to the company without a specific license. Access to U.S. chips, particularly 5G-related semiconductors that enable wireless communications, network management, and data storage, is crucial to Huawei, which is reported to be running out of supply. The Trump administration also pressured countries not to use Chinese components in their 5G infrastructure.
As part of a CFR Independent Task Force on BRI, we analyzed every country's official policy toward Huawei 5G and the extent to which this pressure campaign has succeeded. We found that in addition to the United States, eight countries have issued outright bans of the company. Almost all of these are close U.S. allies such as Australia, Japan, and the United Kingdom.
More countries have taken a quieter approach, attempting to simultaneously allay U.S. concerns and not provoke a Chinese response. Some have taken measures that amount to a de facto ban without actually barring Huawei. For example:
Still, others have chosen to use Huawei's competitors without taking a public stance against the company. The largest telecommunications firms in Belgium, Croatia, Finland, Greece, Norway, Portugal, Singapore, and Spain have all contracted with Ericsson or Nokia to build their 5G networks.
While the U.S. pressure campaign has had some success, it is likely meeting its limits. The threat of the loss of intelligence sharing and security partnerships is unlikely to persuade countries that are not formal allies or close security partners with Washington.
Moreover, the United States has been unable to persuade all of its allies to avoid Huawei. The company is involved in 5G networks in NATO members Hungary, Iceland, the Netherlands, and Turkey. Some of the United States' closest partners in the Middle East, including Saudi Arabia and the United Arab Emirates, are also using Huawei.
A principal reason that the United States has not had more success in persuading countries not to use Huawei equipment is that it cannot offer an alternative. The United States does not and will not have a company that is competitive in the full stack of 5G equipment.
To make it easier for countries to avoid Huawei, our Task Force recommends that the U.S. Development Finance Corporation partner with its counterparts in Finland, South Korea, and Sweden to co-finance Nokia, Samsung, and Ericsson 5G projects.
The United States should also work with its partners to develop the nascent open radio access network, or Open RAN, architecture. While Huawei offers a full 5G stack, Open RAN allows multiple companies to supply different parts of a modular 5G network. The hope is that 5G networks built on an Open RAN architecture can better compete with Huawei on price. In addition, while no U.S. company offers an end-to-end 5G solution, they can better compete by specializing in individual components of a modular network, like end-user devices.
In the longer term, the United States must be better prepared for the arrival of 6G, which is likely to replace 5G within 15 years. U.S. policy-makers should fund R&D centers at universities that focus on 6G technologies, and consider tax breaks and other incentives to support private sector investment in 6G, so that there is at least one competitive U.S. company in this space.
Finally, recognizing that some U.S. allies and partners will adopt Huawei 5G despite U.S. pressure, the United States will need to develop mitigation plans for possible Chinese disruption of telecommunications infrastructure in those countries. In the words of one Pentagon-advisory group study, the U.S. military will need to "assume that all network infrastructure will ultimately become vulnerable to cyber-attack" and adopt a "zero-trust" network model.
Washington cannot expect countries to sit on the sidelines and forego upgrades to their networks while the United States gets its act together. Instead, the United States should work with allies and partners to offer a viable alternative and prepare for a future in which China controls a large part of the 5G infrastructure.